Posts by Sucaad Mire
Investor Was Targeted for Arrest in Puntland Operations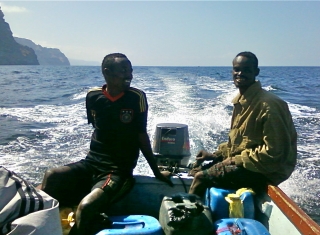 A well-known pirate investor based in Bosaso, who was wounded as Puntland security forces tried to arrest him last Thursday evening, has accused a Puntland official of asking for a bribe to cancel the operations against him.
Mohamed B. Omar, speaking from a heavily guarded house in eastern Bosaso, told Somalia Report he was sick of Puntland officials extorting money from him to allow him to operate in piracy. A clan militia defended Omar in the fight, which killed three, and he said he was now hiring more militiamen to act as a security force.
Omar alleged that the vice commissioner of Bari police, Mr Jaqanaf called him a day before the attack to make his offer.
"He said to me that you are pirate and committing wrongdoing against public, so you have to pay money to cancel the operation against you," he said. "I repeatedly said to him that I will never pay a bribe, and urged him to stop bullying me."
Omar said clan differences were behind the attack.
However, Bari's police commissioner, Abdi Ferrey, denied the allegation, telling Somalia Report that Puntland does not work with pirates.
"The Puntland security officials are well-disciplined and trained, so it is impossible for them to be involved in such humiliating acts," he said. "That guy accusing us wants to spark violence here in Bosaso and we are following the news he is enlisting a clan militia to defend himself."