Posts by Mohamed Ahmed
Foriegn Fighters Lead The Training In Marka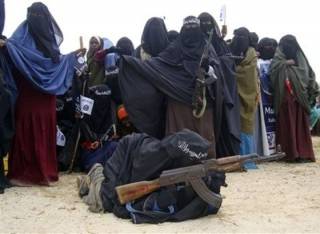 Mogadishu — In Marka, a coastal town which lies 90km south of Mogadishu, approximately seventy women who went into a training program at Al Shabaab military camp are now being trained as suicide bombers, according to a local resident who spoke to Somalia Report on the condition of anonymity.
The camp, known locally as Alhayaa (The Life), had already trained hundreds of its fighters and is recognized the most productive camp in the southern region after Kamboni training camp in the Lower Jubba region.
The camp, which under the command of senior Mujahidin (foreign fighters), had also been giving out Jihadist scriptures to some women identified as university scholars and Al-shabab preachers. Local residents, who requested anonymity, said that Al-Shabab's "governor" in Lower Shabelle Region, Sheikh Muhammad ala Abu Abdala, spoke in a mosque in Marka last Friday encouraged women to come to the training post so as to take part new phase of the war. "Women have been vital for any war in the past," he said
Sheikh Ali Mohamoud Rage, Al Shabaab spokesman, has called for the groups' fighters to redouble in order to fight what he called the "invading African Christians and their apostate government."