Breaking News
MV Free Goddess Seized by Somali Pirates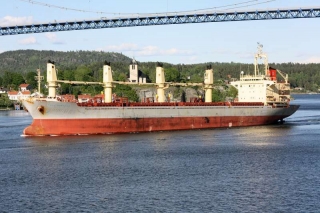 Somali pirates hijacked the Greek owned Liberian-flagged bulker MV FREE GODDESS while she was underway heading to Singapore from Egypt, laden with cargo of steel cable, pirates and diplomatic sources told Somalia Report. The 22051 dwt bulk carrier was taken along with her 21 Filipino crew while underway in the Arabian Sea at 1438 UTC on Tuesday.
Sources close to Somali piracy circles said that the bulker was pirated by the Harardheere based pirate group under the leadership of Abdhulkadir Mohamed Afwenye, who has denied the allegations.
Somalia Report was able to reach Abdukadir Mohamed Afwayne by telephone and he said, "I don't know where this rumor came from originally, but I can tell you that I and my colleagues in Harardhere are innocent of the allegations. We are unsure who hijacked that ship. I think some pirates who are based in Garacad might have seized it."
According to Neptune Maritime Security, "The last known positional data on the Free Goddess is that she has dramatically altered course and her last recorded position was 11.59N 056.09E at 090533ZFEB12, approximately 110nm south east of Socotra Island. According to CMF, the vessel is heading towards the Somali coast."
MV FREE GODDESS is worth a shade over US$8 million and the owner is NASDAQ listed as Free Seas Inc. Her sister ships includes MV FREE LADY; MV FREE JUPITER; MV FREE KNIGHT; MV FREE MAVERICK; MV FREE IMPALA; MV FREE NEPTUNE and MV FREE HERO.