Seven Children Reported Among the Dead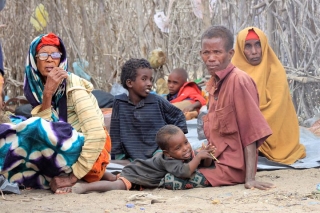 26 people, including seven children, have died following an outbreak of cholera and measles in the south-central region of Middle Shabelle. Medical sources in the region say the situation may worsen if urgent action is not taken. Most of the deceased children are said to have died due to inadequate treatment.
Nurse Yasmiin Ahmed Hassan, who works at a local voluntary clinic in the outskirts of Mogadishu, spoke to Somalia Report.
"There are increasing numbers of people who have different diseases coming to us every day and every night, but cholera and measles patients have been the most common since last month. We have also high rates of acutely malnourished people, specially women and children, on our lists. A number of children and mothers have died here as a result of malnutrition and lack of being vaccinated against cholera," said Yasmiin.
The lack of adequate medicines in the region has forced many people to seek treatment in Mogadishu and its outlying villages. Mogadishu's maternity ward at Benadir Hospital is one of the treatment centers overwhelmed by these patients, ever since drought hit the Horn of Africa region late last year.
Somalia Report spoke with Shamso Hussein Ali, a 26 year-old mother caring for her two feverish cholera-afflicted children at Benadir hospital.
"Both of them started with diarrhea at the same time. I brought them to the hospital after one day, because their situation had become very dire. I hope now they are recovering and that we will get helpful care from the hospital," she said.
Two children have died in the hospital within the past 24 hours, according to Dr. Luul Mohamed Mohamed. Dr. Luul added that the rooms are overflowing with the new patients, and expected the number of cholera and measles cases to double during the current season.
People are continuing to flee from Middle Shabelle and parts of Juba regions as a result of the prevailing disease and conflict.
In Baidoa some women and children are now able to get access to the city's hospital after the recapture of the city by the Transitional Federal Government and Ethiopian forces. The World Health Organisation (WHO) subsequently announced that it had recommended operations in Baidoa.
But many aid agencies are still not able to get access to other regions like Middle Shabelle, as the al-Shabaab militant group still maintains its policy of restricting the access of international aid groups in areas under its control.