Full Text of the Kampala Accord
Agreement Confirms Extension of TFG, New PM and New Cabinet Selections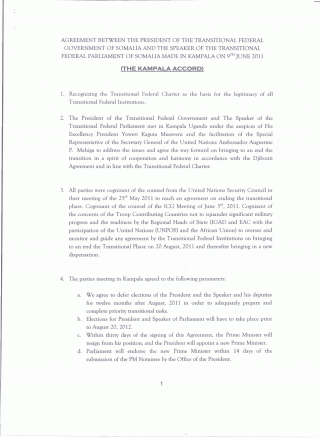 A copy of the actual signed agreement that defers elections, shuffles the cabinet and extends the TFG is enclosed here as a PDF download:
somaliareportAgreement.pdf
The agreement signed by the President of Uganda, Yoweri Museveni, the UN's Special Representative of the Secretary General of the United Nations Augustine P Mahiga, the current Speaker of the House Shariff Hassan Sheikh Aden and the current President of Somalia Sharif Sheikh Ahmed ensures the resignation of the Prime Minister and seeks to elect a President and Speaker of Parliament.
There will be yet another shakeup of ministers and a new prime minister elected in the next 30 days.
Since this document is being distributed by the current speaker of the house, it can be assumed that this document was constructed in his favor. The only section that seems to push back on Hassan's goals is a paragraph that sets out general conduct:
"Both Government and Parliament will endeavor to create an environment that is conducive to a cooperative working relationship and shall refrain from media recrimination, threats of impeachment of the President, Speaker and two deputy speakers of Parliament and the dismissal of the Parliament"