Exclusive
The Plight of Somalia's Mentally Ill Patients
World Heath Organization Advocates Chain–Free Initiative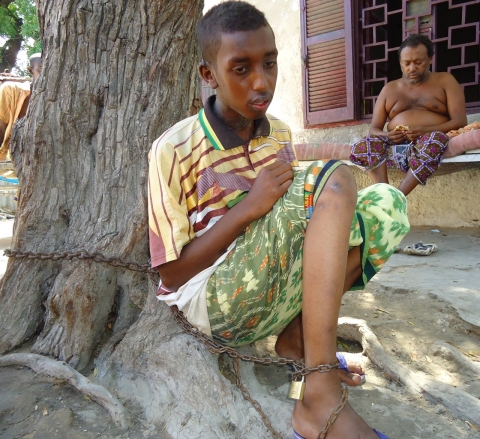 While the majority of news reporting on Somalia is typically full of information about the ongoing fighting, political turmoil, and humanitarian aid issues, little if any attention is paid to impact on mental health disorders and the mentally ill. Some of these are congenital but many afflictions are the direct result of extraordinary stress and violence Somali's have endured over the last twenty years.
Dr. Mohamed Fuje, head of the World Health Organization's (WHO) Somalia Office, recently estimated that one in three persons living in the country suffer from some form of mental illness. These problems, according to Dr. Fuje, are the result of a number of different but interrelated issues: stress and trauma from the ongoing fighting, widespread use of the stimulant khat, and a near total lack of mental health facilities and professionals to treat these disorders.
Stress among the civilian population is commonplace and if untreated can lead to a variety of mental health problems.
Exacerbating this problem is the use of a cheap and easily accessible local stimulant known as qat or khat. Khat is a species of flowering plant native to East Africa, to include Somalia. Chewing of the leaves of the khat plant can cause excitement and euphoria but it can also result in manic behavior and other negative side effects. Use of this plant for its amphetamine-like properties is widespread in Mogadishu, in particular.
Another major problem is a lack of trained personnel to treat the myriad disorders so common to this area. "Mental Health specialists do not exist here and mental health worker are few in numbers and problems become increasingly very acute as the number of the mentally ill patients is growing," said Dr. Fuje.
"The most affected are women with higher degree of trauma," explained Ali Khadar, one of the few mental health workers working in Somalia.
The treatments for such illnesses often only serve to increase the problem. Mr. Khadar added, "The worst thing is that the patient is chained up. Both his legs or arms tied up to a tree or a bed, which is an abuse and violation against the patients' rights in contrast with that families and relatives believe that they were helping the patient."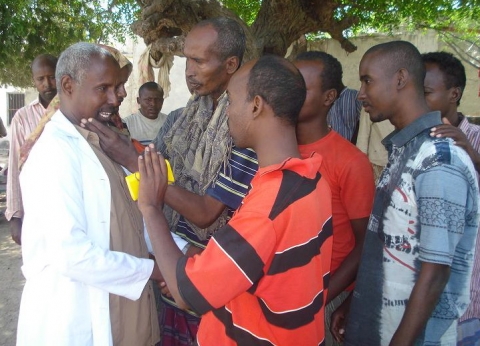 Unable to locate proper medical treatment for the mentally ill, some people in Mogadishu try to rely on traditional ways of healing. These unconventional efforts are centered on an long-held spiritual beliefs and often involve rituals designed to force out the "demons" inhabiting the bodies of the mentally ill. The most common treatment in this regard is the beating and flogging of the suffering person, in the belief that these will evict the evil spirits and restore the individual to mental normalcy.
Mohamed Khalif is a traditional healer who operates a clinic in Hamar-wein district. He said that his way of treating depends on the citation of Koranic verses and physically beating the demons.
"What we are beating is the demon, not the patient, as many people assume, and after the demon is evicted, everything will be alright and patient will become well," Khalif said.
Chain Free Initiative
There have been some efforts to discourage potentially harmful traditional remedies, such as chaining. The Chain–Free Initiative, a program specifically designed to encourage unchaining of mentally ill patient, was implemented in the south central Somalia through Habeeb Mental Health Centre in Mogadishu, the only mental heath center available since the collapse of military regime in 1990. This program has met with only limited success.
Ahmed Ali, a mentally ill patient, is still suffering pain on his hands and legs and shows scars resulting from being tied and handcuffed to his bed. Mr. Ali is one of the lucky ones, however. He was treated in a local mental hospital for two months and seems to be recovering.
Somalia Report asked him several questions relating to his ongoing treatment and condition. Yet, owing to his poor, if improving, mental state, his answers were unclear, owing to a lack of memory as a result of his illness and the earlier trauma brought on by chaining.
Somalia Report also interviewed Halima Mohamoud, a relative of Ahmed, who stated that Mr. Ali was in bad condition, and potential danger to himself and others. "The first thing the doctors told us was to unchain him because his arms and legs were chained," she said. "Currently he is recovering and his memory is a little bit back," she continued.
Ali Nuur is another patient in the hospital and he has recovered through interacting with other people, in stark contrast to chaining, which can leave the mentally ill person alone for significant periods of time throughout a given day.
Talking to Somalia Report, Mr. Nuur said that previously he used to work as a driver of a mini-bus, a public transport. "I used chewing khat daily in the noisy, busy and troublesome work of driving," he added. "Afterwards I got into trouble and a lot of confusion. I was struck by depression and at last things fall apart, memory deficiency and losing control."
He was in the hospital for five months, during which he was treated with special medications and psychological counseling. "The doctors told me that more counseling is needed for full recovery, that is why I still remain in the hospital," said Mr. Nuur.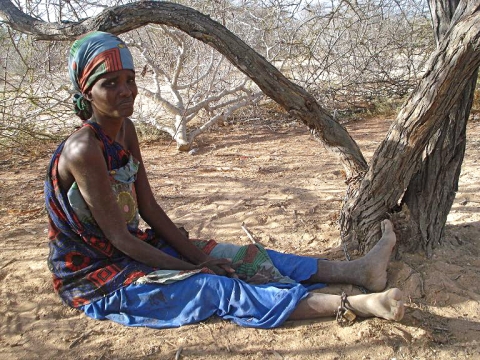 The WHO, along with Habeeb Centre, advocates for an end to the practice of chaining people with mental disorders replacing it with a novel initiative of chain free homes.
"The initiative started in early 2005 almost seems to be adopted by the community reducing the risk and complexes of chaining of people with mental disorders and old fashioned traditional healing and use of ritual practices," stated Dr. Abdirahman Habeeb who was then in Galkayo attending a rare opening ceremony for a new another branch of Habeeb Mental Hospital.
"At least 1,400 are currently victims of mental disorders across the country and most of the patients in the center suffer depression, psychosomatic problems anxiety and others including trauma," said Dr. Habeeb.
This number, however, is almost certainly understated, owing primarily to an inability of medical census personnel to travel around Mogadishu and the rest of Somalia, given the instability and ongoing warfare.
The future of adequate mental health treatment in Somalia and neighboring areas is unlikely to improve in the near term, given the aforementioned conflicts, severe lack of funding, and the public's continued beliefs in chaining and other harmful methods of treatment.