IDPs Cry Foul Over Lack of TFG Help with Floods
TFG Big on Promises, Light on Action in Helping Mogadishu's IDPs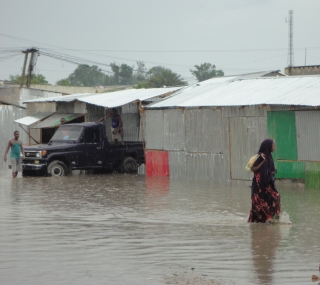 The internally displaced persons (IDPs) in Hamar Weyne district in the heartland of Mogadishu are crying foul due to the failure of Somalia's Transitional Federal Government (TFG) to assist them during the rains which have pounded the capital over the last week.
Somalia Report toured the flooded IDP camp in Hamar Weyne district. Upon the arrival of our correspondent, residents pointed to the a body of a two year old child in a polythene shelter who drowned when the waters rose through the camp.
Ali Jamaa, the head of the local displaced persons in that camp, said that the TFG failed in it's part and ignored the plight it's people.
"We only wait for God's help since our very own government has turned a blind eye to us. We have fled the militia and now the government has failed to recognize us," complained Jamaa to Somalia Report.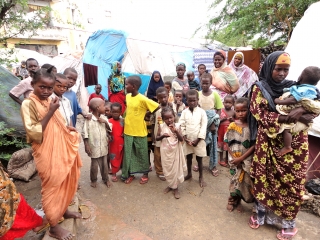 Halima Baree, a mother of three who fled from Afgooye after fearing her daughters would be forced into marriage by the extremist's fighters, said, "the TFG promised to assist us in the issuance of tents as well as food and medicine but we have not managed to see them here again."
Business brought to standstill in Waberi
The heavy rains also brought business to a standstill in Waberi district of the capital paralyzing normal operations in the rather busy business hub.
Traders in Mogadishu had to shut down their business premises for fear of losing their stock after rain water filled several shops in that particular section.
"I haven't sold a thing today, the rains have made me close my shop," said Hussein Noor Hajji, a local businessman.
In a country stricken by drought, the rains have been a curse due to the deadly flooding.