Drought Kills 4 Children in Galgadud
Water Prices Soar, Livestock Dying in Record Numbers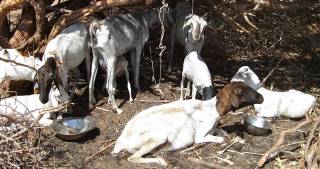 Severe drought hit Galgadud region in central Somalia after rains failed to materialize for several consecutive seasons, killing 4 children and an elderly woman in El Dher district.
Hundreds of families fled their homes in search of food and water since aid agency are not operating in the area. Most of the displaced people reached Dhusamareeb and Guri-el where aid agencies are operating under the protection of the pro-government militia, Ahlu Sunna wal Jamma.
Most of the residents are suffering from water and food shortages, high food prices, livestock deaths, disease, and limited or no funds, all of which have been worsened by months of increasing civil unrest between the government and the al-shabaab insurgent group, which controls most of southern and central Somalia.
Al-Shabaab banned aid agencies from operating in areas under their control accusing them of proselytizing. In a statement released by the group last year, al-Shabaab said NGOs "Acting as missionaries under the humanitarian work, these organizations have been spending their corrupted ideologies in order to train the pure creed of the Muslims in Somalia."
Hirsi Adan, a local resident in El Dher district, told Somalia Report that his community lost about 60% of its sheep and goats, 80% of its cattle, and 40% of its camels in the last three years.
"We have not seen such drought since 1979. People as well as domestic animals are dying. We are staring a catastrophe of huge proportion right in the eyes," said the restident. "In the last three days, the community lost five people and uncountable numbers of livestock. Corpses of dead animals lie everywhere. There are those who are also malnourished who don't have the basic necessities. A barrel of water costs 50,000 Somali schillings (around USD$2), which is beyond our purchasing power," Hirsi explained.