Somali Migrants Arrested Attempting to Reach SA
Somali and Ethiopian Migrants Rounded up in Mozambique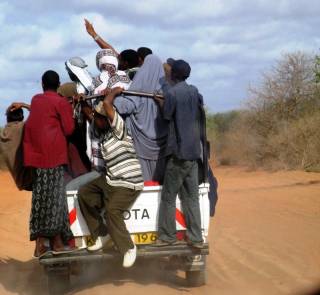 Over the last few months Somalis have increasingly been involved in
human trafficking in the horn of Africa
. Recently, tens if not hundreds, of people planning to be trafficked to South Africa were rounded up and are being held by the Mozambique Police at Maputo, the capital city of Mozambique.
Most of those held are Somalis and Ethiopians. The Somalis are fleeing from the war while the Ethiopians are purely economic migrants; both, however, are in search of better lives regardless of their reason for risking their lives at sea.
The Mozambican Government has ordered the illegal immigrants to be transferred to newly formed refugee camps in the country, after admitting it is fast becoming a den for human trafficking. The government wants to crack down immediately before the situation gets out of hand.
Nairobi, Kenya, is also one of the transit points for migrants and last year Kenyan police arrested 50 migrants on their way to South Africa.
Immigrants don't always use land transport, and often transit by unseaworthy vessels, many of which capsize and drowning those on board. The previous routine was based out of Bosaso and onward to Yemen by sea, but but now it seems that it is a new trend mode of travel by land to South Africa.