Exclusive
US Senator Kirk Reports on His Trip to Somalia
Advocates Tougher Legislation And Local Support Against Piracy and Terrorism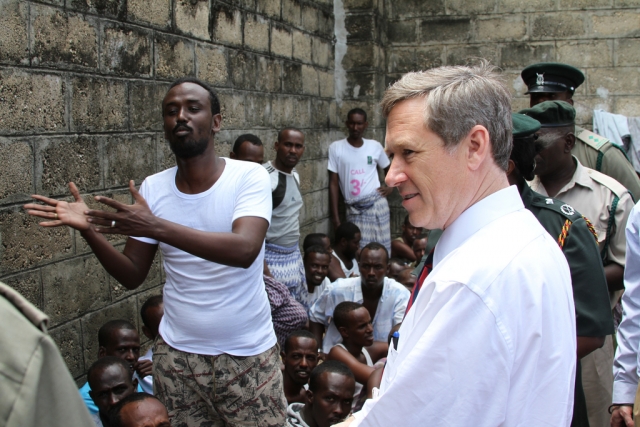 Senator Mark Kirk visited Somalia, Djibouti and Kenya to gather facts about the threat of piracy and terrorism in a recent unofficial visit. Kirk is no stranger to conflict areas and commendably uses common sense when seeking answers by going to the source.
His report has just been released in both text and video form, and are worth viewing.
The Video:
The full Kirk Report: kirk.senate.gov_pdfs_KirkReportfinal2.pdf
Although Senator Kirk makes a number of excellent points and gathers statistics from NATO, Combined Task Force 151 and the governments of Kenya, Djibouti and Puntland, there are some questionable conclusions that might color his overall goal. Yes, protecting U.S. interests does mean a more stable Horn of Africa, but there is little view of the secondary effects of some of his suggestions.
What is most troubling is a blanket statement that "30 percent of pirate ransoms go to al-Shabaab" - a figure obtained from the Kenyan government. This has never been proven or even supported by any stakeholder in the region and remains a controversial supposition. Terrorism and piracy have yet to be proven to be directly connected. This conflation of facts can blur the otherwise pragmatic and helpful suggestions.
The other concept that is troubling is that the U.S. should reward militia groups who "convert" or control pirate- or terrorist-controlled areas. Piracy is a criminal activity driven by economic gain, terrorism is ideology-driven, and both are hallmarks of lack of governance. Crime and ideology must be approached with very different tactics. Considering that a business can hire and arm a militia for around $250 per person per month and rent technicals for around $1200, this wild west scenario may bring back memories of the mid-90s to many Somalis. Those in Mogadishu know very well the effects of for hire militias decimating civilians and each other on a daily basis.
Finally the use of foreign navies to fight piracy must be carefully weighed against the the host government's right and responsibility to end piracy.
Each region must provide security to its own people and region, even if they are incapable of doing so in the short term. Capacity building can bring long term success. President Farole of Puntland outlined some very effective grassroots programs that are working. He gave Senator Kirk full access to his jails, security people and even the controversial Puntland Marine Force camp just outside of Bosaso. It is clear that Somalis are eager and willing to bring peace and stability to their country.
It is equally clear from the rise of al-Shabaab due to the Ethiopian incursion that no Somali wants to be under attack by any foreign power in what should be a law-enforcement matter.
In the area of terrorism, Somalis have constantly asked for training, support and funding to allow them to go after foreign and locally hired terrorists in their midst.
The tricky area of ransoms is controlled primarily by UK-based security and insurance companies and the right to pay ransoms has recently been defended in UK courts. We also think that Somalia and the world may have found an advocate from the midwest of America who seen first-hand the suffering that pirates bring.
We encourage Senator Kirk and we also encourage our readers to provide your comments and opinions on the Kirk Report directly to him and to Somalia Report , where we will publish the most lucid and constructive. Please send your opinions to publisher@somaliaReport.com or to http://kirk.senate.gov/?p=comment_on_legislation
KEY STATEMENTS FROM THE KIRK REPORT:
Pirates now attack ships at the entrances to the Persian Gulf and Red Sea, where 30,000 ships -- including 70 percent of the world's petroleum traffic -- must pass.
The total cost of piracy, including ransoms, insurance, naval forces, imprisonment and diversions now totals up to $12 billion annually.
Over the last three years, the number of Somali pirate attacks against American and allied shipping increased 309%.
There are currently 23 ships in pirate hands with 483 western and allied sailors held hostage.
From 2008-2010, shippers paid over $178 million in pirate ransoms
The average pirate ransom increased 36 times, from $1.3 million to $5.4 million per ship.
Each pirate now earns an average of $80,000 per ship.
The number of pirates operating in Somalia grew from less than 100 in 2005 to more than 2,000 in 2011.
The M/T Irene, released in April 2011, after a record $11 million ransom (the actual amount was $13.5M)
11 of 13 Western and Allied ships captured by pirates lie at anchor off El Danaan, Somalia.
Over 280 hostages are currently held on the pirated ships.
The United States and allied navies deploy task forces of more than twenty warships to the area,
The Kenyan government now estimates that roughly 30% of ransoms -- totaling more than $50 million -- are funneled to the East African Al Qaeda/Al Shabaab Islamic terrorist groups that run the largest terror training camps in the world.
Senator Kirk will push for legislation on:
1) A US/UN ban on ransom payments that support the expansion of pirate operations and support for East African Al Qaeda/Al Shabaab terror;
2) Aggressive Rules of Engagement giving authority for local naval commanders to attack and disable pirate "motherships," leaving them adrift to empower on-scene commanders with the tactical authority to arrest pirates and rescue crews;
3) Economic Assistance to reward Transitional Federal Government (TFG), Somaliland, Puntland, Ahlusunna Wal-jamea (ASWJ) and Jubaland frontline communities who confront or convert Al Shabaab or pirate-controlled areas;
4) Judicial Assistance to Puntland and Kenya to expand their courts and prisons to readily accept pirates captured by international or Somali allied military/law enforcement forces;
5) Military Assistance to TFG, Puntland, Somaliland, ASWJ or Jubaland forces who gain control of Al Shabaab or pirate-controlled areas; and,
6) A Blockade of the three primary pirate ports and shorelines, including the El Danaan anchorage, where 12 western tankers/merchant ships with 290 hostages are held.