Exodus of Medical Professionals from Somalia
Somalia's Healthcare Crisis Grows Worse as Professionals Flee Conflict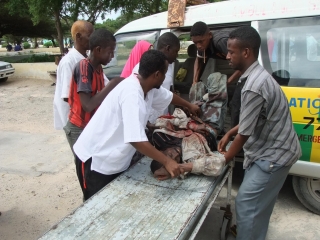 Every time an ambulance pulls up at Mogadishu's Medina Hospital, Dr. Mohammed Yusuf's heart skips a beat as he fears the worst – the arrival of another war victim in need of urgent medical attention.
Yusuf, a surgeon, faces perpetual exhaustion and long hours dealing with a constant stream of civilians suffering from bullet and shrapnel wounds suffered in fighting between Islamist insurgent group al-Shabaab and the government, backed by African Union peacekeepers. Many of Somalia's medical staff have fled abroad, leaving those left behind to pick up the slack.
"The demand for our services is overwhelming," he says. "The number of people wounded in the almost daily fighting is beyond our capacity. Every war victim is a priority for the few but dedicated staff ... taking them away from other patients in equal need of attention."
This is one of the major challenges that has faced medical professionals working in Somalia, particularly in the capital Mogadishu, since the 1991 ouster of dictator Mohamed Siad Barre plunged the country into anarchy.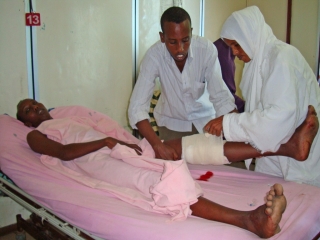 The struggle to save lives
"Sometimes we were forced to work for more than 24 hours, especially when there is a major explosion or fierce fighting," says Dr Mohamed Hussein Ali. "The situation has been getting worse ever since the insurgency began four years ago."
Ali spoke to Somalia Report in the Kenyan capital Nairobi, where more than 40 of his colleagues operate. Hundreds more are estimated to have fled to Europe, America and other parts of the world. His main concern is that many patients who suffering from illnesses are neglected amid the daily wash of war wounded.
"Of course, the exodus of medical professionals is a major blow to healthcare delivery in Somalia," he says.
Somalia's healthcare system has been a shambles for years. Due to poor infrastructure, there are no known statistics of how many medical practitioners are operating in the country, nor data on the number of medical staff graduating from learning institutions. Coupled with this are the twin challenges of sourcing medical supplies and ensuring the quality of the drugs reaching the country. The government usually relies on well-wishers and donors, including a recent donation from the United Arab Emirates.
With no proper functioning government to check and certify the quality of drugs getting into the country, unscrupulous traders have been raking in millions of dollars by importing fake or low quality drugs.
"Dumping of fake drugs in the country has become a major business, because suppliers and traders know very well that the government does not have the capacity to check the quality of the drugs," says Ali.
Attacks against health professionals
Medical staff in Somalia are also targeted by the insurgents, who seem to view any kind of development as against their interests. The most shocking attack against medical staff in recent years was in December 2009, when a ceremony marking the graduation of a batch of medical students - the first group of its kind to graduate in many years in Mogadishu - was targeted by a suicide bomber. Nobody claimed responsibility for the blast, but suspicion automatically fell on al-Shabaab.
The attacker struck in the middle of the ceremony, leaving behind a trail death and destruction. More than 25 people were killed, most of them graduating students along with ministers, lecturers, journalists and other guests.
For Dr. Mohammed Kassim Hassan, one of the students graduating that day after six years of study at Banadir University, it was to be the end of long and difficult journey and the beginning of a bright new career. Instead, he was left maimed, losing an eye and several fingers.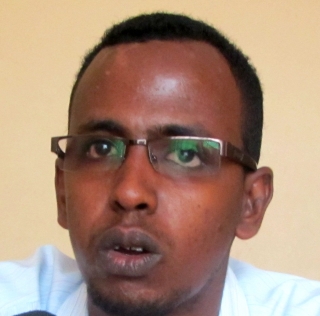 Lucky to be alive
He considers himself lucky to be alive, as many of his friends were murdered that day. He was among the victims airlifted to Nairobi for treatment and later to Saudi Arabia, where he spent months in a Riyadh Hospital.
He remembers the day vividly.
"It was a bright sunny day, and the venue was well decorated," he says. "Many people attended the ceremony since the event was one of its kind."
Although he has largely recovered and is now gaining medical experience at Nairobi's Kenyatta National Hospital, he still bears the mental and physical scars.
"I lost an eye, as you can see, and this remains a permanent reminder to me of how the attack of December 2009 changed my life," he says. "I don't know why anyone would target innocent students who are graduating."
Kassim, who studied general medicine, says he will not return to Somalia until the war is over, but he knows how painfully his absence is felt back home.
"I am determined to help my fellow countrymen using the knowledge and skills I gained, but how can I do so when my life is in danger?" he asks.
Somali medical professions say that once – if ever – security is restored, they are hopeful everything else will fall into place, including getting health professionals back into the country. That day seems further away than ever.