Floods Kill 5 in Drought Ravaged Somalia
Cultivated Land Devastated, Homes Destroyed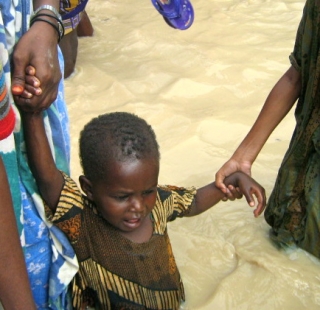 Rain-triggered flooding has left at least five people dead and wreaked havoc on hundreds of homes and families in several regions across south and central Somalia where pastoralists had been expecting to recover from the worst drought in years, according to locals who spoke to
Somalia Report.
The floods affected at least 800 homes in four provinces - Galgadud, Mudug, Hiran and Banadir - and killed at least 150 cows and goats which were already weakened by the severe drought.
In Mudug's Dosaley valley, an infant and middle aged woman, were reported drowned and their bodies were later found at Beer Dhagaxtuur a few kilometers away. In Hiran one resident died as others were threatened by flood waters that damaged hundreds of hectares of farmland to be cultivated later this year. In Mogadishu's suburb of Lafole, where thousands have fled to escape violence, two were reported dead as their house collapsed. Floods also destroyed more than 200 households in Mudug region.
Ahmed Hirsi, 52 a resident in Mudug's tribal contested pastoral land, said floods came at a time when his community had been preparing for good 'Gu' (monsoon) rains after two months of a clan conflict that displaced hundreds in Ba'adweyn village.
"We are about to recover from conflict and drought and now floods come again. What can I do now? This is a catastrophe," he exclaimed. In the twin Shabelle regions, river waters had risen up, causing fear among residents due to damaged river embankments that can easily flood over.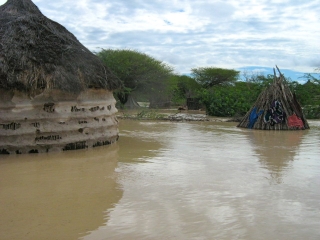 More rains expected across Somalia
Aid Agencies Unable to Cope
Although the rains started expectedly, the danger comes from the lack of emergency services to aid those in flooded areas. Aid agencies fear the worst is yet to come if heavy rains fall on the IDP camps where thousands of pastoralists sought refuge after their livestock was killed by the drought in the past two years.
"It is difficult to explain when emergency services are not fixed to IDPs in the camps. It will be a very bad experience to come," said Abdikafi Osman an NGO aid worker in central Somalia.
Fatuma Yasin, an IDP with three children, told Somalia Report that she is worried about rains because she lives at the base of a hill where water racing down can snatch her small kids and her herd of goats without warning.
"We have no good shelter and the rains are coming. I am very worried about the rains," she said. People like Fatuma have been fleeing from their homes in the drought hit Abudwak district in north Galgadud in order to stay alive.
In some regions across the southern Somalia like Lower and Middle Shabelle locals are still experiencing lack of rains, but remained vigilant. They know that the rains can result in their animals drowning.
"We expect rain from Allah. It is him who can give us rains but for now I have to take care in the coming rains," said Fidow Qorax, an old man in Qoryoley district about 100 kms away from Mogadishu.