Pirates to Blame for Spread of HIV/AIDS
Puntland Health Ministry Says Infections Up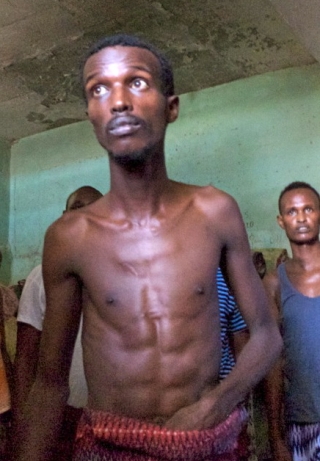 Pirates are to blame for a dramatic increase in the number people infected with HIV/AIDS in Puntland, a senior health official said after the autonomous region this week released its annual report on infections.
"The number of reports we received from local clinics and hospitals show that a high percentage of increase from the previous information we gathered last year," director of Puntland's Ministry of Health Dr Abdirisaq Hirsi Hassan said, without giving concrete figures.
According to Abdirsaq, it is no coincidence that the most-affected areas were cities and towns where pirates are mostly based, such as the coastal towns in the Bari region and the big cities like Bosaso and the capital Garowe.
Abdirsaq told Somalia Report pirates have in some cases intentionally spread the virus, citing a report made available by a local clinic where a seventeen year old infected girl told the doctor that her pirate husband knew his status but hid it when he proposed to her
"This report now in front of me has recently been sent to the ministry by a local physician, it shows the evil intentions of pirates, a very sad story indeed," said Abdirsaq. "Some of the pirates hide their status from their partners, hence infecting them knowingly, while others don't even know their own status."
Abdirsaq said the pirates live an extravagant and lavish lifestyles that brings a flow of teenage girls to pirate hubs.
"Girls come from all over Somali regions and neighboring countries such as Kenya and Ethiopia just to grab whatever they can from pirates, and they do that with all the costs and risks involved," he said.
The government of Puntland has undertaken awareness projects in all the provinces to warn ordinary people the risks of the virus.
"We have launched seminars in the rural areas of the country at the same time we erected posts with AIDS signs in the streets of the cities, so people can easily see them and disseminate the word to the illiterate ones," he said.
The number of testing centers have also been increased, although it is difficult to get people to be voluntarily tested in Somalia due to the stigma of the pandemic in the country.
Speaking at the launch event, the Executive Director of Puntland's HIV-AIDS Agency, Mohamed Abdulkadir Barre, said that his agency faces challenges when it comes informing the people about the virus.
"The biggest challenges we face are that some people are absolutely against speaking about it at all due to the misconceptions in Somali society, it's quite a difficult task," he says.