College Education in a Refugee Camp
Somali Refugees Realize Dream Through Online Studies at US Institutions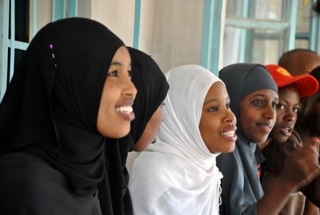 In most cases, you would not expect to get higher education at a refugee camp in Africa. But that is exactly what a group of refugees, including Somalis, in Kakuma refugee camp, northwestern Kenya, are receiving following the launch of an online course at the camp in mid-March.
The camp was established in 1992, a year after the fall of dictator Mohamed Siad Barre plunged Somalia into chaos, and life there for almost 80,000 refugees, many from Somalia, is challenging, both in terms of environmental conditions and security risks from local armed pastoralists.
The camp is located in a semi-arid area, with sandstorms frequent. Refugees refer to the camp - run by the UN refugee agency (UNHCR) with Kenyan cooperation - as an open-air prison, as they are not allowed to leave without a permit. It's particularly hard for the Somali refugees, who have nothing in common with the host community and are stranded almost 1,500 km from the Kenya-Somalia border
Impossible dream
Under such harsh conditions and restrictions, education seemed like an impossible dream. But a group of Somalis have enrolled in an online program that allows them to do diploma courses in various fields. The course is offered by Jesuit Commons - Higher Education at the Margins (JCHEM), an umbrella organization that has more than 28 colleges and universities in the US under its management. These include Regis University in Colorado, which offers the curriculum.
Students can take three-year diplomas in Liberal Studies, focusing on areas such as humanities, leadership, business studies, communication and conflict management.
"While most refugees have access to primary and some to secondary education, we have seen a strong demand for tertiary education," said James Stapleton, Communications Coordinator for Jesuit Refugee Service. "It's about giving them education for leadership and service ... they are expected to give back to society."
Students download their course materials through a bank of computers in the camp, and then interact with their American tutors across several different time zones. Thirty-five students from eight different nationalities are studying for the diploma, and the number is expected to rise to 100 by the end of the year.
New leaders in the making?
Ahmed Abdi Farah is a 23-year-old Somali refugee. He fled his country at the age of three and has lived at the camp all his life, where he attended his primary and secondary education. When the opportunity to study online presented itself he did not think twice. "This is a God send," he said. "I never thought I would pursue higher education in Kakuma camp, since there were no colleges or tertiary institution here."
"I hope to use this opportunity to change my life and those who depend on me, as you know, its now 20 years since the conflicts began in my country and I believe only the youth who can help in creating peace and this can only be achieved through education''
Most of the youth, who have little to do in the camp, yearn for the chance to move to a Western country, although only a few lucky ones make it. For those who stay behind, the project gives them another source of hope.
Suleiman Abdullahi, another of the Somali students enrolled in the program, had been holding out for such a move, but he is now studying and hopes one day to be involved in leading his country out of a seemingly endless cycle of conflict.
"What we lack in Somalia are credible leaders who have respect for human rights and can up hold the rule of law," he said. "I think studying leadership and conflict management as a course will help me make better decisions, hence I may stand a better chance of leading my country out of the abyss of violence it has found itself in."