UN Aid Chief Warns of Growing Crisis
Meets PM in Mogadishu, Says Resources Lacking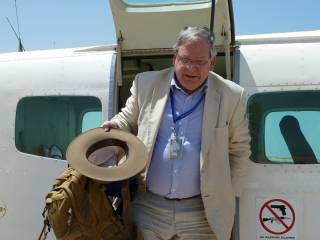 The UN's Resident and Humanitarian Coordinator for Somalia, Mark Bowden, on Tuesday held a closed-door meeting with Somalia's prime minister in Mogadishu, afterwards warning that the current rains did not end the ongoing humanitarian crisis.
"I am very concern that Somalia is entering a new level of humanitarian crisis as a result of the failed rains," he said. "We are concerned that the number of people who need humanitarian assistance will increase."
Bowden said that the UN did not have "sufficient resources" to meet the needs of the population, but vowed to continue supporting the Somali government.
The UN's aid chief for Somalia last month told Somalia Report that agencies were suffering a huge funding shortfall due to the lingering effects of global recession, donor fatigue and anti-terrorism legislation that has seen the US drop from being the top donor to number seven. The UN appealed for $529 million to fund aid operations in Somalia this year, but had received only $145 million by mid-April.
Rains have begun across Somalia, bringing some hope of relief after a long drought, but concerns remain the precipitation will not be sufficient to replenish water stocks and allow farmers to grow crops.