Exclusive
Senator Mark Kirk Visits Puntland President
Illinois-Based Naval Intel Officer Known For Hawkish Stand On Anti-Piracy Ideas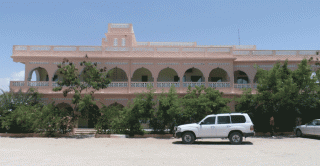 Senator Mark Kirk arrived in Bosaso early Saturday to visit Puntland President Abdurrahman Mohamed Farole and conduct a whirlwind tour of the town. The US delegation flew in from Djibouti, where Kirk was also reviewing NATO and US efforts in defeating piracy. The event was closed to the media, but the town of Bosaso was locked down. Various elements witnessed the convoy and events of the day.
Somalia Report has learned that after private conversations with the president and top officials, the delegation went on a tour of the port and, most surprisingly, the senator came face-to-face with the famous pirate "Boyah", now held in Bosaso jail on an 8-year sentence for piracy. The Senator, who took over President Obama's vacant seat in 2010, has served in Afghanistan, Kosovo, Haiti and other hot spots. He recently spoke out for the need for legislation, and against the ineffectiveness of naval efforts to curb piracy. He suggested harsher measures, including blockading ports, sinking pirated ships and more military action.
The senator also visited the US-funded Puntland Security Services, which recently arrested the negotiator of the doomed SV Quest, and the recently built logistics facility and anti-piracy base built just west of the town. After a sumptuous lunch at the Presidential Palace and further discussions, the delegation boarded a private aircraft and returned to Djibouti.
President Farole intends to pursue further discussions on defeating piracy with the U.S. which may also include a trip to the United States.
Read Senator Mark Kirk's ideas on defeating piracy in Somalia here.

Senator Kirk's Biography
Mark Steven Kirk was elected to the United States Senate on November 2, 2010, winning a special election to serve the final weeks of President Barack Obama's Senate term in addition to winning a regular six-year term starting January 3, 2011.
Born in Champaign, Illinois, Mark graduated from New Trier High School in Winnetka and attended the Universidad Nacional Autónoma de México. He then enrolled at Cornell University where he graduated cum laude with a B.A. in History. After completion of his undergraduate studies, Mark obtained a Master's Degree from the London School of Economics and a Juris Doctorate from Georgetown University.
In 1989, Mark was commissioned as an Intelligence Officer in the United States Navy Reserve and currently holds the rank of Commander. From December 2008 to January 2009, Congressman Kirk became the first House member to deploy to an imminent danger area since 1942 when he served as special advisor for counternarcotics in Kandahar, Afghanistan. He has also served in Iraq, Haiti, and Bosnia and in 1999, was awarded the Navy and Marine Corps Commendation Medal for his service in Kosovo. For their service in Kosovo, the U.S. Navy and National Military Intelligence Association named Mark and his team the VADM Rufus Taylor Intelligence Unit of the Year for outstanding service during Operation Allied Force.
Mark worked on the staff of his predecessor in the House, Congressman John Porter, a former Representative of Illinois' 10th District, and also spent two years at the State Department as Special Assistant to the Assistant Secretary of State. Mark then went into private law practice and eventually became counsel to the House International Relations Committee, a post he held until 1999.
Mark was elected to the United States House of Representatives in 2000 and went on to serve five terms representing the people of Illinois' 10th Congressional District in Congress. On November 29, 2010, Mark was sworn in as the thirtieth class III United States Senator from the state of Illinois.
He serves on the Committees on Appropriations, Banking, Housing and Urban Development and Health, Education, Labor and Pensions as well as the Special Committee on Aging.
Mark currently resides in Highland Park, Illinois.