200 Houses Donated to IDPs
More Projects Planned by Daryeel Bulsho Guud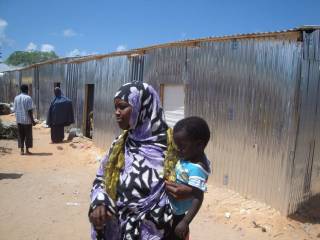 Local non-governmental organization Daryeel Bulsho Guud (DBG), Common Community Care, has completed the construction of 200 corrugated houses and distributed them among families in three internally displaced person camps in Mogadishu.
Each corrugated iron house - erected in the Agisagoreh, University compound, and Villa Baidoa camps - cost $3000. The project was funded by the BMZ (Germany's Federal Ministry for Economic Cooperation and Development), Omer Olad, the director of DBG, told Somalia Report.
"We have lived uncovered under the hot sun and pouring rain as well as going hungry, but now me and my children have received a good living room. We thank God," Sahra Ibrahim, a mother of three children in Agisagoreh, told Somalia Report.
Olad said his NGO donated the first homes to the most vulnerable, such as the elderly and the disabled.
"We are very in high spirits as DBG has handed over to us these corrugated-iron houses, which have never before been offered to IDPs," said Mohamed Elmi, a wheelchair-bound IDP.
DBG officials said that they are hoping the project will be expanded and implemented in other camps in Mogadishu.
More Projects
In addition to the new homes, the NGO has a variety of projects planned for IDPs in Mogadishu, including a drinking water project for camps in Wadajir, Dharkenley and Hodan districts.
The NGO recently completed the distribution of 400 metric tons of food aid including rice, beans, maize, and cooking oil, as well as 2000 plastic sheets and mosquito nets in camps across the country.
Eight main buildings, including Koranic and formal schools, will be established in IDP camps in Mogadishu in the coming months.
The corrugated-iron houses are for many small ray of hope after a long-standing conflict that has resulted in over a million displaced people living in appalling conditions across the country.