The Literal Scars of War
'Invisible War Victims' Suffer from War Wounds in IDP Camps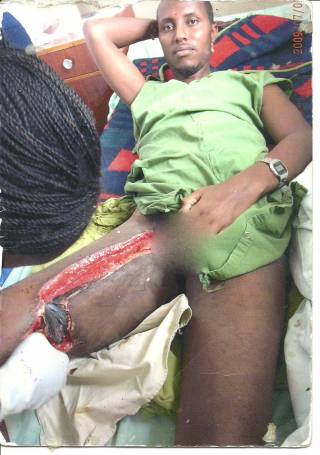 In Somalia's capital city Mogadishu where bloodshed is a daily occurrence and nothing is functioning properly, physical wounds caused by warfare are exacerbated by improper medical care and severe infections.
In Kenya's northeastern refugee camp, physical suffering and trauma is visible on Somalia's war victims. "Those with untreatable wounds or in need of oversees medical attention are the 'invisible war victims' living in IDP camps and should they get urgent help to transit from such painful life to normal bases life," Mume Johnson, a trauma psychologist in Dadaab, told Somalia Report.
Abdi Ibrahim Abdille, a 40 year old father of nine children, remembers happier times with his family when he used to run small shop. That all changed one day four and a half years ago when he was deliberately gunned down by masked men that attacked his family at home on the KM4 avenue in the government held area in Mogadishu.
"I was with thirteen other men including cousins, my uncle and my only two brothers and other close relatives when we heard a knock on the front gate. My small daughter went and opened the gate," he explained. "It was the worst. Masked men began shooting us directly with machine guns," he recalled. He was the only survivor. (Most of his children were in another home at the time of the incident.)
"Some of my cousins were government soldiers so that was why we were attacked. Some of my neighbours who were against the government of Abdullahi Yusuf Ahmed (TFG president 2006-2008) and the Ethiopians them tipped off," Abdi remembers.
He added that he was not the only victim of such brutal killings but mullahs, doctors, engineers and other such people were killed during the fighting against the Ethiopians and the TFG led by Abdullahi Yusuf. "He who even greeted a soldier was targeted, even shaking hands of your brother was very precarious in public places," he said.
Abdi said he found himself on a bed at Madina Hospital 48 hours later with two bullets in his left kidney and one that passed through his buttocks and testes. "I was in severe pain and shocked at the deaths of my family," he looked down with tear rolling on his checks.
Although Abdi found basic medical attention when he was taken to Kenya four years ago, he is still suffering with his wounds. He was taken to Garissa, Kenya's northeastern province headquarters three times and once admitted to Kijabi Hospital in Nairobi but he says doctors have given up on his ordeal. He says he needs special medical attention oversees. "I am now a thrown away person. My situation is desperate," he told Somalia Report.
Abdille can't walk or sit very well. All he can do is a little exercise walk but almost falls. His urine and stool passes through his kidney, but doctors do not have a solution. "The bullets have damaged important cells," he explained.
In Somalia, thousands of war victims live with endless pain as it is often difficult for them to get a medical attention. Patients with war wounds say getting their dreams back while in this over crowned refugee settlement is unlikely.
Abdille's physical deformities will brand him for life, "Who will take care of me and my children if I remain like this? We are hungry and need a bright future like a normal people," he complained.