Relief Work An Uphill Task in Lower Juba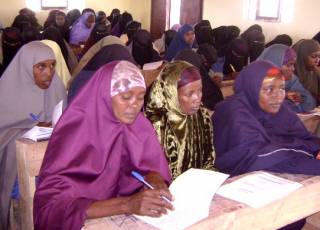 Many local humanitarian relief organizations operating inside Somalia face countless obstacles and security issues, but continue their work despite the difficulties. Threats from al-Shabaab militants hinders efforts, but hope might be ahead with the formation of new regions controlled by the government.
Working Secretly in al-shabab Held Areas
Previously, the non-governmental organizations (NGOs) were challenged by warring warlords, which mired relief efforts. Today the Islamist militias of Hisbul-Islam and Al-Shabab have taken the place of the warlords exacerbating an already difficult situation.
To understand this phenomenon, Somalia Report interviewed Mrs. Halima Farah Godane, the director of Somali Women Solidarity Organization (SWSO), a woman led NGO which operates in Lower Juba region, an al-Shabaab controlled area.
"Between 2006 and early 2009, our area of operation was under the control of Hisbul-Islam and there were only few problems here and there. However, when al-Shabaab militias occupied the area in late 2009, things changed completely. We had to stop all of our major efforts except making an awareness for women on matters affecting them. We even did that secretly," she explained.
Despite the problems, the group moves forward with their efforts. "We do women empowerment so that they can take part in politics, peace-building, development of skills among the women, assisting children and handicapped women during the civil war and literacy programs," said Mrs. Godane.
A New Region Brings Hope
These NGOs have hope as there are plans underway to form new administrations which will come under the control of Transitional Federal Government (TFG) in the Jubba Regions, including Azania.
Mrs. Godane said she hopes her organization can continue with their humanitarian work with the new regions "Actually, we have a good hope at the moment. Azania which is an administration for Juba and Gedo Regions which will also come under the control of the TFG soon. We hope that life will change and peace and stability will be restored."
"We hope that Allah will help us as we are alleviating human suffering here and that the international community will assist us," Mrs. Godane added.
Despite threats from al-Shabaab and Ras Kamboni groups which operate in the Juba Regions, the civil societies and the community support the efforts of the relief organizations. In fact, elders negotiate for them whenever there is need for an aid work to be carried out in the region.
Organizations like SWSO ask for more support from aid organizations and the United Nations as the people they serve have been faced by series of conflicts and drought.