Rains Begin In Some Regions Of Somalia
Drought-Hit Locals Elated With Development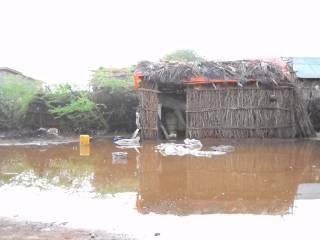 Long-awaited rains have begun in some drought-stricken regions in southern Somalia, overjoyed locals told
Somalia Report
Thursday.
In Jowhar District, Middle Shabelle, it rained for two hours, although residents said the precipitation was below normal levels. In Jalalaqsi District in Hiran, locals said that the rains were strong.
"We received Allah's mercy, the rains, we have water now," Said Bashir a Hiran resident, told Somalia Report. "Yesterday we were dying for water."
The southwestern regions of Bay, Bakol and Gedo have begun receiving normal rainfall, and pastoralists in still-dry villages were on the move to areas where water was available. Other areas of Lower Shabelle and Middle Shabelle were also recording average rainfall.
However, while the rains have begun, some are worried they may not last.
"We are worried about whether or not the rains will be stable," Mohamed Ismail, who works on agro-forestry livelihood programmes in southern Somalia, told Somalia Report.
The rain comes amidst severe water shortages, reports of drought-related deaths and apocalyptic warnings of disaster from Somali officials. However, the UN said that the biggest concern was to livelihoods.