Resignations As 8 People Die of Hunger
Chairman of Drought Prevention Resigns Amid Division, Death, Failure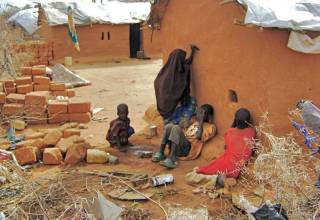 Somalia's troubles government took twist on Wednesday after a chairman of Somalia's drought prevention committee resigned amid widening division amongst the top officials.
The chairman Ibrahim Habib Noor accused the government of failing to make any progress on the country's dire situation.
"I am taking this decision because the government has failed to fulfill its commitments. It has failed in the most important thing, to help civilians who were victimized by the severe drought," Habib said.
The Chairman submitted his resignation and told reporters in Mogadishu that he can't serve 'a failed government'. He has been critical of the current government, accusing some members of having links with corruption.
This resignation come hours after eight people, most of them children and women, died due to hunger and diseases in Ceel-waaq of Gedo region, northwest of the Somali capital Mogadishu.
An elder accuses Somalia authorities over poor governance, corruption and misuse of government revenues, saying the income goes to some government officials not the government.
"Several people and their livestock died without food and water in Ceel-waaq district since yesterday while nobody is taking any responsibility of their life since there is harsh drought," Ma'alim Aden Ahmed told Somalia Report.
The Somali Prime Minister donated $US 61,000 to help the IDPs in Mogadishu and Somalia-Kenya border few days ago.
"No money was coming to Ceelwaaq (Somalia-Kenya border) and I don't know about that money the premier donated," said Ma'alim adding "Unless we will have direct support, definitely there will be a terrible situation in Gedo region."
According to UN Monitoring Group reported, corruption is rife within Somalia's Transitional Federal Government (TFG), with malpractice reported in most government institutions.
Also the group accuses lawmakers selling visas and signing dubious deals, misusing revenues, covering for organised crime and piracy, selling weapons and diverting food aid are just a few of the practices taking place within the national and regional governments.