A Long Way Down
New Smuggling Route From Kenya To South Africa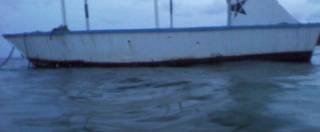 As darkness falls over Shimoni beach in Mombasa, Kenya, two small boats bob in the gently swelling Indian Ocean. Their rusting hulls are painted blue around a small star, displaying the colour and symbol of the Somali flag.
The owner of the boats, a short Kenyan brimming with the confidence of a successful businessmen, uses the tiny craft to ferry dozens of Somalis south on the first leg of a trip to South Africa, one of the new destinations of choice for desperate Somali refugees.
"Business is going well," Rajabu says with a smile.
He has every reason to be smiling. Ever since he started his business four months ago, he has been making between $3500 and $5000 per trip ferrying the migrants south past Zanziabar to Mozambique – a ten-day trip - where they transfer to another people smuggler under the cover of darkness.
Rajabu is benefiting from a move away from Yemen as the destination of choice. Tens of thousands of Somalis have been making the hop across the Gulf of Aden to Yemen, hoping to use it as a transit point to spread out through the wealthy Gulf States or travel onto Europe. Hundreds are drowned each year when boats sink, or smugglers force them to swim the last few kilometres to avoid the coastguard. Many of the migrants end up in jails or refugee camps in Yemen, or get deported. In face of such challenges, refugees have begun looking for a new route.
The refugees, mainly Somalis but also Ethiopians, aged between 15 and 30 in the main, travel for days on foot and are then smuggled over the Somali-Kenya border before meeting Rajabu, who takes between 40 and 60 refugees on each of his little boats (pictured above, in a covert shot taken from a mobile phone). Rajabu says that nobody has died on his smuggling trips, but given the example of the Yemen route, it may only be a matter of time before that changes.
Coastguard in for a cut
The Kenyan coastguard is allegedly complicit in the smuggling, taking a nice little kick-back to allow Rajabu to work unmolested.
"They charge a fee of $50 for every person in the boat except me and the captain," Rajabu says.
Another smuggler, who asked not to be named, said the new sea route had been established when Kenyan media exposed their land-based routes.
"Hundreds of our customers were arrested in Nairobi when a Kenyan television channel broadcasted a series of investigative stories regarding the cooperation between us, immigration officials and police to smuggle people through the border," the smuggler said.
They copied the model of the Yemen smuggling route, where refugees are packed in like sardines to maximize profit, and are also back to taking refugees across land after the dust settled on the media storm.
"Now the police and officials at the border are working with us," says Ali, another human trafficker who operates at the Kenya-Somalia border.
Plenty of refugees to go round
There is no shortage of migrants willing to risk their lives - and fill the pockets of the smugglers - to begin a new life abroad. Since the collapse of the central government in 1991, hundreds of thousands of Somalis have fled clan-based violence and more recently an Islamist insurgency – as well as drought – in search of a safe haven.
Said Abdirashid, 17, left Somalia two months ago and is currently living illegally in the Kenyan capital Nairobi. He wants to go to the oil-rich Angola to meet up with some friends, and has arranged for smugglers to take him there.
"They told me business was booming for them," he says. "I want to go there and make money."
Yet South Africa is not the promised land many believe it is. Somali migrants face many challenges, including xenophobia and attacks from South African gangs, and some have already returned home.
Salat Mohamud came back to Nairobi from South Africa a month ago after a gang killed his friend during an attack on his shop and stole all of their money.
"I am just glad I am safe," he says. "Things are very difficult there."