Living On The Scraps
Displaced, Bereft Of Aid, Brave Shells To Beg In Mogadishu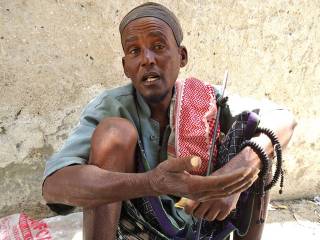 In the Trebiyano neighborhood of Mogadishu's Hodan district, Halima Ali, a wizened female beggar, leans against the bullet-scarred wall of an abandoned house as mortars and artillery shells explode around her.
She trembles with fear, but none of the other pedestrians taking shelter pay her any attention. Halima, like the thousands of other beggars braving the dangerous streets of Somalia's capital, may as well be invisible.
"I am old and unable to earn a living because of my weakness," she says once the fighting dies down and people go about their daily business. "Every day, I go around the city begging, terrified, as fighting goes on."
Beggars, due to the nature of their work roaming the streets in search of alms, are amongst the biggest sufferers of the heavy fighting and constant shelling between government forces and militant insurgent group al-Shabaab.
Many of those who beg for a living are internally displaced, and every morning they swamp the streets, clogging the entrances to shops and restaurants, hanging around street corners, and besieging traders in the Bakara Market, an insurgent stronghold. Male beggars favour the mosques during prayers, and are often lambasted for not praying.
According to the UN refugee agency, there are over 1.5 million internally displaced people in Somalia. Many of these unfortunates have set up temporary camps in the Afgoye corridor, around 35 kilometers outside Mogadishu. Al-Shabaab has banned many international aid agencies from operating in Somalia, and local groups say that hundreds of thousands have little food and water. For many, there is little option but to try beg from those lucky enough to still be earning a living, no matter how small.
"I have been in begging for a long time because I have four children whose father died in 1991 in Baidoa, when it was named 'The City of Death' because of the famine," says Moumina Abdi. "I hate the fighting. Almost all the civilians who routinely lose their lives are beggars, and after each lull of fighting beggars' dead bodies are retrieved at street corners and from under rubble."
A few weeks ago, in the Waberi district, the dead body of a female beggar was found killed by a stray bullet, her two-year-old son still cradled in her arms. Members of the Waberi district commission, who arranged a funeral for the woman and undertook the responsibility for maintaining her child, say the government should start paying more attention to the plight of the beggars.
"The government should give special attention and start at least feeding camps, because in the internally displaced persons' camps they are not regularly fed," says Osman Mohamed, a member of the district commission.
Abdi Ali, a beggar who works the streets of Hammer-wein district, says that Somalia's economy – destroyed by 20 years of no functioning government and worsened by the insurgency that broke out in 2007 – means that they barely scrape by.
"In more peaceful times before the last two years, I used to earn up to 50,00 Somali Shillings (nearly $1.7, according to the Central Bank of Somalia exchange rate) per day, but today we earn a maximum of 15,000 shillings," he says. "People cannot afford much because unemployment is high."