Somali Aid Group Assists Women and Children
An Interview with Save Somali Women and Children's Exective Director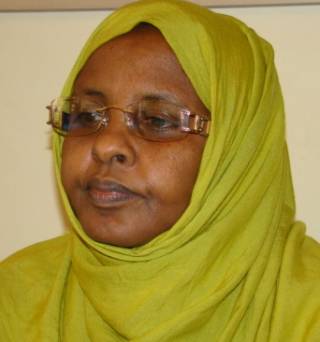 Save Somali Women and Children (SSWC) is an aid organization designed to improve the lives on Somalis and has implemented many different projects across the country including employment initiative programs, providing aid, digging wells and providing clean water. Somalia Report interviewed Executive Director Amina Hagi Elmi in Nairobi.
Amina explained that their organization was founded 18 years ago when they realized that young girls faced a variety of obstacles growing up including the denial of formal education because their families could not afford to pay the school fees, rape, forced and early marriages, the loss of parents and families by war, unemployment, and the hardships of ongoing warfare and drought.
Over the last year, SSWC made a center for handcrafts; created tailoring and sewing machines centers at some villages, built wells, organized Internet café center, passed out cash and aid.
Peace Building in Galmudug
In addition to their ongoing projects, last month SSWC began work on a UNDP funded peace building and reconciliation project in Galmudug state. The project aims to change the behavior of Galmudug Administration and civil society groups so they are more cooperative and collaborative. "The main objective of the project is to engage women's groups in Galmudug Administration in the development and implementation of Galmudug State policies and programmes," Amino said.
The activities include: mobilization of women's groups to form a Galmudug women caucus; holding five (5) dialogue meetings between women's organizations and the Galmudug Administration; and training women's organizations on negotiating for space and for equal treatment from the Galmudug Administration.
Such projects and activities, "caused the first woman to become minister at the administration of Galmudug, while Shamso Ahmed Siyad was appointed the minister of family and women of the administration," according to Amina.
Aid Distribution in Mogadishu and Beyond
In the February of this year, SSWC distributed money, clothes and hygienic kits to 1500 displaced women in Mogadishu, funded by UNOCHA.
"Before SSWC's initial arrival, there was no welfare at all in the area. They developed formal schools, employment initiatives and water supplies so many families still remain their initiative jobs. They educated men and women to discuss their rights and needs. They are known as the 'mother of the inhabitants,'" Director of the Minister of Internal Affairs of Himin and Heb Administration Abdulahi Moalim told Somalia Report.
In Galgudud's Adado town of 7,200 residents, SSWC distributed 6 grinding machines. One machine is for 8 families so 48 people from different families profit this project.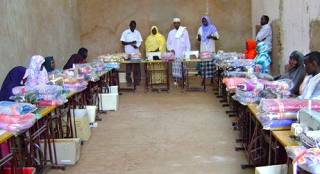 SSWC also implemented a project on hygiene and water from which 17,500 individuals benefited in 14 different villages at Himin and Heb Administration in Adado district, Galgadud region.
Last year, SSWC repaired 25 hand pulling wells, 5 vessels and 10 reservoirs, and built 140 latrines in Adado town Galudud region in order the inhabitants of the areas to advance.
Mother Maryan Halane who is one of the beneficiaries of the SSWC projects in Adado district told Somalia Report, "It was the first time we have had a livelihood when the women came. Our family has 6 people and this organization created a jobs for 3 members of my family and offered materials to maintain the job. I can't even express here what they did for the society."
At the present time, they are building 12 reservoirs for the people of Himin and Heb Administration at a cost of $120,000.
The projects that SSWC implements are funded by both international and local NGOs including: ICRC, Muslim Aid, UNDP, UNOCHA, UNPOS, Mercy Corps, UNICEF, UNFPA, Care International and others.
Awards
In recognition for their work, SSWC has received 10 international awards for assisting Somali women and children including:
- Lifetime Africa Achievement Prize – Africa Peace – December 4th, 2010 in Accra, Ghana.

- Women and their Influence for Good Advocacy Award by the Worldwide Organization for Women – October 10, 2009, Salt Lake City, Utah, USA.

- Global Citizen Award by the Clinton Global Initiative (CGI) – September 24th 2009, New York, USA.

- The Right Livelihood Award known as the "Alternative Nobel Prize" – December 2008, Stockholm, Sweden.

- Tombouctou / Women Peace Making Award by Femmes Africa Solidarity - May 2006.

- Blue Ribbon Peace Award by the Women Leadership Board of the John F. Kennedy School of Government, Harvard University - November 2005.