Drought Bites Hard In Somalia
At Least 28 Dead, Locals Say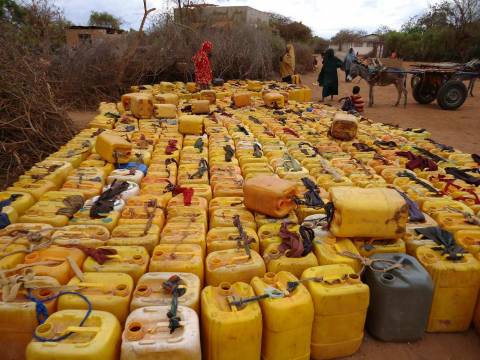 Local say that at least 28 people have died as a consequence of drought in recent weeks across Somalia, the fatalities backing up warnings from officials that this could be the worst, and potentially deadliest, dry spell for years.
Somalia's ambassador to Kenya, Mohamed Ali Nur, this week warned the drought could spark the worst humanitarian crisis the country has witnessed since 1991, when thousands died in the town of Baidoa.
"If emergency aid doesn't reach those in need soon, I am afraid that we are going to see ... a very high death toll," he told reporters.
The growing number of deaths and reports of communities on the brink lend credence to the claims, which have been made before about a country prone to cyclical drought.
Residents in Galgadud, Hiran and Middle Shabelle have reported 20 deaths, while eight, including four children, have died in the Bay, Bakol and Gedo regions. In each case, locals blame a shortage of food and water or Acute Watery Diarrhea brought on by the lack of safe and clean drinking water.
In Yurkub, Bakol region, locals said that a mother and her two children died after eating poisonous leaves in desperation after having nothing to eat for six days.
"The mother begged neighbors for food, but she didn't get any response as everybody was having the same problem," Ibrahim Malak, a local elder, told Somalia Report.
Humanitarian access limited
Aid access is limited in many regions in southern and central Somalia due to insecurity brought on by the ongoing insurgency conducted by militant Islamist insurgent group al-Shabaab, and bans the group has placed on deliveries of international aid – in particular food.
"More areas are becoming accessible, but the epicenter of the drought, where the main problems lie, are in the south, and there we have access only for certain types of assistance," the UN Resident and Humanitarian Coordinator for Somalia, Mark Bowden, told Somalia Report.
In Gedo region, near the Kenyan border and one of the areas where fighting has been heavy between al-Shabaab and government forces, four people have been reported dead, including two teenagers who perished as they walked a long distance under the baking sun in search of water near the town of El-Wak, according to their father.
Soaring prices have exacerbated the situation in Gedo, where al-Shabaab has banned the movement of commercial vehicles and has been planting landmines to restrict pro-government forces that have made gains in the area, preventing the easy flow of goods to towns.
Calls for aid
"The most-affected areas are Galgadud, Bakol and Gedo, where the situation is one of complete despair," said Ali Siyad, an elder in Dinsor district, where residents have suffered from a severe lack of water for two decades. "The world must not forget us, we are humans in need of aid."
In Galgadud and Middle Shabelle, around ten people have died of malnutrition and thirst, locals say. The village of Elmulug is the worst hit in the region, a resident told Somalia Report.
Although no deaths have been reported in Puntland, the drought continues to escalate and seriously affect nomadic communities in Qardho district, Karkar region. Around 18,000 people in a village near Qardho town are in dire need of water, food and sanitation, the UN Officer for the Coordination of Humanitarian Affairs (OCHA) said in a recent report.
Livestock are dying in large numbers, and according to Bowden, this is the greatest concern at the moment as it affects people's livelihoods. Nonetheless, he said that 30 per cent of children under-five are suffering from acute malnutrition in Lower and Middle Juba.
Widespread death unlikely, but response inadequate
"We think it's very unlikely, unless there is total rain failure, that there will be famine of that sort (seen in Baidoa)," he said. "What will happen is that more people will die of normal illness because their resistance is lower and there will be higher child-mortality rates."
Bowden said the rains were expected to be around 20 per cent of normal levels, although they could be higher in Somaliland.
The UN's aid chief for Somalia said that agencies were suffering a huge funding shortfall due to the lingering effects of global recession, donor fatigue and anti-terrorism legislation that has seen the US drop from being the top donor to number seven. The UN appealed for $529 million to fund aid operations in Somalia this year, but has received only $145 million.
"We clearly do not have adequate resources to meet the levels of need," Bowden said. "Even places we can get to, we can't operate at a large-enough scale."
On the issue of insecurity and access, Bowden appealed to all groups fighting in the conflict to ensure aid agencies could reach people in need.
"We are very keen to try to get across to anybody who is listening that the situation is such that more access for humanitarian assistance is the responsibility of groups in charge there," he said.