Somali Refugee Kids Crave Education
Situation In Somalia Worst In World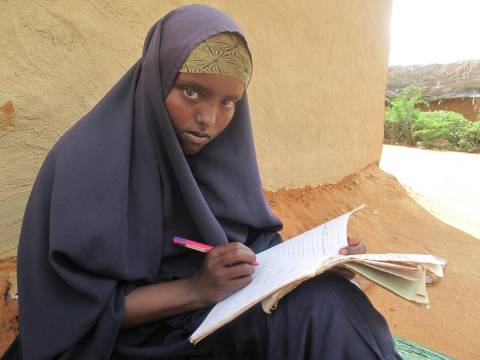 Thousands of Somali children, struggling to get a basic education amidst a catalog of never-ending challenges, are taking their future into their own hands to get an education in Kenya's Dadaab refugee complex
"A golden key can only open the door to a prosperous future and that is education, the only way to success," Abdikadir Bare 21, a refugee in IFO, one of three camps in Dadaab, told Somalia Report. "I have to go to school so that in future I can take care of myself and the rest of the Somali community."
Bare is one of the more than 90,000 children in the teeming complex, where access to basic services such as health and educational facilities are limited. The young man fled Somalia in 1999 - before the al-Shabaab insurgency that has driven the number of Somali refugees even higher. He still does not know the whereabouts of his immediate family. For him, education is the only way to escape his troubled past.
"I remind myself always that I have to be an extraordinary boy to reach my target," he said. "The situation is very challenging."
The form four student at IFO secondary school, one of only six secondary schools in Dadaab, will have to undergo years of painstaking study to realize his dream of becoming either a teacher or a doctor. At his school, managed and sponsored by the non-governmental organization Windle Trust, he is trying to put his best foot forward before final exams later this year.
Obstacles at every turn
The deputy principal at his school, Abubakar Omar, says youth like Bare find many obstacles in their path.
"He has to overcome many challenges in schools like this, where education materials are inadequate, including books and other teaching materials," Omar told Somalia Report.
In the camp, which holds around 315,000 despite being designed to hold only 90,000, there are few happy endings for schoolkids. Unlike Bare, many refugee children do not make it beyond primary school.
"There are many drop-outs, especially after primary level," Adan Olow, an elder in the camp told Somalia Report. "Many cannot afford to continue their studies because of compounding issues, including lack of money."
While enrollment amongst girls has increased in recent years, there are still far more boys in education.
"For the girls, the story is much worse," Olow said. "Their dropout is much more than the boys and they are not making to classes."
Refugees are the lucky ones
While Somali children in Kenya at least can try to get a basic education, their counterparts in Somalia have virtually no way to learn. Wrecked by more than two decades of civil war, Somalia was in September ranked alongside Haiti as the worst place in the world to study by the Global Campaign for Education (GCE). The group said more than 70 per cent of the population is illiterate, 80 per cent of children do not complete primary school education and a staggering 93 per cent do not finish secondary school.
However, a preliminary United Nations Children's Fund (UNICEF) report obtained by Somalia Report said the estimated number of children enrolled in schools increased from 464,780 in 2006 to 763,320 in 2010.