Ambassador Ali Calls For More International Aid
AMISOM Digs Six Wells in Mogadishu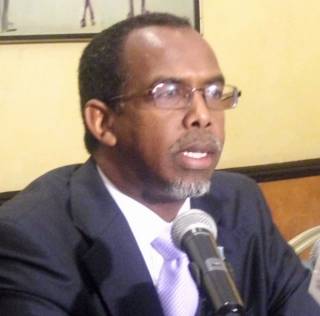 As the number of IDPs fleeing from Al Shabaab controlled areas to government zones increases, AMISOM is planning to dig six wells for those facing water shortages, some of which are already in progress, according to the Somali Ambassador to Kenya Mohamed Ali Nor who recently returned from Mogadishu.
"The wells will be dug in the area controlled by government and people who are on the ground will benefit from it", Ambassador Mohamed Ali told Somalia Report on Tuesday in Nairobi.
Thousands of people and their livestock have moved to Mogadishu seeking food and water into a few areas controlled by the Somali government backed by AMISOM forces.
Ambassador Ali who visited IDPs refugee camps in the area controlled by the government is concerned about the lives of those affected. He said the IDPs, who are mostly women and children, are living in makeshift huts of sticks and bits of cloth which does not provide enough shade from the sun or warmth against the evening chill.
"These people have nothing. No food, water and shelters. Their situation is worsening," he said. "Some told us they didn't get food for almost a week, others living without basic need in several days."
The ambassador argued that the international community should to move Mogadishu to more effectively assist those in need, rather than try to do so from the neighboring country of Kenya. He said it is safe to work inside the government controlled areas.
"They (those suffering) do not have time to wait for peace," he said. "They just need urgent aid, so aid agencies must move to Mogadishu so as to see the real situation in the country."
The ambassador also said government officials will donate money from their salaries.
"Each minister will pay $500 from his salary, MPs $100 and government staff will pay 5% from their salary to the victims," he said.
Many of those living in al-Shabaab-controlled areas have no way to escape from the drought. To make matters worse, the militants routinely steal their livestock and forcibly recruit children and the eldery to fuel their war against government.
The four-year Islamist insurgency has killed more than 21,000 people and forced another 1.5 million to flee from their homes.