Somali Refugees Stranded In No-Man's Land
Kenya Growing Less Keen To Take In Aslyum Seekers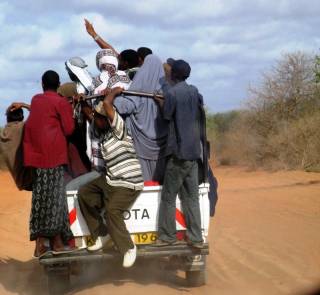 Zeinab Ali squats beneath the makeshift cloth roof that is her only shelter from the baking sun beating down on a patch of scrubby no-man's land near Somalia's border with Kenya.
Around her are thousands of others, with access to neither food nor water, caught in the same trap: afraid to return home to Beled Hawo, where pro-government forces and militant Islamist group al-Shabaab have been fighting fierce battles, and unable to go on across the Kenyan border to the town of Mandera, some twelve kilometers away.
"We have been stranded here for about five days ... I have three children who need food and water, where can I get it?" she says. "All of my livestock died because of severe drought - besides there are heavy clashes."
Ali wants to go into Kenya, but knows that to get across the officially closed border the palms of Kenyan police must be greased. This is something she and many of the others cannot afford, so they must sit where they are and rely on the charity of a local businessman, who is bringing what aid he can.
Safia Abdi Rahman made it across the border, but she said that the experience of getting there was something she wanted to forget.
"Two weeks ago, that was the nastiest week in my life, I fled ... so I can have peace, but through my journey, I can't give speak of what happened to me in front of my kids," she says.
Out of the frying pan, into the fire
Safi and the hopefuls stuck on the other side of the border are typical of the huge flow of refugees still fleeing conflict and drought in Somalia. Many of them aim to reach the sprawling Dadaab refugee complex in eastern Kenya, but even if they can afford to bribe the Kenyan police and are lucky enough not to be deported – as is common practice – Dadaab is far from an earthly paradise.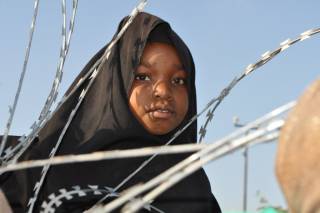 Dadaab was originally built to house 90,000 refugees, but the United Nations refugee agency UNCHR said Sunday it is bursting at the seams with 314,000 residents. The Kenyan government has almost completed work on another camp, known as Ifo II, that will ease the overcrowding, but it is refusing to open it for security reasons. UN sources say they believe Kenya is hoping that a recent offensive by the Transitional Federal Government, backed by militia and African Union peacekeepers, will bear fruit and allow them to begin sending Somalis back rather than accepting more.
Nonetheless, UN High Commissioner for Refugees Antonio Guterres, who visited the camp at the weekend with other top UN officials, called for Ifo II to be opened.
Dadaab's crumbling, decades-old, water system barely provides enough water to keep the hordes of refugees going, there is massive strain on the sanitation systems, and non-governmental organizations and UN agencies are struggling to find somewhere to put new arrivals.
Fatuma Abdullahi was living in Dadaab, but she left the camp for Mandera due to the appalling living conditions.
"I fled from the camps because of lack of houses and not enough water," she says. "Besides, you aren't allowed to work in the camps; to depend on somebody else for survival is very hard."
Illegal deportations on the rise
However, Fatuma became one of thousands of Somalis who are being deported back to Somalia in contravention of international laws on refugees when last year she was sent back to Mogadishu. She came back to Mandera, but has been arrested again.
"The Kenyan police arrested us in Mandera during a crackdown on Somali people, just two weeks ago and we have been held in custody since then," she said. "People fleeing the chaos, the huge majority of them women and children, are received in Kenya with rape, beatings and extortion."
Human Rights Watch in late March called on Kenya to stop deporting asylum seekers, accusing the authorities of forcing the Red Cross to shut down a camp and sending 13,000 refugees back across the border.
"Kenya's positive track record for taking in hundreds of thousands of Somali refugees over 20 years is marred by numerous recent incidents in which Kenya has forced Somali asylum seekers to go back to a place where their lives are in grave danger," said Rona Peligal, deputy Africa director at Human Rights Watch.
According to UNCHR, there are 1.5 million internally displaced Somalis and almost 700,000 who fled outside the Horn of Africa nation's borders. They have fled both the unceasing conflict between al-Shabaab and the weak Western-backed government, and the cyclical droughts that decimate livestock and crops.