13 Die From Hunger In Beled Hawo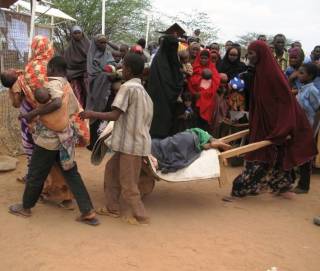 At least 13 people, most of them children and elderly, have died of hunger and diseases while some 2,000 residents have fled their homes following fierce clashes in the Somali town of Beled Hawo on the Kenyan border.
A Somali elder says those who have fled to the neighbouring districts and villages are living in miserable conditions. They are sheltering under the trees without, water, food or any sanitation facilities.
"To make matters worse, it has been drought for days, increasing the risk of an outbreak of disease," Abdi Ali said.
One of the women in the outskirt of Beled Hawo said the dire situation would not even allow them to bury their dead children.
"We can't bear anymore, it's too much. Some, including children and elderly, have already died and we as women can't even bury the dead bodies of our beloved people," Amina Abdullahi told Somalia Report.
Days of fierce fighting between pro-Somali government forces and Al-Shabaab fighters claimed the lives of at least 60 people and injured more than 160 others, mainly civilians, as the southern border town changed hands.
However, those who have fled across the border to the northern Kenyan town of Mandera have been reported to be hosted by the local community, waiting for the clashes to end.
The overwhelmed people are calling for assistance as most of the aid agencies have been forced to stop food aid distributions in the area by Somali militants.
Following an upsurge in violence and heightening tension over possible government offensives against rebels, thousands of Mogadishu civilians have been fleeing to the outskirts in recent months.
Over 3.6 million people- half of Somalia's population- affected by persistent droughts and escalating conflict is currently in desperate need of aid, making the situation in the Horn of African nation as the single largest humanitarian challenge in the world.