Mass Prayers For Rain in Garowe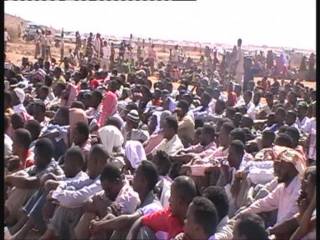 Hundreds of people led by officials of the Puntland Government and religious leaders participated in mass prayers for rains on the outskirts of northern Garowe.
The prayers were held nearby at Camp 54 to relieve the severe drought devastating regions of Somalia. Shortages of water has been felt in Puntland, particularly in northeastern and south-central Somalia following the absence of adequate rainfalls in the past two seasons. This adverse condition poses a real threat to the livelihood of the people who are already experiencing high levels of malnutrition and is already decimating livestock.
Sheikh Abdikadir Nor Farah, a well known religious leaders in the area, lectured the crowd to seek refuge in God from these heavy droughts. He further expressed concern that the drought is a results of human sins such as increased illegal sex, corruption, piracy, and lack of mercy for one another.
Sheikh Farah prayed to God to show pity to those who are seriously affected by the shortage of rains. He urged the local community to assist the victims of the drought instead of waiting international organizations to solve the problem.
Nugal Province Commissioner Abdi Hirsi Ali also lamented about the drought and prayed with the people who came together for the special prayers. He advised the people of Nugal region to take part in the efforts towards assisting those who are the sufferers of the drought. He also announced that an account for the contributions to assist with the displaced has been opened.
The governor appealed to the international community, aid workers and donor countries to help Somalia, especially Puntland, with an emergency supply of water, food and medicine assistance to rescue the remaining pastoralists and their animals before its too late.