EU Expects Results and Reforms of TFG
The EU Considers Support of Breakaway Regions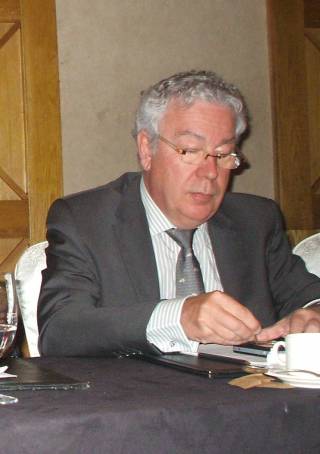 The European Union (EU) is demanding results from the leaders of the Somali Transitional Federal Government and wants the parliament to justify its extension of the transitional period.
At a press conference in Nairobi on Tuesday, the EU's managing director for African relations, Nick Westcott, and its Representative to Somalia, Georges-Marc André, expressed the continued support for the Djibouti Peace Process that formed the Somali Transitional Federal Institutions.
The EU officials who are evaluating the EU's support for the Somali government want the TFG to implement the required reforms under its current mandate that is to end on August this year.
The officials want the security developments (offensives) and political developments to go hand in hand in Somalia. "You can't freeze the political process because there is an offensive going on," said Mr. Westcott.
The European Union also expressed its regret of the recent unilateral decision by members of the Somali transitional federal parliament to extend its mandate for three more years. Although the MPs argued that the extension was to ensure that there was a system and a platform in place by the end of Shiekh Sharif's administration in August, the move was condemned by the development partners of the international community, Somali civil society groups and professionals.
However, the union might support the decision if parliament implements more reforms at a political consensus and set some criteria and a roadmap of change that would justify the extension.
The two representatives also indicated that the EU may directly support Somalia's breakaway state of Somaliland and the semi-autonomous region of Puntland. They described those two regions as more peaceful and stable. "We, the European Union, want to support them," Westcott said.
Both Puntland and Somaliland are relatively stable states with little conflict. The two regions are also willing and even making efforts to fight piracy along the Somali coast. Officials from their autonomous governments have also made efforts to convince the international community that their administrations were implementing reforms through democratic elections and establishing organized authorities.
Through its Dual Track Policy, the Untied States recently announced a similar strategy where it will give more support to both Somaliland and Puntland administrations. The United Kingdom also recently announced that it will increase its funding for development projects that are implemented in Somaliland, giving the break away region 40% of its donation to Somalia.
The remarks from the EU officials that are demanding reforms and possible justifications for the extended transitional period by the Somali parliament come at a time when there are several government initiated offensives going on around the country mainly, the capital of Mogadishu.
The EU also announced that it will continue supporting the forces of the African Union Mission fro Somalia (AMISOM) and praised the troops for their bravery efforts. Together with AMISOM, the union has previously trained over 2000 Somali soldiers in Uganda.