Hassan Sheikh Mohamud Elected as President
Educated, Former Critic of TFG and Founder of PDP Has Many Tasks Ahead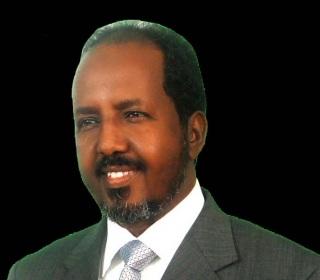 President Hassan Sheikh Mohamud (57) is the chairman of the predominately Hawiye clan dominated, Peace and Development Party (PDP).
In what is described as the first Presidential election in over forty years, the former academic and university head Mohamud was given 190 votes out of the 269 votes cast. As a sign of the times, former President Sharif Sheikh Ahmed received only 79. A group of representatives chose four finalists which included Abdulqadir Osoble Ali and former Prime Minister Abdiweli Mohamed Ali and former Transitional Federal Government President Sheikh Sharif Sheikh Ahmed.
The President was elected by a group of former 271 members of parliament (four were missing). Only about a third of the group had served before and it was rumored that votes for government seats could be purchased for as high as $25,000.
New Beginnings.
Hassan Sheikh Mohamud is not a seasoned veteran of the bare knuckle and back room battles of Somali politics. As an academic and NGO he brings Western friendly (he speaks English) style to the job. Whether he can bring the hard political skills to keep his job is the next step.
On August 28, a partial parliament elected former labor minister Mohamed Osman Jawari as the new speaker of the house. Previously 825 Somali elders had voted in the the National Constituent Assembly and a provisional constitution to keep up with the "Roadmap Agreement" created by the UN to end the transitional period.
On August 2, 654 of those members survived a thwarted suicide attack to vote in favor of the new constitution with 13 against and 11 abstentions. . The Somali constitution contains 36 of the 45 basic rights according to the International Development Law Organization (IDLO) which reviews constitutions in other countries and provides legal expertise. The highly westernized draft of the constitution was created in July of 2012 and can be downloaded here. The guide to the constitution is here. The word "clan" is only mentioned once in the new constitution. Only Islam can be supported in the country and all laws must be compliant with Shariah. Abortion is permitted, female circumcision is not. .
Somalia's first constitution was created by referendum after independence in 1960 which was replaced by a new constitution in 1979, voted in by national referendum.
The Transitional National Charter, adopted in 2000 was the first attempt at a modern document and on it's expiration in 2003 was replaced by the Transitional Federal Charter in 2004.
Over two dozen candidates announced their intention to run for President but in the end only four were considered credible contenders.
A recent UN Report accused the Somali government of stealing or misappropriating 70% of all donor funds, Special Representative Augustine Mahiga warned against the buying of political seats and "spoilers"
Hassan Sheikh Mohamud was elected as the head of the PDP in April 2011 during a conference in Mogadishu at the Sahafi hotel. The PDP also includes the former Somali information minister, Dahir Mohamoud Gelle, a well known defender of journalist's right, former MP Mohamed Nur Shegow, a Somali MP and members of Hawiye traditional elders
Mohamud graduated from the Somali National University in 1981 and has a master's degree from Bhopal University in 1988 in India. Between 1993 and 1995 Mohamud returned to Somalia as an employee of the United Nations International Children's Emergency Fund as an education officer in south and central Somalia. He had worked for a number of NGO's including UNDP, UNICEF, Life and Peace Institute, Conciliation Resources, Oxford University, Center for Refugee studies, International Peace Building Alliance (Interpeace), Center for Research and Dialogue (CRD), Department for International Development (DfID) and was a member of the TFG.
In 1999, he co-founded the Somali Institute of Management and Administration Development in Mogadishu, which later evolved into Simad University, and served as its dean until 2010.
In 2011, he founded the Peace and Development Party. He has been critical of the TFG and the constitutional process. He has called for a government without vested interests.
Hassan Sheikh Mohamud Official Facebook Bio:
I graduated Somali National University in 1981 and was employed in the Ministry of education as a teacher / trainer Lafole Technical Secondary School where I teach students and train artisans. In 1984, I joined Technical Teachers' Training College as a lecturer and in 1986 became head of department before I traveled to India to attend a master of technical education program offered by Bhopal university in India. In 1988 upon my return to Somalia, I was selected as a counterpart to a group of international experts working on Upgrading Technical and Vocational Education of Somalia – a project implemented by UNESCO. My main area of concentration in the project was undertaking the research component of the project where I extensively travelled throughout Somalia.

After the collapse of the Somali state, I worked with UNICEF as education officer in south and central zone of Somalia in 1993. This task mainly involved in reviving education sector in this zone. I travelled extensively in the zone researching the magnitude of the collapse in the education sector and consulting the people on how to revive the sector as a community based endeavor

After the departure of the UNOSOM in 1995, I mostly involved in civic actions such as forming pressure groups on the political factions to reconcile. The main activities engaged were attempting to open channels of communication between and among the faction leaders in Mogadishu. Later on, this became the seed for the formation and strengthening of the Somali civil society. As a result, networks, coalitions and professional associations emerged in Mogadishu one after the other.

After the Cairo agreement of 1997, I was member of a team that negotiated and successfully dismantled the GREENLINE that divided Mogadishu into north and south after the disastrous war of 1992. In the last part of the 1990s, the conditions of the Somali youth was very critical. Those graduated from the secondary schools were having limited opportunities for higher learning and professional career development. As a member of ex university lecturers' forum, we conducted need assessment survey in the market and identified the importance of establishing technical and vocational centers which some of them later on became higher learning centers such as universities.

As result, I became one of the founders of Somali Institute of Management and Administration Development (SIMAD) in 1999. It was the first institute of its kind since the collapse of the Somali state. The main purpose of SIMAD was to produce mid level management and administrative technicians for the post conflict reconstruction of Somalia. I became the first dean of the institute until I resigned in 2010. Currently SIMAD is a leading university in academics, consultancy, research, and training in Somalia. Close 4,000 student are registered in its undergraduate programs as of September 2011and more than 1,500 students graduated since 2002 at diploma and bachelor's degree in various disciplines.

In 2001, I joined Center for Research and Dialogue (CRD) as a researcher in post conflict reconstruction of Somalia. I extensively traveled in south central Somalia conducting research in the post conflict reconstruction issues and local peoples' priorities. Later on I became a principal researcher. In 2004, CRD appointed me as a focal point for the issues related to the civil society strengthening. In consultation with other prominent civil society members, I worked in establishing the Mogadishu monthly forum, which became the first open neutral space for the public to express their views regarding the pertinent issues of the time.

In late 2005, I became program coordinator in CRD. The civil society in Mogadishu collectively appointed me to lead the formation of Somali civil Society Forum – a conglomerate of networks, coalitions and action groups engaged in different sectors. Since then the forum became a unified voice for the Somali Civil Society.

In 2009 - 2010, I worked as consultant in the Ministry of Planning and International Cooperation (MoPIC), Transitional Federal Government (TFG) in establishing Somali Aid Coordination and Management Unit within the Ministry.

Since 2007, I worked as a consultant and advisor in Somali political crisis with various international and local organizations. Among the organization I worked with include: 1. UNDP Somalia 2. Life and Peace Institute 3. Conciliation Resources 4. Oxford University, Center for Refugee studies. 5. International Peace Building Alliance (Interpeace) 6. Center for Research and Dialogue (CRD) 7. Department for International Development (DfID) 8. Transitional Federal Government of Somalia (TFG) 9. Unicef Somalia

In 2011, I became a founding member of PEACE AND DEVELOPMENT PARTY (PDP) in Somalia. The first political party established in Mogadishu. I became its first Chairman

Favorite Books

Justice and the society