Breaking News
Liberation of Merka Has Historical Implications
Small Port Was Once Captured By Islamist Sheik Sharif In 2008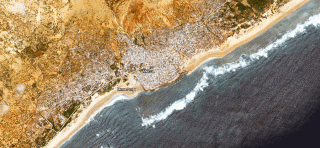 The liberation of Merka by foreign paid, trained and supported troops was inevitable. Proxy forces now numbering over 17,000 hired guns and militias like the Ras Kamboni, rehatted forces like the Kenyan Defence Force, religious and ethnic groups like ASWJ and even U.S intelligence providers are providing overwhelming force albeit in cautious steps.
Merka is a minor port and home to around 100,000 people in hard times and up to 300,000 people in good. The strategic value is that it is a day south of Mogadishu and yet another stepping stone towards Kismayo. Historically Somalia's coastal cities have had much different influences than the arid interior. Merka has as much connection with seafarers, the Swahili culture, Islamic missionaries and the Gulf as the interior. Control of Merka also controls the commerce that tends to flow from inland out to the ocean rather than by land. Although the strategy of AMISOM is to march down the coast to "trap" al-Shabaab in Kismayo, the reality is that al-Shabaab has flowed out of the seaports and into the population. Leaving a disturbing calm and a sense of "impending showdown". The reality will be after the demise of the group as a controlling militia there will be a slow escalation in violence against the fledging government. Attempts to oust those who supported al Shabaab will create new dynamics of violence. New imports of violence can flow into Merka as easily as they flowed out.
There is no word of Merka's most famous resident, American Omar Hammammi aka "al Amriki". Most of the al Shabaab leadership moved south to Merka a year ago as their hold on Mogadishu began to crumble. In January, Somalia Report, began to receive numerous reports of foreign and senior fighters leaving Merka northward along the coast. A recent U.S. airstrike in Puntland's Northeast town of Qandala and the movement of pirate militias may portend a new coalition and a new battleground as the Islamists accept the inevitable. Other than the fierce fighting in Mogadishy, al-Shabaab has yet to directly confront AMISOM forces. Choosing to pull back in very organized, overnight moves, leaving a token force to provide cover.
Despite their claims of easy victory. AMISOM has been taking their sweet time and despite their soldiers being paid by the month. The last major victory was the clearing out of Laanta Buuro, the site of an al Shabaab training camp, just west of Mogadishu. That was over a month ago and only 18 miles from Merka. Even back in July most al-Shabaab fighters were heading towards Barawe away from Merka.
The Worst Best Choice or Best Worst Choice?
Abandoned by al-Shabaab and little resistance to the Ugandans and Somali militias, Merkah has yet to fully embrace their new masters.
The government of Somalia is yet a few days old and it's ability to replace "the youth" with sage experience has yet to be demonstrated. For example the election of president to negate the nattering nabobs in parliament has yet to appear. One of the people who wants to run Somalia is Sheikh Sharif who has an interesting history with Merka.
In November of 2008 experts cast dire warnings that have been turned around with American bought weapons, training and equipment. It is hard for most to beleive that the insurgent group that was literally hammering at the walls of the TFG have become elusive ghosts. Much like the feared Taliban in Afghanistan who vanished in 2002 only to regroup in stronger and stronger waves.
The liberation or occupation or Merka depending on the point of view carries with it an interesting political foot note. In mid November of 2008 The leader of Alliance for the Re-liberation of Somalia (ARS), a cerain Chairman Sheikh Sharif Sheikh Ahmed took control of Merka in the name of the Islamic Court Union (ICU). At the time Merka's primarily http://www.somaliareport.com/index.php/post/3333 population felt they were being occupied by the Habr Gedr and Ayr froces of General Sheikh Yusuf Mohamed Siyad "Indha-Adde." The former warlord made a show of support to the TFG back in late 2011. and has kept a fairly low profile other than being a "spolier" in the constitutional debate.
Al-Shabaab compared to cleric turned warlord Indha Adde was a welcome relief when their technicals rollin on November 12, 2008. However since 2008 al Shabaab became increasingly tiresome to the population, forcing residents to grow beards, attend executions be denied life saving aid and even subjecting them to the terror of drone and air attacks by virtue of their high level leaders being present.
AMISOM said there was little fighting and that al-Shabaab had fled. They had plenty of time to prepare. AMISOM Contingent Commander Brigadier Paul Lokech told the media on June 4, 2012, "We are planning to move to Merka which is 90 kilometres from Mogadishu. How will you evacuate causalities in that distance if you do not have helicopters?"
"Having them would be force multiplier. Our mission will continue but it will be slowed down because we have to be more cautious," he added. At that time AMISOM had no air support for casevac or cover.
The "surprise" appearance of Mi-24 gunships was revealed in headlines as on August 12, 2012, three out of the four recently refitted gunships crashed into Mount Kenya on their way to support the AMISOM mission to retake Kismayo via Merka. Any Uganda combat casualties would be flown to the hospital at the airport to be stabilized before repatriation. Kenyan military forces have been using helicopter transport and smaller gunships since their invasion of Somalia. Kenyan politician George Saitoti was killed in a helicopter crash west of Nairobi in a nonS-omali related flight. Mi 24s are big heavy and fast and can be used to remove battle field casualties but is more likely that smaller transport aircraft are on their way from a donor nation.
It would be expected that northern based forces of primarily Ugandan soldiers will continue down the coast through Barawe to form up to the "hammer" to the north of Kismayo while the less experienced Kenyan and hired militias under warlord Madobe will create the southern half of the anvil. Naval and air forces were to decimate and scatter fighters up until four Hind gunships were plowed by their untested pilots into Mount Kenya. A measure of Uganda's preparations for the fight is that the first rescuer on the crash scene was a charter helicopter with a news crew. AMISOM has gone from jungle fighters, to urban street brawlers to liberators on the march. They are not equipped for it and the helicopter disaster and the Ugandan and Kenyan killings of civilians are a perfect example of what happens when outside forces rapidly ramp up and retask military units. The Somali trained units operate at a lower level of efficiency and competence and usually unrelated to the regions they enter and hold.
There is also the minor but very important problem of desperate al-Shabaab recruits cut off from funds and their superiors. Somalia Report has been tracking the location of the two Spanish MSF hostages who were last reported in Merka in July. A new video has been made and we will be make it available if appropriate.
For now the residents of Merka are happy to see AMISOM and the Somali Army; whether they welcome the new government is yet to be seen.