15 August 2012 Daily Media Roundup
Please note: This is our last daily media roundup.
If you would like to sponsor this service or request our assistance with custom reports, please contact us at
editor@somaliareport.com.
We would also like to thank Ahmed Dirie and Aweys Cadde for their dedication in monitoring Somalia's news on TV, radio and websites on a daily basis. Your work is greatly appreciated!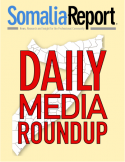 Somalia News Highlights:
US, UN Concerned Over Corrupt Somali Transition; UN Envoy Says Spoilers Must Not Disrupt Somalia's Peaceful Transition; UN Warns Civilians About Anticipated Attack on Somali Port; Al-Shabaab in Somalia Still a Threat to Peace in Spite of Decline; Anti-Piracy Operations Continue in Puntland State of Somalia; Somali Pirates; Somalia Bans Mutilating Girls; Somali President Disappointed With His Prime Minister As Presidential Candidate; New Mogadishu University Established By Turkish Aid Agency; Al-Shabaab Claimed To Have Killed Over 10 TFG Soldiers at Elasha Biyaha; Al-Shabaab Held Koran Recitation Competition for Its Fighters in Merka; AMISOM Urged Somali Presidential Candidates to Uphold Order And Law; $19 Million Allocated to Rehabilitate Defecting Al-Shabaab Fighters; Two Farmers We Killed in Land Dispute in Mudug; Warlord Qeybdiid Is Sworn As New President of Galmudug Administration; Heavy Artillery and Mortars Rocked Kismayo; Armed Clan Militias Clashed Over Newly Drilled Water Well in Lower Juba; Former Head of BBC Somali Service Stands As Presidential Candidate; and Former Galmudug President Disagrees Over the Outcome New Presidential Elections.
COMMENTARY ON ISLAMIC WEBSITES
Amiir Nuur - The pro-al-Shabaab Islamist website claimed that Sheikh Hassan Takar, a well-respected Islamist leader, issued a commentary on the crash of warplanes (Ugandan helicopters that crashed en-route to Somalia) of the coalition of the infidel forces. He said Allah is fighting against the infidels who invaded the Muslim nation and called on the global Muslim people to support the Somali people. Somali Language
POLITICS
Associated Press - World leaders from Africa to the U.S. and Europe said they are growing increasingly concerned that intimidation and corruption are marring the selection of a new Somali parliament, a task still unfinished less than a week before the government's U.N. mandate expires. The U.S. Embassy said in a statement Tuesday that it shares the concerns of the African Union and U.N. over "multiple credible reports of intimidation and corruption" in the selection of the country's new 275-member parliament. James Swan, the U.S. representative for Somalia, continued with his list of concerns: "Inadequate representation of women and in some cases reports of former warlords who are being nominated by their communities."
UN News Center - Spoilers hampering Somalia's transition to democracy will face stringent action from the Security Council if they continue their obstruction, the United Nations top political official for Somalia declared today, while also confirming that the selection of Somalia's new Parliament was on track and would usher in a new era of peace, stability and democracy for the East African country. "We started with the warlords and, once they were contained, we came to see some parliamentarians who were trying to extend their own mandates and, in so doing, they were obstructing the political process," said Mr. Mahiga, who added that the spoilers were "trying to dilute, obstruct, and even compromise" the integrity of the transition process through intimidation, bribery, and influence-peddling.
SECURITY/AL-SHABAAB
IRIN News - Even before it kicks off in earnest, the assault on Somalia's port city of Kismayo is causing jitters. A preliminary push by UN-backed African Union troops on the last bastion of Somalia's Al-Shabab insurgency has already added to Somalia's civilian casualties, and there are fears that more may lie ahead as air, ground and naval operations in the strategic city escalate. The latest, and most senior, person to raise the alarm over the actions of the Kenyan Defence Forces (KDF), which officially operate under the banner of the African Union Mission in Somalia (AMISOM), was UN Resident and Humanitarian Coordinator Mark Bowden. "I am deeply concerned by recent reports of civilian casualties in Kismayo caused by naval gunfire and airstrikes," Bowden said in a statement issued on 14 August. "As fighting for control of the town appears imminent, I reiterate my call for all parties to the conflict to make every effort to minimize the impact of conflict on civilians and to allow full humanitarian access to all people in need," he said.
Defense Web - Although al-Shabaab has suffered a number of reversals over the past year, been weakened by internal divisions and lost territory in Somalia, it remains a grave threat to peace, according to a report by the United Nations Monitoring Group on Somalia and Eritrea. Militarily, the report stated that al-Shabaab has generally declined to offer battle to foreign forces, avoiding sustained contacts and relying heavily on asymmetrical warfare techniques. Although the group continues to conduct raids and ambushes with some success in border areas, in Mogadishu its operations have been essentially confined to targeted killings, indirect fire and Improvised Explosive Devices (IEDs), including suicide bombings. Al-Shabaab's use of IEDs has been growing increasingly sophisticated, and there is growing evidence to suggest that Al Shabaab obtains expertise and/or IED components from outside Somalia.
MARITIME
Garowe Online - Puntland government forces are continuing robust anti-piracy security operations in coastal areas, as well as Galkayo city located at the jurisdiction line with troubled regions in south-central Somalia. On 12 August 2012, suspected pirates attacked the central jail in Galkayo. Puntland government forces repelled the attack, which was organized in an area outside of Puntland jurisdiction. One pirate attacker was wounded and captured by Puntland security forces, while three other wounded pirates escaped. As retaliation and diverting attention from Galkayo operation, a group of six suspected pirates seized a trading dhow transporting livestock from Puntland port city of Bossaso to the Gulf States. This group of pirates then transferred over to an oncoming trading dhow, transporting goods from Dubai to Bossaso.
New York Daily News - Have Somali pirates taken a lesson from Miss Manners? When hijackers forming the Pirate Action Group commandeer a vessel, a memo is apparently sent to the owner outlining what they need to do to get their ships back — and surprisingly, it's written in a rather courteous and business-like tone. Addressed "To Whom It May Concern" and with the subject line "Congratulation to the Company/Owner," the letter hopes to "welcome" them to the Pirate Action Group. The missive, which was obtained by Reuters, attempts to allay any fears the owner may have. "Do not imagine that we are making to you intimidation," the pirates write awkwardly in English.
WOMEN RIGHTS/GENITAL MUTILATION
Somaliland Press - Activists have welcomed a ban on female genital mutilation/cutting (FGM/C) in the new constitution of Somalia – a country where 96 percent of women undergo one of the more extreme forms of the practice – but warn that translating the law into action will require more than just a legal declaration. "The fact that the new provisional constitution outlaws the circumcision of girls is a welcome development, but this will require education, awareness-raising and strong legal provisions. Without this, the provision will be little more than ink on a piece of paper," Fatima Jibrell, a women's advocate, told IRIN. The provisional constitution states, "Circumcision of girls is a cruel and degrading customary practice, and is tantamount to torture. The circumcision of girls is prohibited."
RADIO ROUNDUP
Radio Mogadishu - A pro-government radio station
Somali President Sheikh Sharif Sheikh Ahmed on Wednesday returned home after he attended the conference of Islamic Countries Organization in Saudi Arabia. The president was welcomed by TFG ministers, including Defense Minister Hussein Arab Isse, Petrol Minister Abdukadir Dhiisow, Finance Minister Abdinasir Mohamed Abdulle and Mogadishu Mayor Mohamed Ahmed Nur Tarsan as well as a large number of Mogadishu residents. President Sharif spoke to the media and said that the decisions made by the TFG cabinet were not effective since Prime Minister Abdiwali Mohamed Ali declared his candidacy for the presidency. Recently the Somali cabinet opposed President Sharif's decision to nominate new districts in Bay, Lower Jubba and Middle Shabelle regions was met with criticism from the cabinet.
The Somali Education Minister on Tuesday laid the foundation stone for the construction of new university in Mogadishu which was founded by Turkish aid organization. The facility is set to accommodate over 2000 students once it becomes fully functional, according to the minister. Mogadishu's mayor, the Turkish ambassador to Somalia, and other government officials attended the ground breaking ceremony.
Radio Al-Furqaan - A pro-al-Shabaab radio station
At least ten pro-infidels militias were killed and dozens of others were injured as heavy fighting between al-Shabaab Mujahideen and the enemy broke out in Elasha-biyaha village on the outskirts of Mogadishu on Wednesday. According to al-Shabaab Mujahideen military officers, the fighting erupted when al-Shabaab fighters launched planed attacks on the enemy's bases in the area. The mujahideens used heavy gunfire and military vehicles. Al-Shabaab military officers told Radio Anadalus that the Mujahideens entered the bases of the enemy and seized large military weapons. Also military vehicles were burned from the enemy. The attacks against the infidels and their supporters increased on the road connect between Mogadishu and Afgooye since the enemy entered Lower Shabelle region months ago.
Radio Andulus - A pro-al-Shabaab radio station
A competition between al-Shabaab Mujahideen fighters about Qur'an reading started in Merka town of Lower Shabelle region on Tuesday. The competition which was held in al-Rahma mosque will host fighters from the southern regions and Golis Mountains in Puntland. At the end of the competition a high ranking reward will be given to the competition attendees.
Radio Bar-Kulan - An independent radio station
The African Union Mission in Somalia (AMISOM) reiterated that its mission is politically neutral when it comes to the forthcoming presidential election in Somalia. In an exclusive interview with Bar-kulan, The Deputy Special Representative of the Chairperson of the African Union Commission (DSRCC) for Somalia, Wafula Wamunyinyi, said they are not siding with any candidate eying for Somalia's top seat. He urged the politicians campaigning for the presidency to strive toward a promising future for their country in this transitional period. Mr. Wamunyinyi also appealed to the presidential candidates to uphold the rule of law during their campaign period.
The government will set aside $19 million for the rehabilitation of defected al-Shabaab militants who surrender to its side and that of the African Union Mission in Somalia (AMISOM). The proposed program will be facilitated by the AMISOM mission and other donors from the internationally community. The rehabilitation program is intended to reintegrate militant defectors back into the society. The programme is also part of the government security strategy of defeating the militant group of al-Shabaab.
At least two farmers were killed and another was injured in a clash between farmers in Dabagalo area of Mudug region over a land dispute. Both the bodies of the farmers and the injured farmer were taken to a health facility in Dabagalo settlement. Locals who spoke to Radio Bar-kulan stated that the fight was triggered by farming land disputes between the two groups. Disputes over land ownership have become rampant in the region in the past few months.
Galmudug's newly elected president Abdi Hassan Awale Qeybdid was sworn in as the regional president of Galmudug at a historic ceremony in southern Galkayo of central Somalia on Tuesday. Mr. Qeybdid reiterated his pre-election promises of tackling the rampant insecurity in the entire region and pledged to expand his administration to areas that are not currently governed by fostering relations with neighbouring regional states.
Radio Shabelle - An independent radio station
Heavy artillery and mortar shells rained down on Somalia's southern strategic port city of Kismayo controlled by the Al-Qaeda-linked al-Shabaab militants. Local residents of the seaside town reported that at least 10 mortar shells rocked the city in the early hours on Wednesday, hitting militant military bases and residential areas and no deaths were reported. "A woman was wounded after a mortar shell hit at a crowded neighborhood of Kismayo," a witness said. Shortly afterward, the al-Shabaab fighters sealed off the areas hit by the shells, temporarily halting public movement and vehicles, to inspect the bombardment sources.
Fighting broke out Wednesday between two clans in Lower Juba region, south Somalia, killing at least three people, and wounding five others. The reports from Waraq, 10 kilometers away from Hosingow town and near the Kenyan border, indicated that the fighting was ignited by a disagreement between two armed clan militias over the ownership of newly drilled water wells. Local traditional elders called for the warring factions to maintain peace and order in the area.
Radio Kulmiye - An independent radio station
Addressing journalists in a press conference, the former head of BBC Somali service Yusuf Garaad announced that he is joining the presidential elections as candidate. Mr. Garaad stated that he committed to help the rebuilding the Somali nation through democratic governance in the future. The former BBC journalist stated that he is particularly committed to empowering the Somali women and also to take greater role in the reconstruction of Somalia. Mr. Garaad worked for the BBC Somali service for 13 years and served in the former Somali National News Agency (SONNA) as a reporter for Radio Mogadishu.
The former president of Galmdug Administration, Mohamed Ahmed 'Alin, arrived in Mogadishu and expressed is disappointment with newly concluded election of Galmudug regional state. Mr Alin claimed that the election was illegal and it was mishandled by individuals with a vested interest. He added the Galmudug people will not accept an illegal president to head the region.