14 August 2012 Daily Media Roundup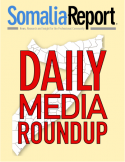 Somalia News Highlights: UN Chief Seriously Concerned Over Delays in Selection of New Parliament; Battle for Key Somali Port Appears 'Imminent', UN; Crash Sets Back Bid to Topple Somali Militants; High-ranking Somali Pirate Negotiator Receives 12 Life Sentences; Navy Frees Somalis Held by Pirates; Somali Journalist Group Condemns Reporter Killings; 600 TFG Troops Completed Training; 12 Al-Shabaab Suspects Arrested in Beledweyne; Al-Shabaab Allegedly Killed Dozens of TFG-AMISOM Soldiers in Mogadishu and Afgoye; Senior TFG Official Assassinated in Suuq-Ba'ad of Mogadishu; National Intelligence Officer Killed by TFG Soldier at Mogadishu Seaport; Nine Trucks Carrying Relief Goods Hijacked By Al-Shabaab; Kenya Announced Reopening Diplomatic Office in Mogadishu; and Tribal Clashes Erupted Near Abud-Waq Over Grazing Land.
COMMENTARY ON ISLAMIC WEBSITES
Somali Memo - The pro-al-Shabaab Islamist website posted a commentary with photos about the Ugandan military helicopters that crashed in Kenya. The Islamist website claimed that the enemy airplanes crashed due to the cursed prayers to Allah of Muslims in Southern Somalia. Somali Language
POLITICS
UN News Center - Secretary-General Ban Ki-moon is seriously concerned about delays in the selection of the new Somali Parliament, according to a statement issued by his spokesperson today. "Recent acts of intimidation and violence which should not continue or be allowed to threaten the successful conclusion of Somalia's transition," the spokesperson said. "He calls upon the Somali political leadership, the traditional Elders and other parties to rise above their differences and to act in the best interest of the Somali people." After decades of warfare, Somalia has been undergoing a peace and national reconciliation process, with the country's Transitional Federal Institutions implementing the Roadmap for the End of Transition, devised last September. The Roadmap spells out priority measures to be carried out before the current transitional governing arrangements end on 20 August.
SECURITY/AL-SHABAAB
Voice Of America - A U.N. humanitarian official for Somalia says fighting for control of al-Shabab's largest remaining stronghold appears "imminent." In a statement Tuesday, U.N. official Mark Bowden says he is "deeply concerned" about reports of civilian casualties in Port Kismayo caused by naval gunfire and airstrikes. He calls for all parties to minimize the conflict's impact on civilians. Several African nations have troops in Somalia fighting al-Shabab, which is allied with al-Qaeda. "We have anticipated this one could be one of the larger battles and again, there's a large civilian population, there's a large IDP population and they are very likely to get caught up in that fighting," said Justin Brady.
Wall Street Journal - Plans for a Uganda-led assault on Islamic militants holed up in the Somali port city of Kismayo have been put on hold following the crash of three Ugandan combat helicopters over the weekend, Ugandan military officials said Tuesday. Commanders organizing the operation have been recalled to the Kenyan capital, Nairobi, to rework plans for a long-awaited attack by Ugandan and Kenyan forces aimed at dealing a decisive blow to Somalia's Al-Qaeda-affiliated al-Shabaab.
MARITIME
Associated Press - A federal judge ordered a Somali pirate on Monday to serve a dozen life sentences in prison for his role in the hijacking of a German merchant vessel and a U.S. yacht, saying the hostage negotiator was lucky he wasn't facing the death penalty. Mohammad Saaili Shibin is considered by U.S. authorities to be the highest-ranking pirate they have ever captured. Shibin had direct ties to those who finance pirate operations from ashore in largely lawless Somalia. Shibin, who speaks several languages including English, declined to make any statements before he was sentenced. U.S. authorities are hoping the sentence will send a message to pirates to stay away from American-flagged ships. "I think this case explodes the myth, if still it exists out there, that pirates are some kind of romantic swashbuckling characters from Hollywood summer movies. This case showed that pirates are brutal, greedy, reckless, desperate criminals who will kidnap, torture and ultimately kill hostages in pursuit of their financial greed," U.S. Attorney Neil MacBride said after sentencing.
SAPA/AFP - Dutch sailors taking part in NATO's pirate-busting operation Ocean Shield helped rescue the crew of a Somali dhow hijacked by pirates in the Gulf of Aden, NATO said on Tuesday. In the operation early on Monday, a Dutch navy transport vessel "disrupted a suspected pirate group before they could launch an attack on a merchant ship" from the hijacked dhow, NATO said in a statement. Several suspects were arrested and the crew of the dhow is safe and sound, NATO said without elaborating.
MEDIA
Voice Of America - The National Union of Somali Journalists, NUSO, says it strongly condemns the killing of two Somali journalists in separate incidents Sunday, in Mogadishu. The first occurred in the morning when unidentified assailants gunned down Yusuf Ali Osman, widely known as Farey, in the Dharkenely district of Mogadishu. The union said three unknown gunmen dressed as school children shot Osman near a garage where he parked his car. After the attack they immediately fled the scene. Witnesses said the assailants called out Osman's name to make sure it was him before they shot him. Osman, a past director of Radio Mogadishu, was working for Somalia's Ministry of Information.
RADIO ROUNDUP
Radio Mogadishu - A pro-government radio station
The Somali Defense Minister Hussein Arab Isse on Tuesday attended the closing ceremony for more than 600 new Somali troops who finished training in Mogadishu. The new trainees participated in six months of military training in Uganda and in Mogadishu. The Minister advised the new troops to work hard to regain the security of the country.
Somali security forces conducted massive security operations in Beledeweyne town of Hiiraan region and arrested at least ten al-Shabaab suspects. Beledweyne Police Chief Ali Dhuuh Abdi Mahad Alle told Radio Mogadishu that the suspects will be brought to court as soon as possible. Mr. Alle stated that the security operations will continue till they secure the entire population.
Radio Andulus - A pro-al-Shabaab radio station
Dozens of pro-infidels militias were killed as five separate explosions rocked Mogadishu and Afgoye in Banadir and Lower Shabelle regions, respectively on Tuesday. Five of the explosions targeted the militia's bases in Suqa-Holaha, Howl-wadaag and Wardhiglay neighborhoods of Mogadishu, which inflicted heavy loses on the enemy. The other two heavy explosions were targeted at the pro-infidels bases in Afgoye secondary school. Witness said they heard two loud explosions inside the military base.
Radio Al-Furqaan - A pro-al-Shabaab radio station
Unidentified gunmen shot and killed a top local official in Suuq-Bacaad neighborhood of Mogadishu Si'iid Siyaad on Tuesday night. Local residents told Radio al-Furqaan that the killers immediately escaped from the scene and TFG soldiers immediately arrived the area. The forces started security operations and arrested several civilians in the village.
Radio Bar-Kulan - An independent radio station
A police officer shot and killed an official belonging to the National Security Service at Mogadishu Seaport for unspecified reasons, reports say. The police officer is now under the custody of TFG security. This is the first incident of its kind ever to happen in the area since government troops took control of the Mogadishu seaport.
Al-Shabaab militants have allegedly hijacked nine trucks transporting relief food at Mir-Ade area, some 55 KM east of Beledweyne town last night. The trucks left Beledweyne and were heading to Mahas town to deliver the relief food, according Mahas District Commissioner Mumin Mohamoud Mohamed. Mr. Mohamed stated the militants diverted the trucks to Bula-Burte, another town in region still under the control of the rebel group.
Kenya will reopen its embassy in Somali capital, Mogadishu, in the next few days, according to Kenyan Foreign Affairs Permanent Secretary Thuita Mwangi. Secretary Mwangi announced the opening of the embassy while visiting Mogadishu and he paid a courtesy call to Somali Prime Minister Abdiweli Mohamed Ali. Mr. Mwangi stated that his primary mission to Mogadishu was to initiate the process of reopening their diplomatic office, adding that they are very delighted to secure a premise for that purpose. Mr. Mwangi held talks with the Somali Prime Minister Abdiweli Mohamed Ali and they discussed the bilateral relationship between the two countries.
Radio Shabelle - An independent radio station
At least two people were killed and more than 10 others were wounded, where some of them were inflicted with serious injuries in a heavy clan fighting in central Somalia. Hassan Abdi Alas, the district administrator of Abud-waq for the Ahlu Sunna Waljama, told Shabelle Radio that the fighting took place in an area located east of Abud-Waq after the two clans clashed over grassing land. The situation is reportedly calm and locals began moving back to their houses on Tuesday.