Piracy REPORT
:
Piracy Report Subscription
Exclusive
Weekly Piracy Report
August 7th-14th 2012
PLEASE NOTE:
THIS IS OUR LAST PIRACY REPORT. IF YOU WISH TO HAVE A CUSTOM TAILORED PIRACY AND HOSTAGE REPORT PLEASE CONTACT
EDITOR@SOMALIAREPORT.COM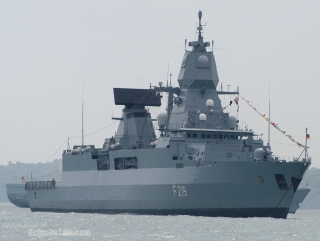 This week's quick statistics:
Number of merchant ships held by Somali pirates: 8
Number of hostages held by Somali pirates on land: 28
Number of hostages held by Somali pirates on vessels: 222
Amount paid in ransoms to Somali pirates in 2012: $29.2 million

Pirates have been back in the game trying their luck with two successful dhow hijackings off the Omani coast, an area where the waters have been more favorable for small boats.
On August 11th at around 1800 UTC, pirates hijacked a dhow in position 17.00N-054.00E. The pirates then used this dhow as a mothership from which to launch an attack on a second dhow, which they also hijacked successfully. They then released the first vessel which allowed its crew to report the hijacking.
The second dhow was described as having six persons on board, as well as a yellow cargo crane and small white craft. Naval coalition forces were already pursuing the dhow, following up on the first hijack report.
On the morning of August 13th, the hijacked dhow was sighted by FGS Sachsen, part of EU NAVFOR's Operation Atalanta. The dhow was heading back towards Somalia, apparently having given up in the face of naval pursuit. A boarding team from HNLMS Rotterdam disrupted the dhow and apprehended the suspected pirates controlling it.
EUNAVFOR lost no time in issuing a press release to announce their catch.
"For the pirates it must have been a strange sight. Not just Rotterdam and FGS Sachsen from the EU Naval Force Somalia (EUNAVFOR) following closely, but also a helicopter and few landing craft ahead making the coast almost impossible to approach," explained Captain Huub Hulsker, Commanding Officer of HNLMS Rotterdam.
"There was not really anywhere for them to go. Obviously, the main thought is always for the safety of my crew and that of the crew of the dhow. But the situation was clear and some strict orders and two warning shots later, the suspected pirates surrendered. The boarding team was on board and in control of the vessel within the next 20 minutes. A grateful dhow crew, an impressive first action of my whole team early in my deployment and six suspected pirates detained on board, awaiting further decisions - this is a result that counts."
Press reports suggest that the suspects will be transferred to the Netherlands for trial.
Following up on Somalia Report's story about two Pakistani former hostages stranded in Mombasa, Kenya, we now understand that the Pakistani High Commissioner to Kenya is preparing travel documents for the men. The sailors, Mohamed Musa Daudi Zada and Dosh Mohamed Ahmed, were rescued by the Royal Danish Navy ship Absalon earlier this year as part of a crew released from a hijacked dhow.
NATO: still quiet on the water
A blog post (yes, NATO's Task Force 508, or Operation Ocean Shield as it's also known blogs) on the NATO Operation Ocean Shield Facebook page this week discussed how quiet things were on the water.
"It is quiet on the north coast of Puntland," NATO said. Citing Ramadan and high temperatures as reasons for the current lack of pirate activity, NATO cautioned that the fight has not yet been won. Did anyone in shipping or maritime security really think otherwise?
Lack of investment and pressure from the authorities in Puntland have all had an impact on piracy in the region. However, it's fully expected that once the South West monsoon blows itself out, pirates will be back in business. They have suffered a string of unsuccessful attacks and will be even more dogged in their pursuit of merchant and local shipping as a result. NATO appear to be in agreement with that assessment, suggesting that pirates will return to their 'trade' with new techniques. We wouldn't doubt it for a moment, and this week's double dhow hijacking proves that pirates are still eager to play their 'trade'.
RANSOM NEWS
Ransom for MV Orna arrives in Mogadishu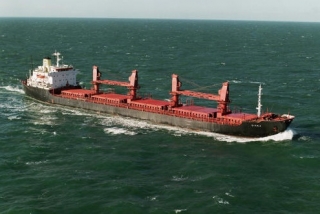 Somali pirates holding the MV Orna, hijacked on December 20th, 2010, have told Somalia Report that negotiations to free the vessel have concluded and that the agreed ransom has now arrived in Mogadishu.
Payments of ransoms is still considered illegal in Somalia and the secretive arrival of private aircraft, duffel bags of money and close cropped security teams is difficult to ignore. It is assumed that the payment of funds to criminals is now an accepted activity. Oddly enough those who negotiate ransoms for the pirates were sent a clear message from US courts today.
The MV Orna has had a rather checkered past, having seen service as a pirate mother ship as well as being damaged by a fire onboard.
"This week the ransom for the MV Orna arrived in Mogadishu. It's about $1.2 million and now that it is in Mogadishu the negotiators are planning to move the money to Mudug or Galmadug region. The pirate group will release the vessel as soon as they have the ransom," a pirate source told Somalia Report.
The ransom negotiations stalled several times, but officials, businessmen and pirates who took part in the negotiation told Somalia Report that the Orna crew were in good health.
The MV Orna and her 25 crewmembers were hijacked by pirates operating from two skiffs who fired small arms and RPGs at the vessel during the attack. The MV Orna is a bulk cargo vessel owned by UAE-based Sirago Ship Management.
If this latest information is correct, then 2012 is shaping up to be a good year for hostage releases and, unfortunately, a good year for pirate ransoms which will surely entail their continued operations at sea as a result.
MV Iceberg 1 talks ongoing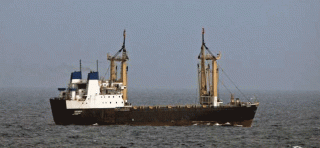 Negotiations to free the Panama-flagged MV Iceberg 1, held since March 2010, continue, although pirates, the crews' relatives and ship owners seem unable to agree on how the vessel's release will take place. The ransom sum has apparently been agreed at $5 million, and the current hiccup seems to revolve around delivery of the money and at what point the ship and crew will then be released.
Somalia Report understands that the crew is in reasonable health although they are thin and weak. The crew is currently being held hostage on land, while only the Ilaalo or guards remain on board the vessel itself. The pirate gang claims the vessel contains chemicals which could be dangerous, however this has never been proven. The MV Iceberg is being held off the coast near Buq village, to the east of Garacad village which is also where pirates are currently holding the Greek-owned, Liberia-flagged MV Free Goddess.
MV Albedo still held by investors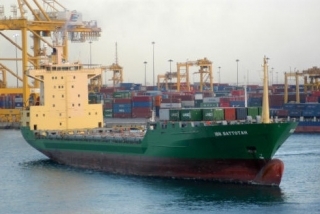 As Somalia Report revealed last week, pirates and investors fought over the spoils received when seven Pakistani crew were released for $1.2 million. The vessel is still in the hands of the pirate investors who took control after the pirate commanders from the group effectively ran off with the ransom money.
The latest reports received by Somalia Report state that the remaining crew is being held on board the ship and that there is no sign of any peace between the investors and pirates who took the ransom.
"The investors are still holding the vessel and the pirate commanders including Guushaaye are in Galgaduud region. The other pirate groups and traditional leaders can't do more because one side of this group come from Mudug region," a pirate based in Harardhere told Somalia Report.
Guushaaye and his men are believed to be in Cadaado district, in central Galgaduud. Guushaaye and the other commanders disagreed with investors including Hassan Hamarrow and Ahmed Sayruuq, who suggested that the bulk of the $1.2 million ransom received be divided up and then used for other operations.
DEVELOPMENTS ON LAND
MV Albedo ransom scandal?
Apparently, it is not just the pirates holding the MV Albedo who are arguing about the ransom. News emerged this week that the owner of the MV Albedo, Omid Khosrojerdi, an Iranian, accused one of the key negotiators of corruption.
Khosrojerdi has said that Ahmed Chinoy, Citizens Police Liaison Committee chief, lied about the amount of ransom paid to the pirates holding the Albedo. This money led to the release of seven Pakistani hostages at the end of July.
"Mr Chinoy paid only $317,000 to the pirates and not $1.1 million as he claims," Khosrojerdi told The Express Tribune from Malaysia. Khosrojerdi claimed that this information was relayed to him by the pirates themselves and confirmed by 'sources' within the Malaysian Security Council. Somalia Report was told by pirate sources that the ransom was $1.1 million.
Khosrojerdi didn't put a dime towards the release of the hostages, according to Chinoy. "Omid was ready to bribe certain officials and pay them hundreds of thousands of dollars, but when it came to giving money for the fund, he told me he will not give a single penny," he said.
The MV Albedo was hijacked by pirates on November 26th, 2010 whilst transiting from Mombasa, Kenya to Jebel Ali, UAE. Negotiations to free her have collapsed on several occasions, until relatives of the Pakistani hostages took matters into their own hands and began to raise money towards the ransom. Khosrojerdi told the press he was now in contact with the pirates to release the rest of the crew. However, given past efforts, Somalia Report suspects that fund raising efforts made by the relatives of the remaining hostages may bear more fruit.
Those left behind
While the freed Pakistani hostages from the MV Albedo rightly enjoy life outside confinement, the thoughts of all at Somalia Report are with the 222 other merchant crew still being held hostage. The parents of Ahmed Kumar, one of the MV Albedo victims, have hit the media, hoping to maintain interest in the ongoing hostage case.
"Three days ago I got a call from my son, who was literally crying. He was saying the pirates are not giving him food and threatening to kill him if their demands of $1 million ransom and release of 61 Somali pirates held by the Indian navy were not accepted," Aman's mother, Pushpa Devi, told the National newspaper.
The MV Albedo is one of the longest running hostages sagas in Somalia but with the ransoming of the Pakistani hostages, it is possible that there may be light at the end of tunnel for the remaining hostages. Provided their relatives can raise the funds. Small wonder, then, that Kumar's father, army veteran Kewal Krishan, has called upon his government to intervene.
The burden of raising ransoms really shouldn't fall to families in situations like this, but it may be the only way of guaranteeing the release of their loved ones. It's an option that has galvanized relatives in other countries to act. The weekend saw two stories emerge where hostage relatives put pressure upon their governments to do more to negotiate their freedom.
In Bangladesh, the families of seven sailors held hostage on the MV Albedo held a press conference to urge the government to raise the $300,000 needed to release their relatives. This sum is required because the owners of the Albedo, Enrich Shipping, cannot afford to pay the whole ransom on their own.
"The seven sailors, including my son, are living in inhumane conditions. They are being given food just good enough to keep them alive," Hossain's mother Majeda Begum said at the briefing.
Meanwhile, in Sri Lanka, relatives of the Sri Lankan hostages onboard the Albedo and the lone Lankan held on the MV Orna are making similar efforts to publicize the plight of the hostages. Fund raising efforts are underway but there seems to be little movement from the government.
POLICY NEWS
Kenyan court sentences seven pirates to 20 years
The long-running case against seven Somalis accused of piracy has come to a head in Kenya, with the suspects all receiving hefty sentences. The accused men were named as Barre Ali Farah, Abdi Mohammed, Ali Hussein Hassan, Abdulkarim Nur Shire, Bashir Mohammed Ehmi, Abdulrazak Abdullahi Ali, and Abdulfaruk Hussein Ali who were accused of attempting to hijack a fishing boat off the Gulf of Aden, the Captain St. Vincent. All seven were arrested by Danish naval forces and returned to Mombasa for trial.
During the trial, the defendants' lawyer, Jared Magolo, asked the court to release the men, who have already spent four years in prison awaiting trial. He told the court, "The purpose of any sentence is to reform those who have been convicted. This is one rare case where the trial has achieved what the sentence would have achieved. They have been reformed."
Magolo further said, "My clients are remorseful. They have vowed to go back to Somali and contribute to the nation building."
However, Senior Resident Magistrate, Joyce Gandani, made the ruling noting that piracy was an increasing issue and that she hoped the sentences would serve as a deterrent to others considering piracy. Gandani sentenced the men to 20 years each, with the option to appeal the verdict in 14 days.
That's a long term for an attempted hijacking where no loss of life occurred and the suspects had already spent four years in prison waiting for a trial. The law has always favored commercial interests over those of the citizen and Somalia Report agrees that stiff sentencing is one way to combat piracy. However, 20 years for an unsuccessful hijacking without injury does seem to be somewhat disproportionate and may have more to do with sending a message that Kenya will not tolerate piracy near its shores.
Kenya's tourist industry has been hard hit by piracy in recent years. Cruise ships, previously a common sight in the region, have now dwindled to a trickle due to the threat of piracy, while high profile kidnappings such as those of Judith Tebbutt and Frenchwoman, Marie Dedieu, who were both taken from popular Kenyan tourist haunts, have certainly impacted tourism in the country.
Australia to spend an additional $2 million (AUS) to fight piracy
Australia's Foreign Minister, Bob Carr, announced this week that the country would be spending an additional $2 million to strengthen the rule of law in regional states and combat piracy in the Indian Ocean. The extra funds bring Australian anti-piracy spending to more than $4.3 million (Australian dollars) since 2009.
Additionally, Carr announced that he would be extending the secondment of an Australian Federal Police officer to the United Nations Office on Drugs and Crime (UNODC).
Exactly how and where the money will be used was sadly not discussed, so we are none the wiser as to whether it will be handed to the UN or spent on local anti piracy projects within Somalia, which might perhaps be a better use of the funds.
Pirates attack Puntland prison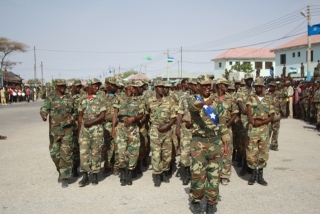 Puntland security forces repelled an attack on Galkayo Central Jail this week, as armed pirates attempted to free some of their comrades scooped up in recent security operations by the Puntland authorities.
The attack saw an unknown number of pirates armed with automatic weapons attack the jail only to be fought off by security forces. Reports suggest two pirates were injured during the unsuccessful assault. It is believed that one of the men picked up in the security operation at the end of July is part of the gang believed to have kidnapped three aid workers last month.
As the monsoon wanes, pirates plan new operations
After several very quiet weeks at sea, Somalia's pirates are planning new operations against the world's merchant fleet.
Somalia Report is getting reports that two pirate groups are currently planning new attacks. The gangs are based in Mudug region and one is mixed Hawiye clans led by Warsame Xaashi from the Saleeban clan. This group planned to send three boats out to see on Monday August 13th.
"The group led by Warsame Xaashi are well known pirates from this region. They will use three speed boats with 12 armed men in each boat. They are based in Saax village, between Ceer-Huul and Handulle village," a pirate from the group told Somalia Report. Handulle village has long been a popular pirate base and was attacked by European Union Naval Force helicopters earlier this year.
The second group of pirates planning new attacks are also based in Mudug region and led by a pirate from the Saleebaan clan.
"Abdi Yare and his group will be using two speed boats with nine well armed pirates in each. They are using Ceel-Gaboode village as a base, which is located south of Handulle near Harardhere," the pirate source told Somalia Report.
As mentioned earlier in the report, pirates claim that the monsoon and a lack of investors are behind the recent quiet spell. "If there are strong storms and strong winds at sea, no one will send their men. Also, there are no good investors and pirates aren't getting good money in the last few months," a pirate source told Somalia Report.
"Also at this time pirates don't have many good boats which can be used as mother ships. When you have a good number of mother ships, you can do more operations," the pirate continued.
This week's hijacking of two dhows would suggest that pirates are indeed looking for new platforms from which to launch attacks.
Negotiator Shibin given 12 life sentences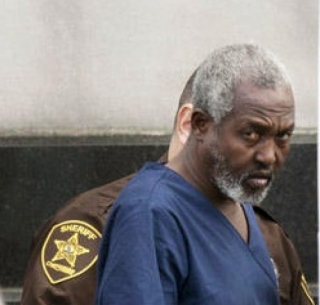 Mohammad Saaili Shibin made the mistake of negotiating the potential ransoming of American hostages aboard the SV Quest. He was arrested by Puntland authorities and flown to Djibouti where US agents picked him up. Shibin was featured in a UN report and had been involved in a number of successful ransom negotiations. Pirates typically rely on English speaking and somewhat educated interlocutors to bring the highest price for their captives. Although a number of well intentioned Somali's had intervened without pay or malice, Shibin was part of a new breed of go between. When he got the call for the SV Quest he had no idea the amount of violence that was about to be dealt the American hostages. It was in fact, FBI negotiators who were flown to US warships that attempted to negotiate the freedom of the Americans and when the pirates became skittish the captives were killed.
Shibin was involved in piracy, even though he was not aboard the ship nor was he involved in the initial hijack. No ransom was paid.
This case was clearly a soapbox for the USG beginning with the slightly fudged FBI press release and all the way to the draconian sentence of a Somali who never actually pirated a ship but had the misfortune to speak English. Even the judge in the case told Shibin he was lucky he was not up for the death sentence. Even though there is no death charges against him. Shibin was elevated to the "highest ranking pirate" in captivity by the USG. The US DOJ gleefully gushed " In April 2011, the Eastern District of Virginia set a new first in piracy prosecutions by capturing and charging an alleged pirate in a leadership role – Mohammad Saaili Shibin, a hostage negotiator in Somalia."
After the sentence was handed down the DOJ once again portrayed the case in bombastic terms neglecting to mention that the hostages would have still been alive had they understood the modus operandi of Somali pirates.
"I think this case explodes the myth, if still it exists out there, that pirates are some kind of romantic swashbuckling characters from Hollywood summer movies. This case showed that pirates are brutal, greedy, reckless, desperate criminals who will kidnap, torture and ultimately kill hostages in pursuit of their financial greed," U.S. Attorney Neil MacBride said after sentencing.
Shibin was a well known negotiator and part of a criminal conspiracy to deny mariners, ship owners and cargo owners free passage on the ocean. The best the US government could prove was that he made a paltry $30,000 from this criminal actions and neglected to mention that Shibin has never been on the high seas nor has he ever been involved in the boarding of ship or even firing of a weapon. The government officials bragged that this was the 18th pirate they had convicted. A closer examination of the sentence shows that Shibin sentence is ludicrous: Ten concurrent life sentences for piracy and two consecutive life sentences for the use of a rocket propelled grenade and automatic weapons during crimes of violence (Shibin did not hijack the SV Quest but rather did his work by mobile phone and computer). He was given 10 years consecutive on six counts of discharging a firearm during a crime of violence, and two 20-year sentences other firearms counts...and ordred to pay $5.4 million in restitution.
in contrast the men who actually boarded the ship and murdered Scott and Jean Adam along with Phyllis Macay and Robert Riggle were simply sentenced to life in prison.
It appears that the sentencing might even have been a way to make good for the bungling the prosecution of another arrested and suspected negotiator. Judge Ellen Huvelle roasted the government prosecution team for 'unbelievably inexcusable behavior' for their attempts to portray Somali Ali Mohamed Ali as a pirate. Ali had actually been invited to come to the US to help the government in their case against pirates and then arrested him for being one when he arrived.
Welcome to Jamal's Pirate Action Group
Finally Reuters is describing what appears to be a hilarious written communication from a Jamal, the head of a pirate group who had snagged an oil tanker. /url]. The written ransom demand is purported to say, "Welcome to the Pirate Action Group. Pirate commander Jamal wishes to congratulate you on being hijacked. Kindly speak to his negotiator about your ransom, bearing in mind that his demands are similar for every vessel he seizes."
Although no details are provided and neither the pirate or ship is named, the article makes for light reading and the right note to end our free weekly piracy report.
If your organization needs custom reporting on pirate activities inside Somalia please contact Editor@SomaliaReport.com