13 August 2012 Daily Media Roundup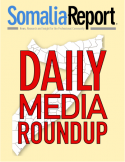 Somalia News Highlights: Somali Leaders Strike Unity Deal As Election Draws Closer; As Somali Election Nears, Candidates Accused of Corruption; Somali Government 'Must End Assassinations'; Three Ugandan Military Helicopters Missing in Somalia; Two Pre-Teen Pirates Sent Back to Somalia After Trial; UN Decries Death of Two Journalists in Somalia; Somali Women Fight For Parliament Seats; Somali Traditional Elders About to Conclude MPs Nominations; US Ambassador Condemns Rampant Assassination Somali Journalists; Somali Religious Leaders Condemn Kismayo Air Bombardment by Kenya; Clashes Expected Between Pro-TFG Forces in Gedo Over Bribes; Three Killed in Clan Clashes Over Grazing Land; President Urged Elders to Wrap Up MP Elections With Fairness; Parliament Speaker Announces His Bid for the Presidency; and Al-Shabaab and TFG Forces Clashed at Elasha Biyaha.
COMMENTARY ON ISLAMIC WEBSITES
Amiir Nuur - The pro-al-Shabaab Islamist website claimed that the infidel-supporting Somali President Sharif Ahmed traveled to Addis Ababa after the Ethiopian and African leaders ordered him to come over. It is reported that the infidels are interested in solving the political rift between the president and the Somali prime minister, Abdiweli Ali. Sharif Ahmed is also expected to participate in a meeting organized by the African Union. Somali Language
POLITICS
Shabelle Radio - Thirteen presidential hopefuls have announced that they have formed a coalition as the battle for battle-weary Somalia's top seat hots up.The candidates, all men, hope to agree on a single candidate to contest the country's anticipated election expected to take place on or before August 20. Up to 63 aspirants have declared their candidacy for the presidency, including the incumbent, Sheikh Sharif Sheikh Ahmed, and his premier, Prof Mohammed Abdiweli Ali. "We acknowledge that the Somalia people are in a dreadful situation, especially overwhelmed by among others ailments by humanitarian problems, social disintegration, health troubles and mass unemployment," the grouping said in a Thursday statement.
Voice Of America - As the process for ending Somalia's political transition gathers momentum, some presidential candidates have been accused of both interfering with the process of electing new parliamentarians and vote-buying ahead of the presidential election, which is due to take place on August 20. It is common to hear one of the dozens of presidential candidates say "I want to run for president." In response, many Somali politicians and the public ask, "Does he have money to buy votes?" Dr. Abdirahman Mohamed, a presidential candidate, says questioning how deep is the pocket of a candidate is like saying only corrupt leaders who have stolen from state coffers are eligible to run.
SECURITY/AL-SHABAAB
ANP/AFP - Somalia's government must end a wave of assassinations that has struck the volatile capital Mogadishu as leaders jostle for power ahead of elections next week, the AU and UN warned Monday. Unknown gunmen have killed at least seven people including businessmen and journalists in the past week alone, said AU special representative to Somalia Boubacar Diarra. So far this year, at least one Somali journalist has been targeted and killed each month. "There had been a steady rise in assassinations targeting journalists, government officials and businessmen," Diarra said in a statement. "The Somali authorities must institute investigations into these killings with a view to bringing the perpetrators of these heinous crimes to justice."
Wall Street Journal - At least three Ugandan military helicopters deployed recently against al Qaeda inspired al-Shabaab militants went missing Sunday as they flew toward Somalia's port city of Kismayo, the Ugandan military said Monday. A Ugandan military spokesman told Dow Jones Newswires that the helicopters went missing en route to Kismayo to support a planned ground offensive as African Union troops attempt to wrestle the port city from the al-Shabaab.
MARITIME
Associated Press - Two Somali children traveling the high seas with pirates are being sent back to Somalia. The two pre-teens — ages 12 and 11 — were captured in January with 12 other Somalis on suspicion of piracy. The 11-year-old was acquitted because of his age. The 12-year-old was sentenced to a provisional release upon being sent back to Somalia. The Seychelles police said Monday that the U.N. Office on Drugs and Crime was helping to fly the two back to northern Somalia to be reunited with their families.
WOMEN RIGHTS/POLITICS
Press TV - Somalis are celebrating the joy of having a new constitution that was adopted unanimously on the 1st of August by 825 clan elders. However the excitement did not last too long for the Somali women. Women from the civil society and political activists are demanding for their 30 percent quota as the deadline to the formation of a new government draws near. A new 275 member parliament is set to be formed and concerns are growing among Somali women over the loss of political gains as stipulated in the new draft constitution.
MEDIA
Associated Press - U.N. and African Union officials on Monday decried the deaths and demanded that the Somali government put a stop to the killings. None of the people involved in the nine media workers deaths this year have been prosecuted. "The Somali authorities must institute investigations into these killings with a view to bringing the perpetrators of these heinous crimes to justice," said a top African Union official, Boubacar Diarra. The African Union military force "is ready to provide any assistance it can to help with such investigations," he added. Two more Somali journalists were killed in the nation's capital, bringing the number of journalists slain in the country this year to nine and highlighting the dangers media workers continue to face in the Horn of Africa nation despite increased security in Mogadishu.
RADIO ROUNDUP
Radio Mogadishu - A pro-government radio station
The traditional clan elders involved in selecting members of the Somali parliament declared that their tasks on the selection process is in the final stages, but they warned about delays and obstacles due to interventions from politicians. Garad Jama, the head of the selection committee, told Radio Mogadishu that the first phase of parliament selection completed successfully saying that he was optimistic that the remaining parts would finish soon. Early reports from selection committee indicate 210 new parliament members were already nominated. A free and fair election for new mps, parliament speaker and presidency are expected to be held in the Somali capital Mogadishu late this week.
The U.S. Special Representative for Somalia, Ambassador James C. Swan, condemned in the strongest terms possible Sunday's cowardly murder of Yusuf Ali Osman. A veteran journalist, Mr. Osman worked as the Media Relations Director for the Ministry of Information, Posts and Telecommunications. "We extend our profound condolences to Mr. Osman's family friends, and colleagues," he said. The United States is committed to helping end the culture of impunity and violence that threatens both the lives of Somalis and their universally recognized right to freedom of expression.
Radio Al-Furqaan - A pro-al-Shabaab radio station
Somali religious leaders have strongly condemned Saturday's shelling of Kismayo town which killed at least three people, including children. Sheikh Abdiwahid Isaq Muudey and Sheikh Mohamed Balli stated that it is sad to see the Somali people dying at the hands of the infidels and the people are just watching it. They called on the Somali people to stand up and to defend the country and destruction towards the Islamic Sharia.
Radio Andulus - A pro-al-Shabaab radio station
Reports from Garbaharrey town of Gedo region indicated that tensions being very high in the region and the residents fear about eruption of fighting between two pro-infidels groups in the town. The militias disputed over bribe money which one of the group collected from the traders in the town.
Radio Bar-Kulan - An independent radio station
At least three people were killed and four others were injured after armed clan militias clashed in an area between Mirheley and Banjeley areas of Galgadud region, reports say. The fight occurred after the two clans clashed over grazing land, with each side demanding to have full control of the area. The injured combatants were rushed to Abudwak district hospital for treatment. Abudwak district commissioner Hassan Abdi Alas who spoke to Bar-kulan claimed that they are trying to quell further violence in the affected area.
President Sharif Sheikh Ahmed on Monday urged the Elders' Arbitration Committee to try to resolve emerging differences within clans concerning the selection of the new parliament members. The president stated the elders are required to speed up their selection process to meet the 20 August deadline saying that there will be no additional time to extend this deadline.
The speaker of the transitional federal parliament of Somalia Sharif Hassan Sheikh Adan officially launched his presidential campaign bid on Sunday. Speaking at an emotionally charged ceremony held in Mogadishu, Sharif Hassan promised to tackle insecurity and uplift the country's economy if he is elected the president. Sharif Hassan claimed that under his leadership, he will unite the country through fairness and nationalist attitudes and he also appealed to Somalis in the diaspora to return home and take part in rebuilding the country.
Radio Shabelle - An independent radio station
Heavily armed militants belonging to al-Shabaab have launched deadly assaults against an army base manned by Somali government troops in Elasha Biyaha, just 18km south of Mogadishu, witnesses said. The fighting which raged on for several hours occurred on Sunday in Elasha Biyaha area, where fighting sides exchanged heavy and light fire that could be heard distances away from the battle zone, according to the local residents. Military source who asked not to be named claimed that the government army hit back the militants and killed many fighters. Al-Shabaab has yet to release comments on the attack.