10 August 2012 Daily Media Roundup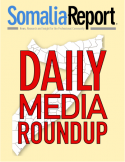 Somalia News Highlights: UN Envoy Hails Presidential Decree, Security Council Welcomes Political Progress; President Sharif Proclaims New Districts As Election Nears; Meles Absence Fuels Regional Anxieties; US Terror Drone Kills 5 People in Southern Somalia; Al-Shabaab Suspect Arrested in the Dadaab Camp; African Union Pledges Continuing Support for Somalia; Armed Guards Force Pirates to Halt Hijacks; TFG Geared to Disarm Mogadishu Residents; Dozens of TFG Soldiers Were Allegedly Killed in Clashes With Al-Shabaab; 20 TFG Soldiers Allegedly Surrendered to Al-Shabaab in Baidoa; Al-Shabaab Claimed to Have Killed 11 TFG Soldiers in IED Attacks; TFG Opened a New Military Court in Bal'ad Town; Al-Shabaab Killed a Livestock Herder for Refusing Zakad Payment; Somali Cabinet Rejected Presidential Creation of New Districts; and Security Forces Conduct Operations in Baidoa.
COMMENTARIES ON ISLAMIC WEBSITES
Amiir Nuur - The pro-al-Shabaab website published a commentary accusing Doctors Without Borders (MSF), a humanitarian organization, of violating Islamic values in Somaliland. MSF was accused of preventing the birth of male babies by poisoning pregnant woman and just allowing the birth of female babies and the Somaliland authorities are in support of the non-Islamic activities.Somali Language
POLITICS
UN News Center - The United Nations top political official for Somalia today welcomed a presidential decree on the Horn of Africa country's National Security and Stabilization Plan (NSSP), while the Security Council has welcomed the recent progress Somalia has made in progressing towards the end of its temporary governing arrangements. "The development of the NSSP through Navaisha, Puntland, Galkayo, Nairobi and now Mogadishu has been inclusive, participatory, led and owned by Somalis," the Secretary-General's Special Representative and head of the UN Political Office for Somalia (UNPOS), Augustine Mahiga, said in a news release. According to UNPOS, the NSSP provides the immediate, medium- to long-term priority actions required to strengthen the security and justice sector institutions in Somalia, respecting and promoting human rights and the rule of law. "We are approaching the very last milestones of the Roadmap and any attempt to undermine, manipulate, delay or derail this process would be unacceptable," the three officials said in a joint statement. "We are of the view that long-suffering Somali people deserve a reassuring future."
Garowe Online - Transitional Federal Government (TFG) President Sharif Sheikh Ahmed declared by presidential decree on Thursday 5 new districts in southern Somalia, Garowe Online reports. The letter from the President's office was dated July 22 but was officially made public on Thursday. Dalan-dolle located in Bay region and Buulo-jadid in the Bakool region have officially become districts in Somalia. The letter explains that these two former villages have become districts on the request of the TFG's Minister of Interior. Another three districts in the Shabelle region have been declared districts as well as the election draws close.
Financial Times - The prolonged absence of Meles Zenawi, Ethiopia's usually hyperactive prime minister, has sparked a covert succession struggle at home and prompted fears farther afield for a future without one of east Africa's diplomatic and security linchpins. Government officials say Mr Meles, who has not been seen in public since mid-June, is recovering from a serious illness, but they deny opposition rumours that he is dead or dying at a hospital in Brussels.
SECURITY/AL-SHABAAB
Press TV - At least five people have been killed and several of others injured in an attack by a US assassination drone in southern Somalia, Press TV reports. The attack took place in Kismayo, a strategically important port city on Somalia's Indian Ocean coast located some 500 kilometers (310 miles) south of capital, Mogadishu. More than two dozen people have also sustained injuries in the attack.
Xinhua - Kenyan police have arrested suspected Al-Shabaab fighter who is behind a spate of crimes in Dadaab, the world's largest refugee camp in northern Kenya. Regional deputy police commander, Noor Gabow said on Thursday that Mohamed Ibrahim Ali was arrested by fellow refugees who raised the alarm after he went to rob in her homestead. Gabow who described the arrest of the terror suspect as a big breakthrough said that security had been enhanced in the refugee camps in northern Kenya with the deployment of more officers. "It is a big group which has been causing all sorts of crimes in the refugee camps, we are closing down on the others, our security along the border has also been increased," the regional deputy police boss said.
Coast Week - The African Union peacekeeping mission in Somalia on Tuesday vowed its commitment to supporting the horn of African country's peace process as the nation marks one year after the ouster of Al-Shabaab from Mogadishu. Somalia is currently organizing elections by parliament of a new president and speaker. The move follows after the country's national constituent assembly endorsed a new constitution last week. "The military gains and the liberation of new areas have contributed to the effective participation of Somalis from all walks of life to the political process currently underway," AMISOM said in a statement.
MARITIME
DNA - Pirate attacks off Somalia dropped to zero for the first full month since the practice emerged more than five years ago, new figures show. It marks the longest unbroken stretch of peaceful transit through the waters off Somalia, and was attributed to the increased use of armed guards on ships and international naval patrols. Bad weather is also thought to have played a part. "This is traditionally a quiet time for pirate attacks but there has always been at least a handful of incidences even during the monsoon months of July and August," said Cyrus Mody at the IMB's London office.
RADIO ROUNDUP
Radio Mogadishu - A pro-government radio station
Somali Internal and Security Minister Abdisamad Mo'alim Mohamud on Friday declared that the government and the African Union troops in Somalia (AMISOM) started a security plan of disarming Mogadishu residents and those in other areas recently liberated from al-Shabaab. The Somali government also banned illegal weapons in public places. The security minister stated that they will try to confiscate all illegal weapons from the capital before the transitional period ends. He also welcomed the new AMISOM police who recently started their operations in Mogadishu.
Radio Andalus - A pro-al-Shabaab radio station
Dozens of pro-infidels militias and the infidels were killed in deadly fighting between the Mujahideens and the infidels in Lafole district of Mogadishu's outskirts on Thursday night. The fighting erupted as the Mujhideens launched attacks on the enemy's military bases in Lafole area. Mujahideen military officers told Radio Andalus that the fighters broke into the defenses of the enemy and the said fighting continued for over an hour.
Radio Al-Furqaan - A pro-al-Shabaab radio station
Reports from Bay region indicated that at least 20 TFG soldiers have surrendered to al-Shabaab Mujahideen administration in the region on Friday. The Mujahideens have welcomed the defectors in Diinsoor district and they treated them well. Al-Shabaab officials in Bay and Bakool regions called on TFG soldiers who are fighting alongside the Ethiopians infidels to surrender to the Mujahideens and amnesty will be extended to them.
At least 11 TFG soldiers were killed and their vehicle was compeletely destroyed in heavy explosions that hit Suuqa-Holaha village og Mogadishu on Friday. Unconfirmed reports indicated that a top TFG military official Colonel Ali Sanney was among the casualties. This will be the second deadliest explosion against TFG soldiers in Mogadishu within 48 hours because on Wednesday more than ten were killed in explosions that shook Hiliwa district.
Radio Bar-Kulan - An independent radio station
The Somali military court (SMC) has opened a new branch in recently captured Bal'ad town of Middle Shabelle. SMC Judge Gen. Hassan Mohamed Hussein who spoke at the official opening of the new branch thanked the Somali armed forces and AMISOM for uprooting al-Shabaab from the town. Gen. Hussein also urged the TFG-AMISOM forces not to abuse civilians living in the region and pledged to deal with errant officers found harassing civilians.
The al-Shabaab militant group in southwest Somali region of Gedo shot and killed a livestock herder for allegedly refusing to pay Zakat from his animals. The incident occurred at Ara-ade area, some 30 kilometres from Beled-Hawo town that borders Kenya and Ethiopia, according relatives who spoke to Radio Bar-kulan on condition of anonymity in fear of reprisals. The militant group is now conducting collections of what it calls Zakats in the region which forced people from rural communities in the region to flee from the area to avoid forced collections.
Somali cabinet members overwhelmingly rejected newly created districts in the country on the basis of its unconstitutionality. The cabinet members stated that they were not consulted about the creation of new districts and they declared the presidential decree is declared as null and void. The cabinet said the creation of such districts will only jeopardize the reconciliation process of the Somali nation.
Radio Shabelle - An independent radio station
Somali security forces carried out operations to tighten the overall security of Baidoa, the third largest city in Southern Somalia. According to the local residents, the security operations, which began Friday morning, focused on neighborhoods across the town where residents were complaining about increased insecurity acts committed by gunmen dressed in Somali military uniforms.