The Darker Side of Al-Shabaab
Militants Resort to Criminal Tactics in Bay and Bakol Regions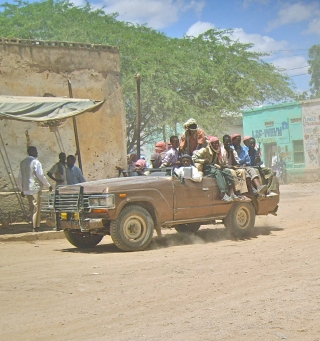 The al-Shabaab Islamic group battling for control of Somalia are notorious for their implementation of strict Islamic sharia rule in areas under their control and harassment of local residents. As they lose more territory to the allied forces of Somalia and the African Union peacekeeping force (AMISOM), the militia has rapidly resorted to common criminal acts including carjackings and robberies to keep their jihad funded, as residents and victims complained to Somalia Report.
According to Mama Hawa Ali, a businesswoman who trades in fabric in Dinsoor town in Bay region, militant fighters continue to loot the shops in the town in broad daylight.
"We are being harassed by these young men who people tell me are al-Shabaab fighters. They can come anytime and confiscate our properties. Most of the businesses here are at risk of closing down and I personally also have the same plans. Maybe we will take a month off until the level of security improves," she told Somalia Report.
What is causing the hardline Islamists to commit criminal acts when they were the ones tasked to prevent such behavior? To learn more, Somalia Report spoke with residents of Hudur, the capital of Bakol region and one of the towns recently seized by allied forces that still has pockets of fighters scattered throughout the town.
"We are finding it difficult to believe what the mujahidins are doing to the same people on whom they once implemented strict Islamic rules. For example, only two days ago a car belonging to one of our residents was forcibly taken by al-Shabaab. Insecurity in the town is rampant nowadays," explained Hassan Gedi.
"In addition to carjacking, robberies are on the rise. The masterminds behind these robberies are the militia themselves. It is so difficult to see your resources being confiscated and you can do nothing about it especially in the villages that are fully under their control. It is no longer the al-Shabaab we knew who implemented sharia law. Now they are the real thugs. On the other hand the Somali Transitional Federal Government (TFG) has done little in eradicating the al-Shabaab militia and their sympathizers in the town that they have taken control of," he added.
In response, the Hudur town district commissioner, Mr. Mohamed Maalin, condemned the acts in a harshest manner possible.
"Insha'Allah (God willing) the TFG will not rest until the Somali population - wherever they are - is safe from the danger of terrorist attacks from the al-Shabaab militants and their foreign fighters. It just feels good that we gaining more grounds from them and that is why they are frustrated now more than ever. This is certainly not the militia we knew. They have transformed into criminals and consequently giving us and the Somali population rough time. But Insha'Allah we will overcome them," the commissioner told Somalia Report.
One of the hardest hit sectors is that of transportation, according to residents and officials. Recently vehicles that were operating along the road that connects Hudur and outlying towns including Ceelbarde have encountered difficulties from the militia. Drivers reported the militants have gone so far as beating up the passengers on board and as an additional punishment took any valuable item with them. The number of checkpoints has also risen throughout southern Somalia.
Nuur Ali was one of the lucky passengers who escaped with only a few bruises when al-Shabaab tried to stop his vehicle by firing recklessly at it as he traveled from Hurdur to a village where his livestock are being held.
"It is cowardice on the part of al-Shabaab to turn their backs on the Somali population. They used to be criticized all over the world, but personally I didn't see their evil side until a week ago when I narrowly escaped death," explained the herdsman.
"For me, it started when the fighters fired at our overcrowded lorry until the driver lost control and decided to stop. They came to the lorry and started beating up the passengers especially men and some women who were protesting and then ordered us to lie on our stomachs. Almost fifteen minutes they left and we got up and realized that they stole our valuable items including them sugar. We were really traumatized and we no longer know what to do. The same militia whose hymn we have been singing for so long are now the ones who are becoming traitors. Or are they taking revenge out on us because Hudur is now under the control of the government? What are we to do? I can't drive on this road anymore but must reach my livestock," Mr. Nuur told Somalia Report.
It is clear the group is suffering financially by losing ground to the allied forces and the residents are the ones suffering from their losses. Al-Shabaab controlled the southern Somalia for almost three years and had a stable source of income from taxes. During that time, they imposed a consistent form of sharia. In cases relating to theft and robbery, the militia severely punished the criminals by amputation. Today, however, sharia seems to be a thing of the past as those tasked with its implementation are the same people who have become criminals.
To understand this shift in dynamics, Somalia Report spoke to Mr. Maalim Adan Yare, the al-Shabaab leader representing Tiyeglow district in Bakol region.
"Alhamdulillah, I thank God for this opportunity to address this sensitive issue of public interest. As we all understand Harakatul Shabaab al Mujahidin has never failed to deliver justice to the population since it took control of Bay and Bakol regions of southern Somalia, so why now? The answer is no. Al-Shabaab would never do stupid things such ambushing and looting public transportation in the area we control or even in the areas we don't control. But the interesting thing is why is all this insecurity happening as soon as the foreigners invaded our land? This simply means that TFG solders and their Kafir allies had something to do with this."
Mr. Yare emphasized that the militia has vast support in the districts of Hudur, Ceelbarde, Dinsor and Burhakaba and Teyeglow in both Bay and Bakol regions.
This comes as the allied forces advance towards the port city of Kismayo, al-Shabaab's last stronghold and a financial center, in Somalia's Lower Juba region.