9 August 2012 Daily Media Roundup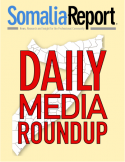 Somalia News Highlights: Is There Hostility Between Somali Dynamic Duo, Sharif and Gaas?; Former Prime Minister Supporters Shot at Rally; Kenya to Lead Strike on Somali Militants; Once Mighty, Somalia's Army Struggles to Rebuild; Five Somalis Indicted Again for Attack on Navy Ship; Parents of Captured Sailor Plead for Indian Government to Act; Somali-Finish Diaspora Donated Cash to IDP Families in Mogadishu; Ethiopians Allegedly Killed Religious Leader in Beledweyne; 15 TFG Soldiers Were Killed in IED Attack at Ex-Control Checkpoint; Somali PM Called for An Emergency Meeting After TFG Soldiers Killed Farmajo Supporters; Two Al-Shabaab Leaders Killed by Unknown Gunmen in Jilib; Several People Arrested in Afmadow in Security Operations; A New Political Party Formed by Hopeful Presidential Candidates; and Former Defense Minister Warned About Corruption Surrounding the Selection of New Lawmakers.
COMMENTARIES ON ISLAMIC WEBSITES
Amiir Nuur - The Pro-al-Shabaab website published a commentary where the Spokesman of Al-Shabaab Mujahideens Sheikh Ali Dhere claimed that the PM of Ethiopia Meles Zenawi is number one enemy of the Muslims in East Africa and his death will lead to the collapse of the Tigrean administration. The potential collapse of the Ethiopian government is a victory for the East African Muslims.Somali Language
POLITICS
Garowe Online - Transitional Federal Government (TFG) President Sharif Sheikh Ahmed and Prime Minister Abdiweli Mohamed Ali Gaas reportedly have not seen eye to eye lately as both politicians have announced they are running for President. However, things are changing for the super hero tandem as elections draw close, according to inside sources the beef between the two could threaten the political process. Although highly unlikely because of the huge amount of resources and time invested in ending this political process on schedule. Prime Minister Gaas publicly announced on Tuesday that he is running for President of Somalia as the transitional government will come to an end August 20th. According to inside sources after his announcement, President Sharif was distraught at his Prime Minister's decision to run for office.
SECURITY/AL-SHABAAB
Garowe Online - Former Prime Minister Mohamed Abdullahi Mohamed Farmajo's supporters were fired upon allegedly by Transitional Federal Government troops in Mogadishu on Thursday, Garowe Online reports. According to local sources in Mogadishu, Farmajo's supporters including some TFG soldiers who came to welcome the former Prime Minister were randomly fired upon by men dressed in TFG forces' uniform. At least two people were killed and three others injured including one TFG soldier and one civilian. According to one witness at the scene the men escaped from the scene only after the supporters had fled the area.
Financial Times - African troops plan to launch an attack on a Somali Islamist base in the port of Kismayu next month in an attempt to hasten an end to the insurgency that has troubled the region for more than 20 years, says Raila Odinga, Kenya's prime minister. The offensive would have started this month, Mr Odinga said in an interview with the Financial Times. However, commanders of the the African Union peacekeeping force, which will be involved in the attack alongside Kenyan troops, delayed the plan for reasons that are unclear. High quality global journalism requires investment. But the port of Kismayu remains under the militants' control. "Our troops are ready to move. It's going to happen because unless we capture Kismayu we cannot say we have hurt al-Shabaab. It's their main supply base," said Mr Odinga. "They are weakened already, but as usual, a besieged enemy is like a wounded buffalo. It is more dangerous."
AFP - As hundreds of Somali army recruits march haltingly around a dusty parade ground on the outskirts of Mogadishu, Ugandan officer Assa Mutebi admits that sometimes his job can feel a little strange. Mutebi, the "patriotism instructor" for the 2,000-odd recruits who have just returned from a year of European Union-funded training in Uganda, is responsible for teaching the fledgling soldiers to love their own homeland. "I teach them about their country, how to value their country," said Mutebi, part of the 17,000-strong African Union mission in Somalia (AMISOM), propping up Somalia's weak government against Al-Qaeda linked Shebab rebels.
MARITIME
Associated Press - Five Somali men are facing piracy charges again after a federal appeals court ruled that an armed attack on a U.S. vessel can be considered piracy even if no one boards or robs the ship. The men originally had the piracy charges dismissed by a federal judge because they never boarded or robbed the USS Ashland. The men previously pleaded innocent, arguing they were ferrying refugees when they came upon the ship in the Gulf of Aden in 2010. A federal grand jury returned an indictment with the new charges Wednesday. The U.S. Attorney's Office says the new indictment adds allegations that three of the defendants also went to sea to capture another vessel but were intercepted by the Royal Navy.
Indo-Asian News Service - The parents of a sailor held captive by Somali pirates for the past 20 months pleaded to the government yesterday to ensure his release. Aman Kumar was on the MV Albedo on November 26, 2010, that left from Dubai on its way to Kenya when pirates attacked and took hostage all 23 crew members. "Three days ago I got a call from my son, who was literally crying. He was saying the pirates are not giving him food and threatening to kill him if their demands of $1 million ransom and release of 61 Somali pirates held by the Indian navy were not accepted," Aman's mother, Pushpa Devi, said yesterday.
MOGADISHU AIRPORT SECURITY/INTERVIEW
All Africa - This is a lengthy interview Shabelle Media Network correspondent Omar Nor interviewed Mike Douglas, president and CEO of SKA Group, about their aviation and logistics services in Aden Adde International airport in Mogadishu. "Well, we have been here in Mogadishu for almost two years and what have achieved is quiet considerable. We basically came in Somalia with an agreement with Somalia's Transitional Federal Government (TFG) to manage and develop Mogadishu international airport."
RADIO ROUNDUP
Radio Mogadishu - A pro-government radio station
Somali Diaspora in Finland donated money to more than 100 families in Mogadishu IDP camps on Thursday. Each family received 300,000 shilling ($15), and the IDP families thanked the donors as the IDPs received at a very crucial time of their lives. Haji Abdiasis Barre Ibraahim, who is one of the distributors, told Radio Mogadishu that they will continue to help the poor Somali people.
Radio Andalus - A pro-al-Shabaab radio station
The Ethiopian Christian infidels shot and killed a prominent religious leader, Sheikh Osman Abdi Farah, in Beledeweyne town of Hiiraan region. Locals told Radio Andalus that the Ethiopians killed the leader after explosions destroyed one of their vehicles near his house. The Ethiopians also tortured and detained dozens of local residents.
Radio Al-Furqaan - A pro-al-Shabaab radio station
At least 15 TFG soldiers were killed in heavy explosions that targeted their military base in Ex-Control Checkpoint of Mogadishu on Thursday. An eye witness told Radio al-Furqaan that he saw the injured soldiers and the bodies of the TFG soldiers lying at the scene. Another separate explosion took place in Yaqshid district which killed at least two soldiers. Meanwhile, a TFG military vehicle was burned after al-Shabaab fighters ambushed TFG convoy in No50 village of Lower Shabelle region.
Radio Bar-Kulan - An independent radio station
Prime Minister Abdiweli Mohamed Ali has called on an emergency meeting for TFG's top security officials following the attack of supporters of former Somali PM, where two people including a police officer was killed. The meeting which is a said to be a closed door is underway in the prime ministers' office as reported and the top TFG officials is aimed in discussing security in the entire city and the recent incident where military officers attacked supporters of former Prime Minister Farmajo. The incident occurred shortly after Farmajo arrived in Mogadishu earlier morning.
Two Al-Shabaab militant leaders were gunned down Thursday after a gunman attacked them at Hongoy settlement, some 10 KM from Jilib town, reports claimed. Jilib residents who spoke to Radio Bar-kulan identified one of the killed militant leaders as Abdifatah Mohamed Sheikh Abdiaziz. it is reported that the bodies of the militant leaders were taken to Jilib town for burial. The assailant reportedly escaped to unknown destination immediately after the attack. The reason behind the killing of the two militant leaders is not yet known as no group has claimed responsibility of the attack.
Several people were last night arrested in a crackdown conducted by TFG forces and allied Raskamboni militias in Afmadow town, officials say. The crackdown targeted people believed to have been connected with a spike of recent insecurity in the town. Afmadow Police Station Commander Adan Darod stated that several suspects were arrested in the crackdown aimed at netting individuals and groups involved in criminal activities including banditry.
Radio Kulmiye - An independent radio station
A dozen educated Somalis have established a new political party to invigorate the approaching presidential election on August 20th, 2012. The new party fielded at least 13 candidates with mostly outstanding credentials to participate the upcoming elections. The leaders showed their expressions in a new ambition to lead the country if one of them successes in the elections ahead.
Former Somali Defense Minister Abdulhakiim Haji Fiqi expressed serious concern about a rampant corruption in the selecting the new Somali parliamentarians. Mr. Fiqi who was the defense minster of Farmajo's government stated that he warned the former warlords and the other war criminals against being a part of the new Somali parliament. The minister claimed that MP candidates are corrupting the system by bribing the Somali elders.