Feature
Part One: What is Galkayo?
Galkayo Governed by Both Galmudug and Puntland Regional States
As part of our on-going series, "What Is...", Somalia Report examines Galkayo (Galka'ayo), a violence-ridden city in central Somalia. In today's Part One, we review the background, security, and infrastructure. In Part Two, we will investigate the effects of piracy and al-Shabaab in the city.
Overview

Galkayo, one of the largest and oldest towns in southern and central Somalia, is the capital of Mudug region, connecting the northern and southern halves of the east African country. The strategically located city is divided in half with the semi-autonomous region of Puntland controlling the north, and the state of Galmudug controlling the south.
It was formally established in 1900 by Sultan Ali Yusuf Kenandid, a traditional leader born in Somalia's seaside city of Hobyo. A few years after the traditional Sultanate's rule, a fierce battle ensued between the Italian colonial authorities and the local rebel groups led by the Sultan. As a result, the Italians took over the town and continued to rule it for 14 years before British Somaliland took it over until Somalia's independence.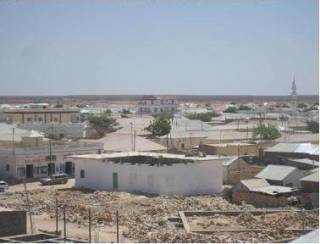 Galkayo has been devastated by the longstanding civil war in Somalia and ongoing clan hostility between Darood and Hawiye tribes that erupted after the overthrow of the military regime in 1991.
Immediately after the ouster of Siad Bare, Mogadishu fell under control of the United Somali Congress (USC) led by General Farah Aideed. Forces loyal to USC extended their control and attacked Galkayo capturing the town after deadly infighting between rival Hawiye and Darood clans.
The endless inter-clans wars led to a massive loss of life and property forcing the leaders of each respective clan to call for peace after which each clan formed a regional authority paving way for the inception of both Puntland and Galmudug regions.
In late 1993, the former president of Somalia Abdullahi Yusuf (Majerteen Clan) then the leader of the Somali Salvation Democratic Front (SSDF) and General Mohamed Farah Aided (Habar Gedir Clan) then the leader of USC singed a ceasefire and to allow rival clans to embrace unity. This led to over a decade of stability until last year when clan fighting and violence skyrocketed.
Today at least six different clans are living together in Galkayo including Darood and Hawiye, 51.5% and 20.7 respectively, Dir 11.3%, Arab 4.5%, Sheikhal 3.2% and others clans 9.8%, according to a local government records. The minority tribes are vulnerable and victim to conflicts between majority clans; they claim they are marginalized because they are not strong enough to fight or defense themselves from others.
The population of the town has been steadily picking up over the years. Currently there are 380,000 people living in Galkayo, according to local officials who spoke to Somalia Report, making the town one of the most populous in southern Somalia athough other sources report half a million residents, which may include tens of thousands internally displaced persons (IDPs).
Puntland And Galmudug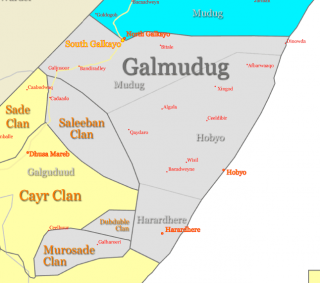 Galmudug and Puntland both wield power and have each established some form of governance in the city. Galkayo is made up of three villages; the southern village of Barahley (Wadajir) is controlled by Galmudug while the north villages of Garsoor and Israac are controlled by Puntland.
At an historical agreement signed in Garowe in 2011, Puntland and Galmudug administrations formally agreed to cooperate in the field of security, economic and social issues in order to forge a stronger relationships and share taxes collected throughout the city. A line of control marks the border between Puntland and Galmudug's control, with each side in control of their own police forces.
Local officials in Galkayo are:

Puntland, Northern Galkayo
Mudug Regional Chairman, Mohamed Yusuf Jama Tigey
Mayor of Galkayo, Col. Saed Abdi Farah
Mudug Chief of Police, Jama Mohamed Ahmed

Galmudug, Southern Galkayo
Mudug Region Chairman, Mohamud Gure Guled
Mayor of Galkayo, Saynab Osman Hassan Cato
Mudug Chief of Police, Col. Abdi Jama Habeb
Infrastructure
Abdullahi Yusuf International Airport is the only airport in Galkayo and is under the control of the Puntland Airport Authority, not Galmudug. It was formerly named 'Galkayo Airport' but Somalia's current president, Sharif Sheikh Ahmed, renamed the facility in honor of the former president. The airport provides flights to Mogadishu and Bosasso within the Somali territory and further to the neighboring countries of Djibouti and Kenya.
Dhega Ade Health Center, is one of Somalia's top hospitals and is located on the northern corner of Galkayo, providing high quality and low-cost health care attracting patience from neighboring regions.
Galkayo boasts a significant number of school going children, although official records were unknown due to the influx of IDPs, unlike the southern regions of the country. Local officials told Somalia Report there are more than 24 official primary and intermediate schools and five secondary schools. Galkayo University was launched in 2010 to enhance higher education among the local residents. The university teaches topical subjects such as computer science, information technology, medicine and health sciences and education.
Galkayo is home to a number of media outlets Hikma TV and Puntland TV including Radio Galkayo, Radio Daljir, Voice of Peace Radio, and Radio Hikma.
For the last two months, the local governments has been planning to build a new, large market and has closed down or moved at least 400 small businesses, according to Ahmed a local government official.
Security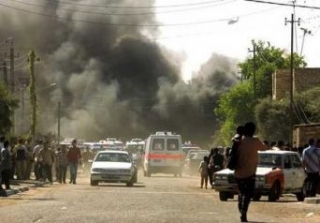 Galkayo has long been a mecca for violence with insecurity on the rise in recent months due to longstanding and relentless clan animosity, the arrival of pirates, and al-Shabaab militants who are fleeing allied advances in the south.
As a result, the local population lives in constant and fear of sporadic and unpredictable violence. To remedy this, officials told Somalia Report that most people are armed.
"The local police are not enough to enhance the security of the town. They are overwhelmed with issues and understaffed with only a few officers manning police stations," said a local security official Ali Ahmed.
Over the last few years, assassinations and bombings have increased in the city since al-Shabaab militants started fleeing large parts of southern Somalia due to the allied advance. The rising insecurity sparked the ire of local residents who staged a massive demonstration on January 6th against pirates and other criminals.
"Being in Galkayo means to live at risk on a daily basis. All the people are armed among them pirates and al-Shabaab. In Galkayo killings are easy and lives are meaningless," Ahmed Said, a Galkayo, resident told Somalia Report
2011 was a deadly year for Galkayo with a number its key leaders killed in a well coordinated assassinations that still continue to rock parts of the city. Hassan Waloore, a well known traditional elder, Ahmed Elmi Osman Gatax, a local district commissioner, Abdiqadir Yasin of Puntland Development and Research Center (PDRC), Abdirahman Hassa Haji (Koodha), a Puntland lawmaker, and Mohamed Muse Hussein, a Puntland senior military commander were all assassinated. In August of the same year, a grenade was throw into Radio Daljir on the same day gunmen killed six people dining in a restauarnt.
2012 didn't prove to be any safer in Galkayo as journalists have been killed and kidnapped in the city. Two journalists Farhan Abdalle and Ali Ahmed Abdi were also killed in early 2012. Although the general security situation in Somalia is worse, Galkayo is considered to be the second most dangerous city in Somalia after Mogadishu.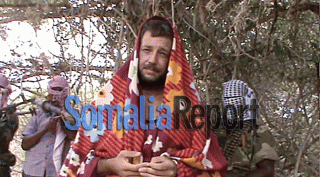 In January, an American journalist Michael Scott Moore was kidnapped while on the way to the airport in Galkayo only three months after two Danish Demining Group aid workers, Jessica Buchanan and Poul Thiested were kidnapped in the same area. Mr. Moore is still being held with the DDG workers were rescued in a dramatic American military operation in January of this year. In July, two Kenyan aid workers were kidnapped in Galkayo and are still being held.
The same month, a suicide bomber blew himself up in the home of former warlord and newly elected president of Galmudug Abdi Hassan Awale (Qeybdiid).
To combat insecurity, Puntland launched a massive security operation in late January through the restive city, but the killings continued. Officials were equally targeted by gunmen in 2012 with well-known elder Colonel Abdulahi Mohamed Hassan (Faray) and his brother gunned down in the city on July 30th.
IDPs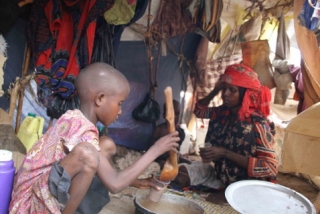 Adding to Galkayo's problems are the approximately 59,000 internally displaced people (IDPs) are living in Galkayo's 21 inhospitable IDP camps. Most of these people have fled from southern parts of Somalia to escape famine or the recent battles between al-Shabaab and allied forces.
After the kidnapping of foreign aid workers, several NGOs left the area, exacerbating the IPD dilemma with limited assistance and rising insecurity. The absence of proper sanitation, shelter and food is taking its toll on residents and has created a massive population of street children. Officials told Somalia Report that at least 6,000 street children live in Galkayo, many of whom are forced into labor as domestic servants.
Map of Galkayo credit ©BBC
Editor's Note:
In Part Two, Somalia Report will explore the rise of piracy and al-Shabaab in Galkayo. For more in our "What is...?" series, please see:
What is Alpha Group?
What is Galmudug?
What is the Galgala Conflict?
What is Bandar Beyla?
What is AMISOM?
What is Khatumo?
Part One: What is Lasquoray?
Part Two: What is Lasqoray?