6 August 2012 Daily Media Roundup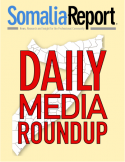 Somalia News Highlights: With Talks Over, UN Envoy Urges Somali Parties to Complete Transition Tasks on Time; President Sharif Walks Out of Signatories' Meeting in Nairobi; Why Somalis Aren't Benefiting From Rollback of Islamists; Armed Men Kill Mogadishu Airport Director; Cardinal Urges Action to Release Lankans Held by Somali Pirates; Hundreds Celebrated the First Anniversary of Mogadishu as A City Free of Al-Shabaab; Djibouti Reaffirmed Its Support of Stabilization of Somalia; Al-Shabaab Claimed to Have Killed Five TFG Soldiers in Hamar-Weyne; Over 60 Ethiopian Soldiers Were Allegedly Killed in Hudur; TFG Forces Asked for Immediate Humanitarian Aid in Lower Shabelle; TFG Claimed to Establish a Well-Trained Police in Bledweyne; and 20 Al-Shabaab Fighters Were Killed in Afgoye By TFG Forces.
COMMENTARIES ON ISLAMIC WEBSITE
Amiir Nuur - The Pro-al-Shabaab website claimed that the UN Special Envoy to Somalia has banned the two Sharifs, Somali President Sharif Ahmed and Parliament Speaker Sharif Hassan, from participating in the upcoming Somali election for presidet, speaker and deputy speaker.Somali Language
POLITICS
UN News Center - With a key meeting to resolve outstanding issues ahead of the end of Somalia's current transitional period now over, the United Nations top political envoy to the country today called on all actors to ensure that the remaining tasks are completed in two weeks' time. The Secretary-General's Special Representative and head of the UN Political Office for Somalia (UNPOS), Augustine Mahiga, welcomed the consensus reached at the meeting of the Signatories of the Roadmap for Ending the Transition over the weekend, as well as the resulting communiqué while expressing concern at the time it took to resolve key issues. "Time is pressing. The process cannot afford any more delays," Mr. Mahiga said in an UNPOS news release. "Now that these discussions are done I urge all parties to focus all their energy on completing the remaining tasks on time, as they have publically committed to do."
Garowe Online - Transitional Federal Government (TFG) President Sharif Sheikh Ahmed reportedly stormed out of a meeting signatories were having in Nairobi on Sunday, Garowe Online reports. The meeting being hosted in Nariobi's Hotel Panari, began with controversy, as a letter signed by President Sharif appointed Abdiqadir Ma'alin Nuur as TFG President's defense adviser. President Sharif has previously supported Mr. Nuur as Ahlu Sunna representative and signatory. However, Ahlu Sunna leader Mr. Mohamed Mohamud Aw Libah has disputed Mr. Nuur's credibility as Ahlu Sunna representative and signatory as he is "an employee of President Sharif". Moreover, inside sources tell Garowe Online that President Sharif was irked by a closed door meeting between Puntland President Abdirahman Farole and TFG Prime Minister Dr. Abdiweli Mohamed Ali, as the two leaders' meeting concluded thirty minutes late and delayed the opening of today's meeting at 10am in Panari Hotel.
SECURITY/AL-SHABAAB
The Christian Science Monitor - The past year's offensive against Islamist militia Al Shabab should have opened territory for aid groups to operate in. But security and funding shortages remain problems. For humanitarian aid groups, the Somali government's and African Union peacekeeping force's success in pushing Islamist militias out of Mogadishu and other strongholds across southern Somalia, should have meant greater access to vulnerable Somali communities. But in the wake of a year-long offensive in southern Somalia – led by the transitional Somali government, the Kenyan and Ethiopian militaries, and the African Union's Mission in Somalia (AMISOM) – much of rural southern Somalia remains off limits to many foreign aid groups with the resources to feed and protect hundreds of thousands of displaced Somalis.
SAHABI - Unknown gunmen killed managing director of Mogadishu National Airport Ibrahim Iman Halane on Saturday (August 4th), the Somali National News Agency reported. Halane was attacked while he was leaving a mosque after the evening prayer in Mogadishu's Hamar Weyne district. The gunmen immediately fled the scene. Deputy Minister of Transportation Abdurahman Kulmiye Hirsi, sent his condolences to the family of the deceased and said security forces are investigating the case. The gunmen were al-Shabaab agents, Hamar Weyne District Commissioner Abdulahi Ibrahim Sahal Gardhuub told Somalia's Shabelle Media Network.
MARITIME
Sri Lank Daily News - Archbishop of Colombo, Malcolm Cardinal Ranjith urged the public and authorities to take measures to release seven Sri Lankans captured by Somali pirates 20 months ago. He further urged that shipping be banned in the seas off Somalia and requested to look into possibilities of suing the shipping companies who send their crew in the seas of Somalia, as they are legally responsible for the lives on board. The press conference was held with the participation of religious leaders and on the request of relatives of Sri Lankans held hostage by Somalian pirates. A Sri Lankan crew along with 14 other South Asians and an Iranian on a Malaysia-registered ship were captured by pirates in the Gulf of Eden in November 2010. Vilasini Wakwella, wife of the chief engineer of the ship which was seized en route to Kenya from Dubai said the pirates had asked a ransom of US $ 1.4 million for their release. "It is just a dream to find that amount by ourselves as we do not have any source of income after the ships crew were captured," she said. "The salary of captured crew was not paid by the company. We living with a number of difficulties. We cannot afford this amount at all," she lamented.
DRAFT COMMUNIQUE
African Arguments - This is a draft communique signed in Nairobi, Kenya by the Somalia's roadmap signatories. This communique seems being part of the general draft communique but highlights agreement between Dhulbahante Clan groups vying for parliamentary seats.
RADIO ROUNDUP
Radio Mogadishu - A pro-government radio station
On Monday, a large rally marking the first anniversary of Mogadishu free of Al-Shabaab control as the Somali National Forces backed by the African Union peacekeeping forces successfully forced al-Qaeda linked group of al-Shabaab out of the Somali capital Mogadishu August 6, 2011. Jubilant demonstrators with artists, a band playing the national anthem and waving the national blue flag and signs written with slogans showcasing the freedom after al-Shabaab and destruction left behind by al-Shabaab. The demonstrators finally gathered at Benadir Stadium in Abdul-Azis district north of the capital Mogadishu, where TFG officials including President Sheikh Sharif Sheikh Ahmed and Benadir regional authorities addressed to them.
Djibouti is committed to peace in Somalia and globally, Foreign Minister Ali Mohamoud Youssouf said. In an interview with Djibouti's La Nation, the minister stated, "Djiboutian diplomacy remains in the service of peace both in the government's action through regional groups like the Intergovernmental Authority on Development, or even continental ones." He highlighted Djibouti's participation in the Somali peace process since the Somalia National Peace Conference in 2000 in Arta, Djibouti, which concluded with the formation of the Transitional Federal Government.
Radio Al-Furqaan - A pro-al-Shabaab radio station
At least five TFG militias including a top officer were killed and others were injured in an explosion targeted against them in Hamar-Weyne district of Mogadishu on Monday night. Some reports indicated that the explosion happened when gunmen threw grenades on a TFG base. Meanwhile, another two heavy explosions rocked at Siinka-Dheer village in the outskirts of Mogadishu on Sunday night which killed a number of TFG militias.
Radio Andalus - A pro-al-Shabaab radio station
At least 60 Ethiopian Christian soldiers, including four top officers were killed and more than that number were injured as heavy fighting between al-Shabaab Mujahideens and the infidels took place in Hudur district of Bakol region on Sunday, according to al-Shabaab military spokesman Sheikh Abdiaziz Abu Muscab. The fighting erupted as the Mujahideens launched well-planned attacks on the enemy's bases. Abu Mus'ab stated that seven Mujaahideens martyred the fighting. He vowed that the Mujahideens will continue the attacks against the enemy of the Islam.
Radio Bar-Kulan - An independent radio station
The Somali military has appealed for immediate humanitarian aid for locals in recently captured areas of Lower Shabelle region. Speaking to the press in Mogadishu on Monday morning, Military chief Gen. Abdikarin Yussuf Adan Dego-badan claimed that locals are facing acute shortages of food, water, lack, medical supplies, as well as healthcare and face harsh living conditions. General Adan stated that the areas badly affected include number 50, 60 and Awdegle. Dego-badan promised to guarantee security of all aid workers if they start operating in the region.
Radio Shabelle - An independent radio station
Somalia's Transitional Federal Government (TFG) claimed that it will launch an initiative to form police forces for the restive central town of Beledweyne in Hiiraan region. Abdifatah Hassan Afrah, the governor of Hiiraan region for TFG, told Shabelle Radio that the government has decided to establish a well-trained police to the city which has witnesses alarming increase of insecurity acts in the past few months. Al-Shabaab has in the past carried out many deadly attacks, including suicide and landmine blasts, killing numerous people, mostly officials and soldiers.
A district commissioner for the Somali government stated that at least 20 al-Shabaab fighters were killed in a fierce battle that took place overnight in Afgoye district, 30 kilometers north of Mogadishu. The chairman of Afgoye Abdullah Abdi Ahmed told Shabelle Radio that the Somali government forces managed to drive back an offensive by al-Shabaab fighters on Somali army in the town, killing twenty combatants belonging to al-Shabaab. Mr. Ahmed underscored that the situation remained calm on Sunday following the overnight combat between Somali soldiers and al-Shabaab militants.