Exclusive
Al-Shabaab Imposes Economic Embargo
Militants Believe Economic Embargo Will Harm TFG and AMISOM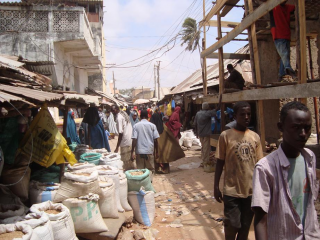 As the hard-line Islamist group al-Shabaab prepares to defend Kismayo, one of its last and most important strongholds, it has announced a new strategy that it hopes will deliver a crippling blow to the military efforts of its opponents - the Transitional Federal Government (TFG) and AMISOM.
In a move likely to bring additional hardship to communities still suffering from the effects of drought and famine, al-Shabaab has over the last week declared that it will block the transportation of goods and foodstuffs from the port of Kismayo to areas no longer under its control in the Gedo, Lower Juba and Bay regions of Somalia. The reason provided by al-Shabaab is that this economic embargo will have a devastating effect on the logistics of the TFG and its African Union allies.
"I swear the almighty Allah who created this earth, the infidels and their supporters will face (a) hard time that (will) force them to return (to) their home countries. From now on, the mujahedeen are stopping the vehicles transporting goods from Kismayo port to the areas that are controlled by the allied and TFG forces. We are going to starve them to death and those remaining will be going back to their homeland without carrying any weapons," said Sheikh Habeeb, the al-Shabaab governor in Kismayo, said to pro-al-Shabaab media outlets.
Further emphasising the seriousness with which this new policy will be implemented Sheikh Habeeb then went on to say any person caught attempting to smuggle items into areas controlled by the "enemies of God" would face "the wrath of the mujahideen and his or her judgment will be heavy."
This is not however the first time that al-Shabaab has moved to impose restrictions on trade between areas under its control and those controlled by the TFG and its allies. Prior to this most recent announcement, a ban on the movement of goods into some areas of Gedo region was being enforced by the Islamist militia, despite efforts by local clan elders to have the restrictions lifted. As a result of this pre-existing embargo, the town of Garbaharey in particular has experienced difficulties and hardships not seen by other towns that are located closer to the borders of Kenya or Ethiopia such as Dolow, El-Wak and Beled Hawo.
Now as a result of this new embargo Somalia Report has received information that additional towns in the Lower Juba and Bay regions that, like Garbahrey, are likewise facing shortages of goods and supplies they would normally receive through Kismayo. One such town is Diinsoor in Bay region, where the shortages of goods are already being experienced as a direct result of the new decree.
"Since last week, the prices of basic commodities like sugar, rice, soups and small items increased. We are worried about the shortage of the goods that used to be transported from Kismayo to Afmadow. Since last week, no vehicles reached the town due to the restriction of Al-Shabaab in the areas controlled by the TFG and her allies," Hamdi, a resident in Afmadow told Somalia Report.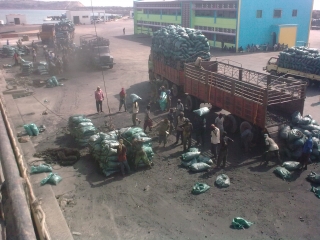 Many of the vehicles that would normally be delivering goods and other supplies to towns such as Afmadow are now sitting idle either in the port area of Kismayo or in garages. One driver who regularly transports goods between Kismayo and Afmadow spoke to Somalia Report and described his experience following the announcement of the new restrictions on trade:
"I was about to take off from the port on Thursday last week and drive to the town of Afmadow when al-Shabaab announced that no vehicle will carry goods to those towns controlled by the TFG and the allied forces. I have parked my lorry loaded with goods in one of the garages in Kismayo and up until now there has been no announcement from al-Shabaab to allow us to continue our journey. The tyres of the lorry have been punctured because of the weight of the goods and the number of days the vehicle has remained loaded and it can't be offloaded to a store a store because it is expensive," said the driver.
While the shortage of goods in some areas and towns is now beginning to be felt by their residents, local business people are also beginning to express their own feelings of frustration at the impact of this decision on their businesses.
Somalia Report was also able to talk to Mr Abdiwelli Salald, a businessman who supplies goods directly from Kismayo to Badade and Dobley which are located in the areas covered by the recently announced embargo. He pointed out that while the ban on trade has created a shortage of goods and other essential commodities in areas not controlled by the Islamist militia some goods are still making their way through to them. This is being achieved by acting as if goods and supplies are intended for delivery to Bardere, a stronghold of al-Shabaab, and then taking long and cumbersome routes actually delivering them to Dobley, Badade and other small locations. However, due to the difficulty of these routes, the danger of detection and the threat of heavy punishment if caught, the numbers of deliveries reaching these prohibited areas are not enough to meet even the most basic demand for goods and foodstuffs.
The impact of the policy on the business community in Kismayo is also undermining any support that the Islamist group may have maintained in the city. Some have expressed their frustration not only at the financial cost to them of this policy but also at what they see as its flawed logic. This was expressed to Somalia Report by a local businessman who asked to be called YA.
"I believe al-Shabaab is not fighting to defend the religion and the Somali people but they have a hidden agenda as evident in what they are doing in the community. They claim that they are starving their enemy which is impossible but they are causing problems to the citizens who are living those areas not controlled by them. Their enemies have many other accessible ports in the country like Mogadishu port and are superior as they carry all their food staffs. Al-Shabaab is detrimental to many business people in the region. For example, I used transport at least 200 sacks of 50kg of sugar and rice every two weeks from the port of Kismayo to all the way to the towns of Lower Juba and Gedo regions but now I can't and therefore, my business is prone to collapse," YA explained.
Coming at a time when the group is under increasing military and financial pressure it is likely that this policy, already having such a negative impact on both business and day-to-day life, will continue to erode support for al-Shabaab among clan leaders, the business class and also civilians who are forced to suffer shortages of goods ordinarily acquired through the port of Kismayo.
This report was prepared with the assistance of Phillip van Gaalen-Prentice, an Australian-based researcher and consultant.