Are TFG Soldiers Harassing Civilians in Afgoye?
Somalia Report Speaks to Representatives From Both Sides of the Allegations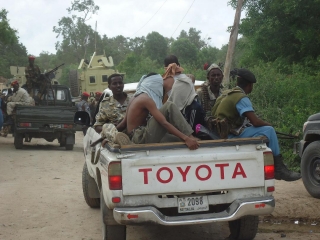 Residents of Afgoye, 30 km northwest of the Somali capital of Mogadishu, have been complaining that soldiers from Somalia's Transitional Federal Government (TFG) have been looting businesses, harassing residents and demanding bribes from minibus drivers ever since the allied troops seized the city from al-Shabaab Islamist militants in May of this year.
Somalia President Sharif this week visited Afgoye to investigate the allegations of civilian harassment. During the meeting with local officials and residents, President Sharif berated Deputy Chief of the Somali Army, Gen. Abdikarim Yusuf Adan, for the insecurity in the town and for the lack of accountability of his troops, according to Garowe Online, suggesting that the allegations of abuse were true.
Others, however, blame al-Shabaab fighters for stealing TFG uniforms to create insecurity in the town.
To learn more, Somalia Report spoke with representatives from both sides.
Soldiers Harassing Drivers
The chairman of the Afgoye Minibus and Lorries Association, Abdikadir Geddi, claimed the TFG soldiers have been setting up road blocks, demanding bribes for safe passage.
Thank you for giving us this opportunity to interview you. Can please tell us how the minibuses and lorries have been disrupted by TFG soldiers?
Thank you. In fact, we are totally disabled by the TFG forces because they hinder the movement of goods and people. They set up road blocks on almost all the major roads that leave and enter Afgoye, thus minimizing and restricting the movement of goods and people.
Have you communicated to TFG officials in respect to this issue?
Yes, we have communicated to the authorities concerned and they told us that they never issued orders in which the business activities are disrupted. They do not support these road blocks, but the officials also told us that there is security operation underway. They said its objective is not to harm any particular party or group.
What have you agreed with TFG officials and have they promised a serious action against the soldiers?
They promised that they will communicate to officers in the field and will be informed that they should not go beyond their mandate of restoring law and order and we are optimistic that they will adhere to the guidelines given.
There have been allegations of torture by some drivers who defied the orders of the soldiers to stop. What can you tell us about this?
That was the main problem that prompted us to call for immediate action against the soldiers. Actually a few of the drivers who had been tortured did not defy orders but asked the soldiers for the legal reason behind the restriction of their movement. We have passed the information to the relevant authorities through the right channel and we expect effective action against them.
How did this affect the follow of goods and people in Afgoye?
For the last three days, the drivers have experienced a rough time since all major roads were blocked so the drivers had to use other routes that are unfavorable and dangerous. Overall the movement of goods and people was greatly undermined.
What will you do as drivers if the soldiers continue harassment or the orders of the government officials do not take effect?
We don't expect such things as we are confident that TFG will play its role of safeguarding our interest, but if this continues we shall suspend our operations and conduct a massive strike accompanied by well organized demonstrations until our concerns are addressed.
Any final words?
I would like to inform the people of Afgoye to stand up for their rights. They should not sit back and suffer alone as this is an issue affecting our lives in general. I urge them that we exercise justice and transparency at the grassroots level.
Thank you.
You are welcome
Soldiers Not Harassing Drivers, Blame Al-Shabaab
To get another perspective, Somalia Report spoke to a TFG police officer in Afgoye who denied the allegations, and also asked to remain anonymous since he was not officially authorized to speak to the media.
Thank you for giving us this interview. Can you please briefly tell us how the security is in Afgoye today?
The security of Afgoye town is normal though there are a few incidents of insecurity that occur haphazardly. TFG forces are conducting operations during the night in order to maintain the law and order of the town.
TFG soldiers are accused of torturing and harassing the drivers of the minibuses and lorries. What do you know about this?
Definitely I can say this is a baseless propaganda by some of the shallow minded people who want to create hostility between the TFG and the residents. We cannot continue to tolerate this nonsense. TFG soldiers do not harass, torture or engage in what they are being accused of doing.
The people who are creating insecurity wear TFG uniforms in order to be identified as TFG soldiers. We have so far captured four suspects who were terrorizing, torturing and harassing the people in Afgoye as well as the drivers who mostly travel between Afgoye and Mogadishu. They are now in the custody of TFG police in Afgoye and they will be interrogated to determine where they got the uniforms and other information.
What tangible evidence do you have that these soldiers are not TFG?
We are aware the whereabouts of our soldiers and we can assure you and the residents that they are friendly. They can't harass the people. We are aware of every authorized or unauthorized move made by our soldiers.
What steps have you taken or planning to take to ensure the security of Afgoye residents?
Its our duty to guarantee their security and so far we have mobilized our soldiers to target the culprits and take the matter seriously. We promise the people that we shall not sleep unless we prosecute and the punish those robbers who want to tarnish the integrity of the hard working TFG soldiers.
Is it possible that al-Shabaab is behind this insecurity after they were defeated in Afgoye?
Yes, we believe that the militia group of al-Shabaab are those who are pretending to be TFG soldiers and committing crimes during night. It is one of their characteristics to undermine the peace and solidarity which the people under the TFG control enjoy. The responsibility of the TFG forces is to safeguard and protect the citizens. We would like to assure our citizens that the smooth running of the social activities will return to normal and there will be no more group who will harass them.
Finally what are you urging the residents of Afgoye to do and what are you promising to them so that this does not occur again in future?
I would like to remind the residents that maintenance of the security in Afgoye is a collective responsibility and that everybody should consider it vital to maintain. Moreover I would urge them to report all suspicious elements to the nearest authority and we promise relevant action will be taken against those suspects. We shall not tolerate anything that can damage the integrity of our police force at all costs and urge the residents to cooperate with our forces.
Thank you for your time.
Thank you. You're welcome.