2 August 2012 Daily Media Roundup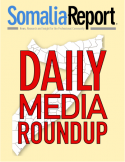 Somalia News Highlights: Clinton's East African Trip Focuses on Oil, Somalia,and Security; As End of Transition Nears, Somalis Pray for Peace; US Warns on Lack of Fundamental Laws in Kenya to Prosecute Terrorism Suspects; Who Watches the Watchmen, UN Monitoring Group; The Philosopher Making the Moral Case for US Drones; Somali Women Fight for Promised Share of Parliamentary Seats; Al-Shabaab Hitman Arrested; Dozens of TFG Soldiers Killed in IED Attacks in Mogadishu; A Top TFG Officer Assassinated by Gunmen in Beledweyne; Somali President Pledged to Conclude the Remaining Roadmap Processes; TFG Extended Amnesty to Al-Shabaab in Dhusamareb; Former Galmudug President Refuted the Election of New President; and TFG Claimed Total Control of Mogadishu.
COMMENTARY ON ISLAMIC WEBSITES
Amiir Nuur - The pro-al-Shabaab website claimed that the top infidel-supporting TFG leaders President Sharif Ahmed and Prime Minister Abdiweli Ali are in Nairobi because they have been summoned by foreign embassies. The Somali leaders are staying at three different hotels, an indication of political rifts since each is vying for the top of the new permanent government.Somali Language
POLITICS
Bloomberg Business Week - U.S. Secretary of State Hillary Clinton will encourage East African leaders this week to boost security and political stability in a region threatened by al- Qaeda and growing in importance as a source of energy. Clinton is scheduled to arrive in Uganda today as part of an 11-day tour that began in Senegal on July 31. She will meet leaders from Kenya, Uganda, South Sudan and Somalia, countries essential to Washington's strategy to fight Islamist militants and expand American economic interests. "The dimension of security will be a central part of her visit," Joseph Siegel, director of research at the Africa Center for Strategic Studies, said in a phone interview from Washington on July 31. "The U.S. shares an interest in bringing stability to Somalia -- that's a key point of focus -- and reducing the threat that terrorism poses regionally and internationally."
AFP - Sitting outside a dilapidated building in Mogadishu's heavily fortified government area, Ali Hussein waves his hand dismissively at talk of Somalia's notoriously fractious political elite. "It is all corruption, all stealing, all fighting," Hussein, who says he is over 60 and unemployed, spits out in stuttering English. However, this is just one of over a dozen attempts to find a lasting solution, and with Somalia still not stable enough to hold elections, it will be unelected elders who select the parliament, that will in turn choose a new president. "Sheikh Sharif or a new president, I just hope that peace stays," he said. "For my family, maybe I wait another year, then if it is still ok it may be possible for them to come back too."
Think Africa Press - Part of the UN Monitoring Group's report seems politicised and, given past evidence, its claims should be approached with some skepticism. Yesterday, the UN Security Council met to discuss Somalia, with the latest report by the UN Monitoring Group on Somalia and Eritrea a focal point of discussion. Since its inception, the UN Monitoring Group on Somalia and Eritrea has been subject to heavy criticism and the group has often failed to substantiate its claims. In this latest report, seemingly a mixture of innuendo and half-truths, a handful of officials and presidential candidates from Somalia's past and present are condemned. In the absence of clear evidence to the contrary, none of the accusations should be dismissed. However, they should certainly not be taken at face value.
SECURITY/AL-SHABAAB
News Time Africa - A U.S. assessment report meant to gauge the government's performance in 2011 has revealed that Kenyan Government has "demonstrated increased political will" in its fight against terrorism but a lack of fundamental laws makes it very difficult to prosecute terror suspects and to choke off financing for Al-Shabaab. Though Kenyan military has managed to quell the Al-Shabaab in Somalia since last year, it has been warned that the group still persisted to kill over 1,000 people last year alone hence exercising continued dominance on most of the southern Somalia border. The U.S State department said, "The situation resulted to a permissive environment for a small number of Al-Qaeda operatives to carry out its training and terrorist planning among other violent extremists." The report further analyses several attacks that rocked Kenyan interior cities last year.
The Guardian - The philosopher making the moral case for US drones: 'There's no downside'. It's one of the US's most controversial policies; one that resulted in large numbers of civilian deaths overseas. So why does Bradley Strawser see targeted killing as a moral obligation? "I think it does take a certain type of intellectual bravery and perhaps some moral courage to fly drones in good conscience and believe in the mission you're doing. We are called cowards for this. Coward or not, if it's the right thing to do, to not risk a soldier when you don't have to, and you think the cause is just, I just feel that that normative force is too powerful to overcome." Strawser makes an analogy of not risking human bomb disposal teams if robots could do their job just as well. In the fall, Strawser will start teaching military ethics to classes which are likely to include colonels, generals, admirals, diplomats and policy-makers. He worries that hawks could adopt his arguments about drones without taking account of his caveats. "It's the thought that keeps me up at night. Because if my arguments were going to be misused.." The voice trails off and he shakes his head.
WOMEN RIGHTS/SOMALI PARLIAMENT
SABAHI - They are fighting to get their promised 30% representation in the next parliament after they failed to reach the same quota in the National Constituent Assembly (NCA), which approved the draft constitution on Wednesday (August 1st). The Garowe Principles, signed by Somali leaders in December 2011 and bolstered in February, stated that 30% of seats in the NCA and the parliament would be reserved for women. However, promises made by political leaders have yet to be implemented, as women were only given 25% of the seats in the NCA, according to Halima Ismail, a member of the Technical Selection Committee.
RADIO ROUNDUP
Radio Mogadishu - A pro-government radio station
Somali National Security Forces on Thursday captured an al-Shabaab member who tried to assassinate the chief commander of Banadir region Security Agency Kalif Ahmed Ereg. The suspect detonated a remote controlled roadside bomb while the Ereg and his convoy were passing KM4 junction area. "No one was injured by the explosion, and the national forces succeeded to capture the criminal," said Banadir region Police officer Ahmed Hassan Maalin.
Radio Al-Furqaan - A pro-al-Shabaab radio station
Dozens of TFG militias were killed as a series of explosions took place in the Somali capital of Mogadishu on Wednesday night. The explosions targeted the TFG bases in Yaqshid, Hiliwa and War-dhiglay districts of Mogadishu. Locals told Radio al-Furqaan that a heavy explosion targeted a TFG base in SOS village. Ambulances rushed many casualties from the scene.
Radio Andalus - A pro-al-Shabaab radio station
Gunmen shot and killed a top pro-infidels officer Ali Haji Shirwac in Beledewyne town of Hiiraan region on Thursday. The officer who used to loot, rob and arrest the local residents was shot by three men who escaped from the scene. Ali was one of the most effective TFG officers who worked with the Ethiopian Christians who invaded our country. He recently detained dozens of Beledeweyne traders after they refused to pay a bribes to the enemy.
Radio Bar-Kulan - An independent radio station
President Sharif Sheikh Ahmed has said the country is now out of the transition period and has entered a new era, promising to finish all remaining tasks before the 20 August deadline. The president said the NCA's move to pass the new constitution was a great milestone in ending the transitional period. President Sharif assured the public and the international community that the selection of the new parliamentarians and the election of the new president will be done before the August 20 deadline.
Government authorities in central Somali town of Dusamareb have promised to offer amnesty to al-Shabaab militant fighters who renounce violence and defect their militant group. In an exclusive interview with Bar-kulan, Dusamareb District Commissioner Abdirahman Ali Geda-qorow urged militant fighters in the region to give up their militancy and join the government, assuring them that they will not be prosecuted for their past activities. Geda-qorow called on young militant fighters who are natives of the region and still serving the militant group to surrender and join the rest of the public, adding that the group has already lost ground in the region.
Galmudug's current President Mohamed Ahmed 'Alin has faulted Wednesday's presidential election in Galkayo, where a section of the regional parliament has elected a new president, calling it unconstitutional. The regional parliament on Wednesday elected former TFG minister for minerals and water, Abdi Hassan Awale Qeybdid as the president of Galmudug for the next three years. In an exclusive interview with Bar-kulan, President Alin, who is now in Nairobi for medical reasons, said the election of Qeybdid and the commission that organised the election was unprocedural and unconstitutional. He maintained that he is the legitimate president. President Alin expressed concerns over the consequences of this election fearing that it will sow divisions among the public and wider political fragmentation in the region. Mr. Alin faulted the system used to elect Mr. Qeybdid as the president of Galmudug saying that it can cause the collapse of the regional government and called for unity and dialogue. He said politicians took advantage of his absence due to medical reasons.
Radio Shabelle - An independent radio station
The minister of interior and national security for Somalia's government, Abdisamad Mo'allin Mohamud, on Thursday anounced that Mogadishu is under their full control, a day after Somali security forces foiled suicide attacks on a key meeting in Mogadishu. "Somali security forces are at this time more vigilant than in the past. They secured the capital and stopped many deadly attacks against government institutions and army bases in Mogadishu by Al-Shabaab," he said. Wednesday's failed suicide bomb blasts were a signal for the security achievements made by the government troops towards the war on insecurity in Mogadishu, he added. Since al-Shabaab militants withdrew from Mogadishu in August of last year after an offensive by AMISOM and TFG forces, the militants have carried out many deadly attacks, including roadside and suicide bomb blasts in the capital.