Shabaab Vows to Execute Constitution Delegates
Some Delegates Defiant, Some Fearful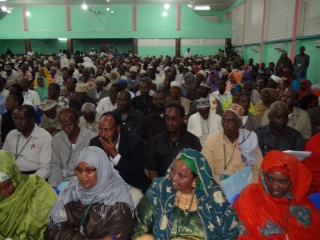 A day after the new Somali constitution was overwhelmingly approved despite an attempted suicide attack, the al-Qaeda linked al-Shabaab militant group of Somalia declared they would kill anybody who participated in the constitutional debates or voted on the matter.
The ousted al-Shabaab governor of Banadir region of Mogadishu, Sheikh Mohamed Hassan Omar (Abuu Abdirahman), spoke to pro-al-Shabaab media in Somalia and threatened the delegates.
"The so called constitution they approved yesterday is a trap that unbelievers made for their followers (Somali government) in order to dominate the Islamic people of Somalia and it is against the Islamic Sharia which the Quran, the only constitution in this world sent to us from God. I call upon the Islamic community of Somalis to abstain the devil's work. Al-Shababul Mujahidin will not accept any handmade constitution and we will fight those prepared it and it will not function in this country," said Abuu Abdirahman.
Abuu Abdirahman vowed the Islamic militants would target and kill the members who approved the constitution, wherever they are.
"I want to confirm that anyone who took part in the devil and Christian constitution, especially those who attended the approval ceremony, al-Shabaab al-Mujahidiin Movement judged them to be executed and will target them wherever they are," he added.
The 825 constituent assembly approved the constitution on Wednesday by 96%, while the regional administrations of Somalia welcomed the constitution and the official end of the transition period.
"Today we've achieved full governance. The transition time has ended," Somali Prime Minister Abdiweli said in a press conference on Wednesday.
Security Concerns
Meanwhile, the threats have brought strong reactions from government officials and delegates in the capital.
To safeguard the delegates, Somalia's Interior and Security Minister Abdisamad Moalim Mohamud announced today that the security of Mogadishu is fully controlled by the government as demonstrated by the National Security Services' ability to thwart an attempted suicide attack at yesterday's assembly.
"The security of the capital is very high and controlled by the National Security Forces," Minister Abdi Samad told reporters.
Since Abuu Abdirahman's announcement, however, delegates voiced their concerns about the threats.
"Al-Shabaab usually targets the important persons of the community. They cannot kill all the members, but they can target some. Our security in Mogadishu has been tightened by the Somali and African Union (AMISOM) forces. Since the militants have lost a lot of ground lately, I think they want to terrify people," Ayan Adan, a delegate, told Somalia Report. Abdirashid Mohamed, a Somali Diaspora who was among the members who approved the new constitution, vowed he would not be deterred by al-Shabaab.
"It was historic and unforgettable day for the Somali people yesterday. We achieved our goals and we have a full constitution today. I don't think al-Shabaab's threats can change our decisions. Their threats are only words. They can do nothing to us; even if they kill us, we came here to work on building our nation," Abdirashid Mohamed told Somalia Report.
Ahmed Ali, an elder who is member of the delegates, said al-Shabaab called him, threatening to assassinate him for his role in the assembly.
"I am member of the delegates, and I received threatening messages from al-Shabaab which said I would be beheaded, so I'm very busy with my security instead of concentrating on the duty I came here to do," said Ahmed.
Al-Shabaab's threats also drew concern from those who came to Mogadishu from al-Shabaab controlled areas.
"I'm a woman and a member of the delegates from Merka, the center of Lower Shabelle region, which is controlled by al-Shabaab. I am very worried about returning back to my town because I'm sure I will be punished by the militants," Fatuma Ahmed, a delegate, told Somalia Report.
Other delegates expressed concern for their families.
"I'm from Jilib district in Middle Jubba region, and my children and wife live there. I realize that neither they nor I have freedom anymore. I'm afraid for myself and family. Let alone to go there. I'm worried about my presence in Mogadishu," said an elder in the assembly who requested not to be named for security reasons.
One of the delegates complained the government didn't perform its duty to keep them safe.
"The government is able to send for us cars to travel safely to perform our duties, but they do not. It can also guard us when we are in our hotels, but they do not. We have to travel in the city for meetings by foot so you can see how risky it is. I can say this is irresponsible for the government," Cali Ahmed, a delegate told Somalia Report.
The Minster of the Constitution, Abdirrahman Hosh Jabril said guarding everyone was an impossible task. "The government is not able to send a car for every delegate so I am requesting the delegates to be tolerant. Don't be weak for al-Shabaab who has been defeated now," said Mr. Hosh told reporters.
On the other hand, some of the delegates said the threats don't matter because they say they are in Mogadishu to build the future of their people.
"I live in Jazeera shore where al-Shabaab can come and kill me, but I'm not stopping this performance for the sake of them. This is a national work," Suldan Noor Haji Abdukadir told Somalia Report.
In the meantime, it remains unclear who will take the responsibility for the delegates' security after the conclusion of their tasks.
"Al-Shabaab can target us in the other cities which are not operated by the government or AMISOM. They usually target the people in big cities and I am afraid of that," Miss Asha told Somalia Report.
Shabaab Claims Responsibility for Attacks
Meanwhile, al-Shabaab's Abu Mus'ab also claimed the responsibility for yesterday's two bomb attacks in the General Kahiye Station (School Polizio) where the approval ceremony took place.
"The attacks had a target and we reached our aim. We killed soldiers. They two suicide bombers were well trained by the Mujahidin Suicide Unit (Guutada Istish-haadiga) of Muslim brothers who targeted the School Polizio. Anyone who has links with the devil constitution we will close to almighty Allah by his blood," Abu Musab told a local al-Shabaab radio station.