1 August 2012 Daily Media Roundup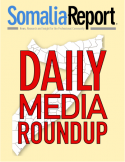 Somalia News Highlights: New Political Concerns for Somalia; Somali Citizens Form Independent Election Watchdog Group; As Core Weakens, Al-Qaeda Affiliates Are Top Terror Threat; In Somalia, Ambulance Drivers Navigate Danger to Save Lives; The Netherlands Cannot Send Westernised Somali Woman Back; The Special Envoy of AU Congratulated the Somali People for the Approval of the Constitution; Al-Shabaab Claimed to Have Killed 10 TFG Soldiers in IED Attack; Al-Shabaab Vowed to Target Somali Elders for Approving the New Constitution; TFG's Information Minister Condemned the Killers of the Somali Comedian; Hundreds Participated the Burial for the Assassinated Comedian; and Hundreds Demonstrated Against Crimes Committed by Men Wearing TFG Uniforms.
COMMENTARY ON ISLAMIC WEBSITES
Amiir Nuur - The pro-al-Shabaab website criticized the election of warlord Abdi Qaybdiid as the president of Galmudug and called him a criminal who murdered innocent people and is a staunch supporter of the infidel Ethiopians. The warlord is also accused of using money to buy votes. (Editor's Note: Full story of the election of Qaybdiid is on Somalia Report.)Somali Language
POLITICS
UPI - With a new constitution in place, Somali leaders are called on to maintain democratic principles in the selection of parliament, a U.N. envoy said. Somali leaders backed a new constitution that paves the way to a new central government. They must now set to work on choosing members of the Parliament. Augustine Mahiga, U.N. special envoy to Somalia, called on the country's leaders not to take a step back. "We should not allow parliamentary seats to become commodities for sale or items for auction to the highest bidders at a time when we are seeking to reclaim the true stature of a dignified and respected Somali nation," he was quoted by the BBC as saying.
SABAHI - A coalition of civil society figures from Somalia announced the formation of watchdog organisation the Independent Vetting Coalition Somalia (IFISO) in a news release Tuesday. "In order for the transition in Somalia to truly coincide with a new political era, its people must have confidence in its new institutions of governance," said IFISO Chairperson Hassan Shire Sheikh. "Nothing would erode that confidence faster than seeing the very people who perpetuated and profited from decades of warfare taking a part in civilian government."
SECURITY/AL-SHABAAB
CNN News - While the killings of Osama bin Laden and other top Al-Qaeda operatives have weakened the terror network, the rise of groups affiliated al Qaeda in the Middle East and Africa presents a serious threat to U.S. security, the State Department's annual terrorism report warns. "As Al-Qaida's core has gotten weaker, we have seen the rise of affiliated groups around the world. Among these al-Qaida affiliates, al-Qaida in the Arabian Peninsula (AQAP) represents a particularly serious threat," the survey of terrorism worldwide warned. The president stated, "In a limited number of cases, the U.S. military has taken direct action in Somalia against members of al Qaeda, including those who are also members of Al-Shabaab, who are engaged in efforts to carry out terrorist attacks against the United States and our interests."
PBS Newshour - In the Somali capital Mogadishu, Mohammed Saeed Hassan was driving his ambulance one day in February when an artillery shell landed directly in front of him. The shell splintered the windshield and left Hassan with minor injuries, but he was able to pick up the injured patient and get him to the hospital for treatment. Hassan, a 30-year-old father of two, is one of nine ambulance drivers who work for Aamin Voluntary Ambulance Co., transporting patients to one of four hospitals in the city. The ambulance company began in 2008, when Dr. Adbulkadir Abdirahman Aden, one of the founders, bought an ambulance and hired the first driver. He is one of a small group of Somali doctors responsible for contributing to the operating expenses to keep the free service running. It now operates 24 hours a day, seven days a week, with six ambulances.
WOMEN RIGHTS/TERRORISM
Radio Netherlands - The Dutch government must take into consideration how Westernised asylum-seekers are when evaluating their asylum requests. If asylum-seekers are unable to re-adjust to their country of origin, they must be allowed to stay in the Netherlands. The Council of State - the Netherlands' highest legal body - issued the ruling in a case involving a Somali woman. The Dutch authorities had rejected her asylum request, which meant that she would have to return to Somalia. But the Council ruled that Somali refugees have adopted too many Western norms and values to be able to return to Somalia, where they would have to live under the strict Islamic rule of the Al Shabaab movement.
RADIO ROUNDUP
Radio Mogadishu - A pro-government radio station
The Special Representative of the African Union Commission to Somalia, Ambassador Boubacar Diarra, today congratulated the Somali people on the adoption of the draft constitution, stating that it was a major step forward on the road to national recovery. "Today is the culmination of years of hard work by the Somali people with the support of the International community," said Ambassador Diarra. "The adoption of a Provisional Constitution by a National Constituent Assembly, representative of the people of Somalia, will protect the gains made and provide a legal foundation for Somalia's new institutions. In this regard I wish to emphasize that the future steps in the political process, the election of the Members of Parliament, the Speaker and his deputies and the President, should be conducted in a fair and credible manner," he added.
Radio Al-Furqaan - A pro-al-Shabaab radio station
At least ten TFG soldiers and officers were killed and several others were injured as huge explosions took place in War-dhiglay district of Mogadishu on Wednesday. The explosion targeted the TFG militias who were collecting bribes from motorists and civilians. Radio al-Furqaan received the names of some TFG officers who were killed in the explosion, including Ahmed Dahir, Mohamed Salad, Mursal Osman, Bootaan Mohamed, Diini Abdi and Abdi Nuur.
Radio Andalus - A pro-al-Shabaab radio station
Al-Shabaab Mujahideen movement vowed to target at the so-called traditional elders who approved the infidels constitution imposed on Somalis. Al-Shabaab military spokesman Sheikh Abdiaziz Abu Mus'ab held a press conference on Wednesday and stated that they will never let the so-called elders to live freely since they imposed infidels' constitution on the Somali nation. Abu Mus'ab also claimed the responsibility of the foiled suicide attack targeted at the Somali elders in Mogadishu.
Radio Bar-Kulan - An independent radio station
Somalia's Information, Post and Telecommunication ministry has strongly condemned the killing of a well-known comedian and radio drama performer, Abdi Jeylani Malaq, popularly known as Marshale. Marshale was killed late Tuesday, minutes after leaving Kulmiye Radio station, where he worked as drama producer and performer, according to colleagues. Information, Post and Telecommunication Minister Abdikadir Hussein Mohamed stated that he was saddened by the brutal killing of the comedian since Marshale was just an innocent citizen who committed no crime.
Radio Shabelle - An independent radio station
Hundreds of journalists, relatives, supporters, and other dignitaries attended at the burial of late Somali comedian Abdi Jeylaani Malaaq (aka Marshaale). Attending the funeral, Abdi Ajakis, a close friend of Marshale told reporters that his collogue will be remembered forever as an excellent artist. "His death is misery but he will be remembered for long time. He was really very fanny person and a famed comedian, we will not be forgetting his legacy," said Abdi at the burial cemetery in Mogadishu's Afizone area.
Radio Kulmiye - An independent radio station
Hundreds of people came out in Hiliwa district of Mogadishu on Wednesday demonstrating against increased robbery, rape, and looting committed by men wearing TFG military and police uniforms. Hiliwa residents told Radio Shabelle that nine women, including a 14 year old, were raped in the district over the last several days. African Union and TFG forces fired the protesters after the closed the main roads of the district.