Galmudug Elects New President
Former Warlord Col. Abdi Awale Qaybdiid Wins Election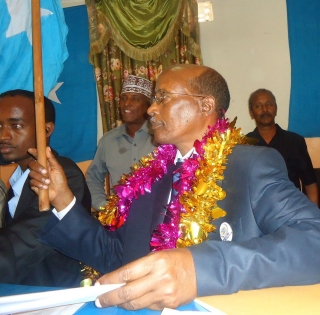 The newly elected parliament of Somalia's semi-autonomous state of Galmudug today elected Abdi Hasan Awale Qaybdiid as the new president of Galmudug. Colonel Qaybdiid, a former warlord, obtained 22 votes while other candidate, Abidsamad Nuur, only earned one.
Col. Qaybdiid will replace the current president, Mohamed Ahmed Calin, to become the second president of Galmudug, a state which declared it's autonomy in 2006 when it merged Galgudud and Mudug regions.
Galmudug parliamentarians, presidential candidates, traditional elders, former cabinets and others came together in Galmudug's parliament hall for today's election. The 25 lawmakers officially elected Qaybdiid as president and Abdisamad Nuur Gulled as vice-president.
Abdisamad was also vice president under former President Calin, who is currently seeking medical treatment in Nairobi, Kenya.
"Yes, the election happened peacefully and Abdi Qaybdiid was elected the new president of Galmudug. He got 22 votes which is the majority of the members of parliament, as the high court announced today," Ahmed Basto, Galmudug's former interior minister, told Somalia Report.
The chairman of the electoral commission, Professor Abdiqadir Mohamed Shirwac, led the meeting and the chairman of Galmudug's high court high court, Sheikh Ahmed Sheikh Yusuf (Ilka Dahab), announced the results.
Other report said supporters of former President Calin elected Dr. Kalif Mohamud Elmi (Tima Kalajeh) as the new president of Galmudug.
The election comes just two days after Galmudug's new parliament was sworn in and selected a new speaker and two deputies despite heated conflict over the election and protests by the current president.
Who is Colonel Qaybdiid?
Col. Abdi Hassan Awale (Qaybdiid) was born in Galkayo, the capital city of Mudug Region in 1948. He earned his secondary certificate from the British college Nairobi, Kenya in 1974.
From 1980-1988 he worked at the Somalia embassy in China as the military attaché. After he returned to Somalia in late 1988, he was appointed head of foreign affairs of the ministry of defense. But after a year Qaybdiid and other colonels managed to escape and fled the government led by Mohamed Siyad Barre and joined the United Somali Congress (USC) opposition group aiming at overthrowing Barre's regime by force.
In July 1991, he became a committee member of the USC after President Barre fled Mogadishu. The group elected Gen. Mohamed Farah Aidid as chairman and later Qaybdiid became his interior minister.
In 2001 Qaybdiid participated in the Carta conference which elected Abdi Qasin as Somalia's president, and Qaybdiid became an MP.
He was arrested in 2005 in Sweden on suspicion of genocide, but released for insufficient evidence.
In 2006 he returned to Galmudug and regrouped his militia.
By 2007 he returned to Mogadishu was appointed an officer of the Somali National Police.
In 2009, Qaybdiid was appointed minister of mineral and water of Somalia's transitional government.
Qaybdiid speaks Somali and English and understands Italian, Arabic and Chinese. He is a member of the Sacad sub-clan of the Habar Gedir clan.