Puntland Celebrates 14 Year Anniversary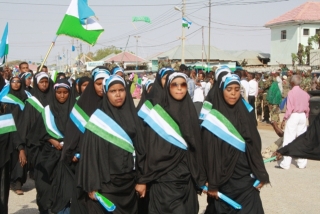 Somalia's semi-autonomous region of Puntland today celebrated its 14th anniversary as a state, which was established in Garowe, the administrative capital, on August 1, 1998.
Although almost every city in Puntland celebrated, Garowe was the hub of anniversary celebrations which were presided over by Puntland President Abduhaman Farole. Hundreds of people from different parts of the state as well as officials, students, and Puntland forces marched through the streets, carrying the Puntland flag.
The city was on high alert due to threats from the al-Shabaab militant group and security forces could be seen throughout Garowe, closing streets and preventing cars from passing, particularly in Barxada Square where most of the festivities took place.
There were hundreds troops from different units of the Puntland military including Darawiish forces and commandos who marched in front of the president.
Each group, including women's groups and various non-governmental organizations, also marched in the parade, some wearing the flags of both Puntland and Somalia. Many children's groups sang as they marched through Garowe with crowds cheering as they passed.
Excerpts From Puntland President's Speech
Puntland's President Farole addressed the crowds, expressing his joy at the historical day and hope for the future.
I am asking to Allah to grant us the next year with peace, development and unity. I hope Somalia gets success as a country and gets back its name and dignity.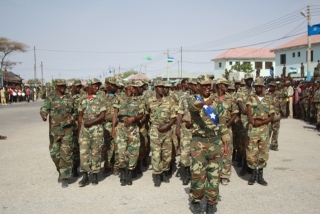 Today is a big day. 1 August was Puntland's day but starting today it will be known as the National Day for Somalia when the representatives passed the new constitution.
I am saying to you, 'congratulations, congratulation, congratulations' and hoping that Allah will grant us year after year with peace, prosperity and development.
I am thanking the population of Puntland and those who managed to take part in this historical festival.
I am thanking especially Puntland's armed forces who are ready to die for defending our population and the state. They are working hard to secure their country and their people and doing their duty as best they can.
I hope, insha'allah, that Allah will grant us next with victory, congratulations, peace, development and unity.
Puntland Background
After Somalia collapsed, traditional leaders from the Harti-clan "Darood" met in Garowe and after a series of conferences finally announced their own semi-autonomous state of Puntland on August 1, 1998.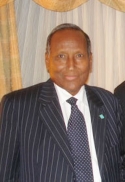 The state, which is dominated by Majeerteen clan, combines many sub-clans of Harti such as Warsangeli, Dhishiishe and Dhulbahante. The region became powerful after establishing security, development and a stable business environment in stark contrast to Somalia.
Although the current administration includes multiple parties, but the election system was clan based. Only 66 lawmakers selected by elders of clans could select the presidnet. The most famous and well-liked president was Abdulahi Yusuf Ahmed who died at 77 year on March 23 this year in Dubai. Mr. Yusuf (photo at left) was named the 'Father of Puntland' and the man who was behind its creation.
Although it operates as a semi-autonomous region, President Farole and local officials have vowed they will always be part of Somalia, unlike the breakaway region of Somaliland that seeks independence.
The 14 year old state has been regarded as one of the most peaceful areas of Somalia, but has faced a number of challenges in the last two years including piracy and the Galgala militia.