30 July 2012 Daily Media Roundup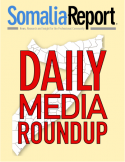 Somalia News Highlights: President Sharif Visits Afgoye Over Abuse Against Civilians; Delegates Push Forward to Ratify Somali Constitution; 26 Militants Killed in Deadly Somali Fighting; Chicago Man Admits Trying to Aid Somali Terrorist Group; General Accuses Saudi and Yemeni Sheikhs of Funding Pirates; Prosecutors Want Accused Pirate Hostage Negotiator Returned to Custody; Lawmaker Called for Educated Somalis to End Transition; Al-Shabaab Vacated Large Portions of Middle Shabelle as TFG-AMISOM Close in on Jowhar; Five Kenyan Officers Allegedly Killed in Ambush at Arabiya Village; Al-Shabaab Claimed to Have Killed 10 Burundian-Ugandan Soldiers in Mogadishu; Al-Shabaab Claimed to Have Killed Scores of TFG-AMISOM Soldiers in Bal'ad; Elders Urged TFG to Immediately Repair the Bridge Linking Beledweyne to Mogadishu; and Eight Al-Shabaab Fighters Were Killed by TFG-AMISOM Forces in Garbaharey Area.
COMMENTARY ON ISLAMIC WEBSITES
Amiir Nuur - The pro-al-Shabaab website claimed that the traditional elders of Afgoye town of Lower Shabelle refused to meet the pro-infidel Somali President Sahrif Ahmed who visited the town. The Islamist website also accused TFG and AMISOM soldiers of torturing some of the traditional elders who refused to meet the president and those who protested the abuses of the TFG-AMISOM forces in Afgoye.Somali Language
POLITICS
Garowe Online - Transitional Federal Government (TFG) President Sharif Sheikh Ahmed visited the town of Afgoye, amidst continued abuses by TFG troops, Garowe Online reports. President Sharif led a delegation of TFG ministers and military officials and met with military officials, traditional elders and community leaders in Afgoye, to discuss the recurring abuse on civilians committed by troops. After meeting with community leaders in Afgoye, President Sharif agreed to selecting forces from the community to protect Afgoye residents, which was proposed by community leaders in Afgoye. President Sharif scolded Deputy Chief of the Somali Army, Gen. Abdikarim Yusuf Adan, who he had partly blamed for the insecurity in the town and for the lack of accountability of his troops.
Sabahi - The Somali National Constituent Assembly (NCA) opened its sixth day Monday (July 30th) with delegates promising no further delays as they work towards ratifying the draft constitution by August 2nd, according to Radio Mogadishu. "Despite the ongoing hurdles and repeated delays, the launching of the NCA conference is a turning point in the history of Somalia," Abdiqadir Yusuf, a Mogadishu-based political analyst, told Sabahi. "After 21 years of chaos and civil war, not to mention terrorism and piracy, Somalis are able to determine their own destiny inside their own country through a democratic process," he said.
SECURITY/AL-SHABAAB
All Africa - At least 26 Al shabab militants have been killed and many others were injured in a deadly battle between pro-government soldiers with the backing of Kenyan military and Al shabab, a governor said on Sunday. Mohamed Abdikalil, Gedo governor says that fierce clashes in Somalia's southwestern state of Ged have killed at least 26 Al-Qaeda-allied Al shabab militants. The combat raged on for several hours and the town is under government control, according to locals. He added that Saturday's fighting broke out after militants launched an ambush attack on military positions and hit army barracks and checkpoints that controlled by Somali army at Yurkud area, killing 26 Al shabab agents. There is no any independent verification.
Bloomberg - A Chicago man pleaded guilty to planning to travel to Somalia to aid the al-Shabaab terrorist organization, the U.S. Attorney's Office in Chicago said. Shaker Masri, 28, entered his plea today before U.S. District Judge Sharon Johnson Coleman in Chicago, according to a statement from acting U.S. Attorney Gary S. Shapiro. He will be sentenced on Oct. 16. His agreement with prosecutors calls for nine years and 10 months in prison, Shapiro said. "According to the plea agreement, on July 19, 2010, Masri told an associate, who, unbeknownst to Masri at the time, was a government cooperating source, that he had decided to travel abroad to engage in a jihadist conflict as a combatant," Shapiro said.
MARITIME
Examiner - FAS news is reporting that the Commander of the IRGC Special Naval Force Unit General Mohammad Nazzeri, the point man in charge of Iran's fight against pirates, has recently accused certain Gulf member nations of supporting pirates in Somalia! The commanders comments came out during a press interview regarding Iranian anti piracy efforts in the Gulf of Aden. "The pirates of the Gulf of Aden are simple fishers", he explained. "But their sponsors and main leaders are Sheikhs of the UAE, Yemen and Saudi Arabia," the commander said.
The BLT - A federal appeals court in Washington has agreed to expedite a dispute over whether a Somali man accused of serving as a hostage negotiator for pirates should be returned to federal custody and held without bond pending trial. U.S. District Judge Ellen Segal Huvelle ordered the man, Ali Mohamed Ali, released this month amid the collapse of the U.S. Justice Department's rare prosecution. Ali, a foreign national, was put into a home confinement and monitoring program after the trial judge dismissed several counts.
OP-ED
Aljazeera - The author, Professor Abdi Ismail Samatar, argues that UN is corrupting the Somali political situation. "Another transition is looming and the UN which is midwifing the process is enabling several Somali actors to gerrymander the process in order to predetermine the outcome to their advantage. The question that most Somalis are asking is: why is the UN's Special Representative, SR who dominates the process allowing sectarian agendas to control the transition and reproduce the mess?"
RADIO ROUNDUP
Radio Mogadishu - A pro-government radio station
Speaking about the on-going the Somali Constitutional Conference, Somali Lawmaker Ibrahim Salah said that educated and experienced people are needed to end the transition period. The Somali Constitutional Conference was attended by the various sectors of Mogadishu community as the TFG forces made progress in securing the venue on Monday. The meeting was attended by lawmakers, youth, elders and women. Both sides stated the importance of ending the transitional period and creating a permanent government for Somalia.
Reports from Middle Shabele region indicated that al-Shabaab militias fled Jowhar town and other villages of the region on Sunday night after the Somali National Forces and their allied troops closed in Jowhar. Local residents told Radio Mogadishu that the militant group also dismantled equipment for the pro-Al-Shabaab Radio station in the area. The radio station was initially seized from a private owner when militants took control of the town few years ago.
Radio Al-Furqaan - A pro-al-Shabaab radio station
At least five Kenyan police officers were killed and several others were injured as unknown gunmen ambushed their vehicle in Arabiya village of the Somali-region of Kenya which is under the control of Kenyan infidels on Sunday. Confidential sources told Radio Andalus that the gunmen fired on the vehicle and killed most of the officers. Some of the surviving officers told the local media that the gunmen escaped from the scene after the attack.
At least ten Burundian and Ugandan infidels were killed in huge targeted explosion in Eveco village of Mogadishu on Monday. An eye witness told Radio Andalus that many casualties were rushed to the enemy's hospitals in Mogadishu.
Radio Andalus - A pro-al-Shabaab radio station
Scores of foreign AMISOM troops were killed in heavy fighting against al-Shabaab Mujahideens in Bal'ad district of Middle Shabelle region on Sunday night. The fighting erupted after al-Shabaab Mujahideens launched attacks on the military bases of the foreign troop in the district. Bal'ad residents stated that they witnessed two bodies of the foreign soldiers on Monday morning.
Radio Bar-Kulan - An independent radio station
The Somali government is urged to immediately rehabilitate a bridge in Noor Farah village, some 50 kilometres from Beledweyne town to save the lives of commuters and ease transport hurdles in the area. Village elders urged the government and the area provincial administration to act swiftly and rehabilitate the bridge that links the region with Mogadishu, where locals receive goods. A local elder Hajji Ahmed told Radio Bar-kulan that the bridge is now on the verge of collapsing, hence risking the lives local commuters. Elder Ahmed added that local elders will soon travel to Beledweyne to raise the issue with the local provincial administration to help them repair the bridge.
Radio Shabelle - An independent radio station
Heavy clashes in southwestern Somalia between TFG troops, supported by AMISOM forces, and al-Shabaab fighters killed at least eight combatants. Mohamed Abdullah Hirsi, the spokesman of TFG's Gedo administration, told the media on Monday that eight al-Shabaab combatants were killed in the fighting while two TFG soldiers sustained minor injuries. The fighting in which both sides exchanged heavy artillery fire and machine guns occurred Sunday afternoon at Tuulo-Barwaqo located near Garbaharey, the provincial capital of Gedo region, south-west Somalia.